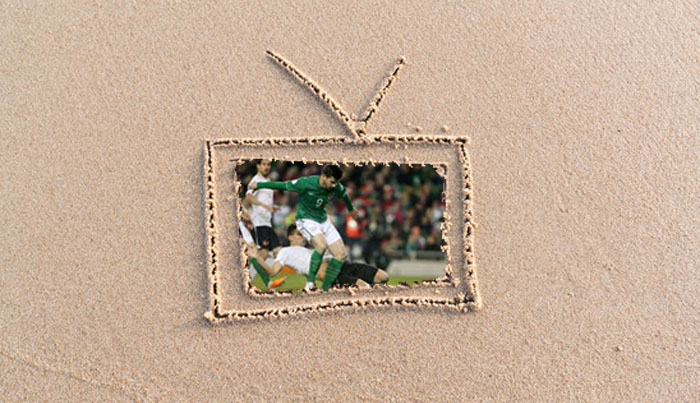 I recently watched an Irish soccer game against Austria. They are trying to qualify for the World Cup in Brazil in 2014. Their prospects of qualifying are not great. They drew the game when they conceded a last minute goal. But hope springs eternal.
The real interesting thing for me about this match, was that I watched the last five minutes on my brothers mobile phone. He used his data connection to log onto a website which streams football matches, and his phone was powerful enough to allow me to watch it live.
Amazing huh?
I have been on the road for  almost one year now. As you travel I find the things I miss most are the obvious – friends and family, but also my intake of live sporting events.
While it was possible to watch some matches in Colombia when the Euro championships were on, it was not until we got to countries with FOX and ESPN that I could watch the regular soccer games I was used to. And even then not every hostel would have cable.
That is until I bumped into a Kiwi guy in Oaxaca, Mexico. We got to talking about the All Blacks Rugby team (it never takes too long to start talking rugby with a Kiwi). When I asked him how he watched the games, he said simply online.
How to watch sports online
I asked him the website name – www.viponlinesports.eu, he told me. And so I checked it out. Low and behold my eyes were opened to a whole world where you can watch games for FREE, at anytime, anywhere in the world. You load it up, click the link and away you go.
If you do have issues with this site then I suggest you check out this blog www.buttermouth.com, which has a great top 10 list of websites where this kind of service is available.
I am about to return to Colombia and I know that I can watch all the qualifying games for the World Cup in Brazil 2014,
Do's and Dont's of watching sport online
Do make sure you have a good internet connection. If you stream live sports, wickidy wockidy rubbishy wireless may not cut it.
Do make sure you have snacks or a nice drink to enjoy while watching the game you love.
Do allow time for the ads to fully load before trying to close them
Do make sure you have all your antivirus up to date – download Spybot, Malwarebytes and Hitman Pro – All are free to install and great to have just in case you run into some virus issues.
Do click on a live link and enjoy your game
Don't download the player or anything else for that matter to your desktop.
Don't click on any of the links which pop up – it is nasty spam central and dangerous for your computer. Close any pages which pop up ASAP.
Don't press the big white "X"s which look like they will close the ads. After a minute or so these normally change to small little black "X"s which will actually allow you to exit the ad and watch the game.
When I got here to San Francisco I thought I would have cable and all the rest. But the cable over here only covers American sports and not the English Premier League which I like to watch.
So my brother showed me the website he uses – First Row Sports. It is practically the exact same and I was able to watch all the games I wanted on his 60 inch plasma though a HDMI cable from a laptop – all in HD!
Now I have to state here that I am not a legal eagle and am unsure as to the correctness of watching these games online. Personally I don't mind streaming the odd game for free if I need to. I did pay to watch Irish games in the past on Setanta and uStream.TV – so that is not the issue for me.
The issue for me is that I need to watch games. I want to watch Ireland qualify for the World Cup in Brazil and as I venture back to the outpost that is South America, my online channels are probably the only option I have.
Sure I may have to watch some games in Russian or German or wherever the stream is plucked from. Sure it might be a little jumpy and only in standard definition. Maybe it will freeze every fifteen minutes. But I will be watching my team. I will be connected to planet sport.
I love this online world.
Latest posts by John Leonard
(see all)