Are you ready for a life changing adventure?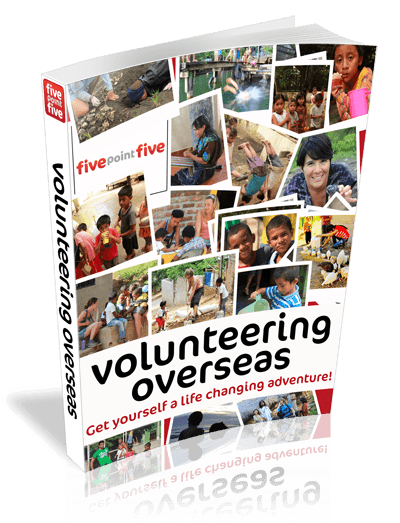 Volunteering overseas is an exciting and rewarding experience. For many people it is so fulfilling, that they return home with a new spring in their step and a new purpose in life.
It is life changing!
But how do you find a suitable organisation?
What if you can't speak the language?
How much money do you need?
What can you expect?
All of these questions and many more are answered in our comprehensive guide:
Volunteering Overseas
Get Yourself a Life Changing Adventure!
This eBook will help you design and prepare the best volunteering adventure for you.
With a planning guide, web resources and interviews with a variety of great volunteer organisations, you will be able to plan your own exciting adventure that is hugely rewarding for you and for the community you visit.
Get the "Volunteering Overseas" eBook.. Free!
Simply subscribe in the side column and the eBook is yours. 
Enjoy the book and have an awesome volunteering adventure 🙂
"The Five Point Five Volunteering Overseas eBook is a wonderful resource for would-be volunteers looking to explore the world of international volunteering. I will be sure to suggest this in depth guide to all our potential volunteers planning their adventures!"

Heather Graham – Casa Guatemala

"Choosing to volunteer abroad is an amazing decision to make. But choosing how to do it, and who to do it with can be daunting. Serena's new e-book provides a wonderful guide for any would be traveller, and gives advice on how to prepare logistically and mentally so that you can give back, make a difference and have a an amazing experience in the process."

Simon Costain – International  Student Volunteers

"The Five Point Five project is a great initiative and shows that volunteering really can be a positive life changing experience for all involved"

Hannah Jones – Pyjama Foundation