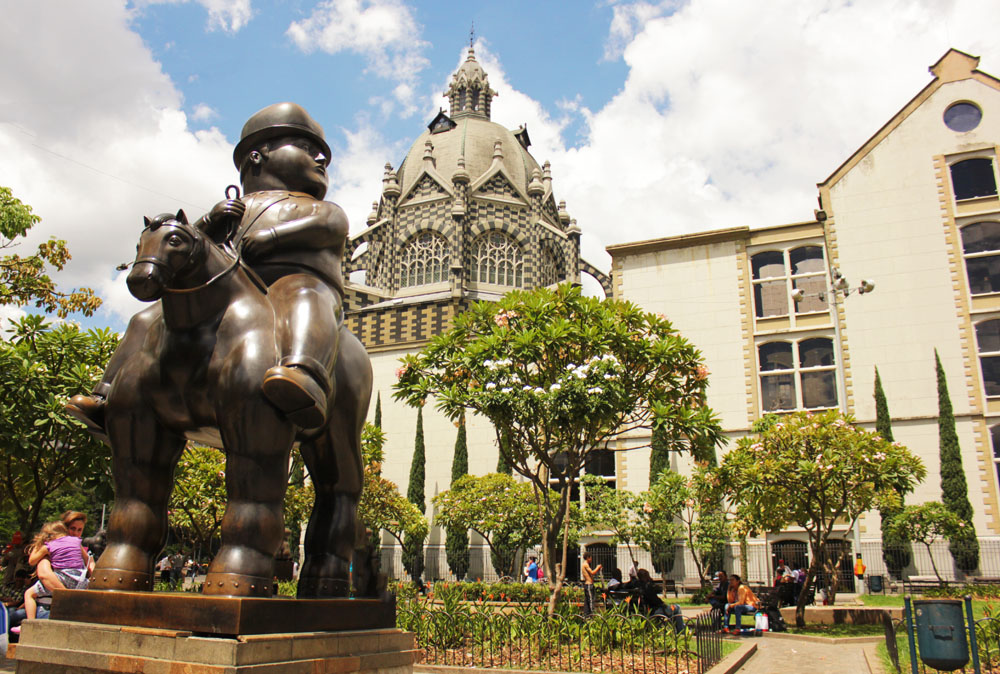 We are travelling the world full time. This is a dream life for us. We get to visit amazing places and earn money as we go to pay for our travels. We love our lives!
There does come a time when you need to rest up in one place for more than a few nights. The constant movement does tire you out and your system craves some regular, normal patterns. Also writing wants to be written, websites want to be updated, editing edited – all in all, we need some stability from time to time.
Every few months we rent an apartment and stay in one place for a few weeks or a month.
We decided that Medellin, would be one of these places.
We checked into a hostel called Yellow House Hostel, in a nice quiet part of the city. The owner is a friendly French guy called Vince who makes you feel at home. After dropping our bags we took a little walk around the area, got some food and returned home to crash out.
The following day we got to know the area, and we loved it – lots of cheap places to eat, friendly chilled vibe and an awesome Olympic size outdoor swimming stadium that is free to use.
We made our minds up that we wanted to stay in this area, swim every day and then work.
So then we started to look online for a place.
Our Criteria
High Speed Internet
A desk or table and chairs.
Our own bathroom
To be in walking distance of the amazing swimming pool facility
Budget of about $600 per month
A bright space where we could be productive
We thought about the hostel, but the room we had was a little dark and stuffy. There was a kitchen and breakfast was delicious and included. It was costing us $32 per night and we felt we could find an apartment for a month and save a couple of hundred dollars.
Where do you begin search for a room or an apartments in Medellin?
Google is king of course. Type in "rent apartments Medellin" and hit "Enter"! What you are presented with is a myriad of options. Here are the steps we took to find our best option.
1. The Luxury Group
When you hit page one of google you will see the following websites pop up… FAR International, Apartment International, and Medellin Luxury Apartments
TIP – Let me save you some time here. If your budget is anywhere below the $75 per night range then I suggest you keep right on reading. These are websites geared towards wealthy holiday tourists, not long term travellers. Save yourself frustration and envy by ignoring these websites.
Result – These apartments tick all the boxes except they smash the budget right out of South America!
2. AirBnB
AirBnB is fast becoming a very popular way to travel. Essentially, regular people offer a room to rent in their house or apartment at a reasonable rate. You can view many options according to your budget and desired location.
TIP – if you carry an iPhone or smartphone, download the app for AirBnB. There is a great function which searches according to your location on a map which is not available (at least I couldn't find it!) on the main site.
I found some great places close to the pool and got in touch with them. Many emails were sent back and forth. Much browsing of potential places to live – with our budget there were some whole apartments and some rooms in shared apartments, albeit in some great locations.
Result – Most of the places close to the pool we liked in our budget were booked out or could only take us for weeks here and there. It pays to be organised a few weeks in advance!
3. Craigs List
Craig's list is another which pops up on page one. You are taking a small risk as you never know who you are dealing with here. The beauty of a site like this though, is that you can find some great bargains. If you are willing to take time to view and trust then you can have good success here.
Tip – Exercise caution. There is no comeback with Craig's List. You enter and deal at your own risk. Most other websites include bio's and history of who you are dealing with and a support network who you can turn to if things go bad.
I found some lovely looking places, apartments for us all on our own. I emailed and called a couple. One never replied and the other sent me though a price which I thought pretty steep. When I replied and asked to negotiate, I was met with silence. I answered a few more ads and received no replies.
Result – Unprofessional and tough to deal with. Budget missed and scratched off the list
At this point I spoke with a couple of travellers who gave me some great advice which helped shape where we were to stay.
4.  CompartApto
One guy told me to check out CompartApto for apartments in Colombia. I spent 15 mins setting up a profile and uploading a picture and before long I was browsing ads. I was blown away by the amount of options at literally a half or a third of the price on English websites.
Tip – Use these Spanish websites as a learning tool to improve your Spanish. You will be able to figure out many of the words through obvious guesswork which will help you remember them more easily
There were a lot of places that met our criteria. Some were shared accommodation, but super cheap. We set up a few places to go and visit to see what they were like. I had a lot of potential places contact me when they viewed my profile, which made a nice change.
Result – A great service with lots of options, which suited our budget and desired location.
5. Google in Spanish, not in English
This was the best advice I was given and I wished I had heard it 3 days earlier. When I entered the same details in Spanish, I found a lot of websites, all with great options – both apartments and shared accommodation in Medellin. My mind was reaching overload with all this new information ZonaProp and EspaciourBano to name but two which added to my already jumbled load.
Tip – Avoid googling in English if you are in a foreign language speaking land. Tourist market means higher prices when you look in a language which is not local.
I spent a few hours trawling though places and got quite overwhelmed with all the new information. There were now so many options, hitting our budget and much cheaper besides. My mind was hurting from the search and I was stressing at the thoughts of viewing places around the city.
Result – I got a lot more options which I had at the ready if I needed them.
What did we end up with?
We had made our hostel owner aware of what we were looking for – he knew we were looking for somewhere to work for a month or so. We told him we were going to look at places so he was under no illusions. In fairness to him, he gave us an option we couldn't refuse.
He offered us:
A  room out the back which backed onto the garden courtyard
TV and cable (Premier League, Masters Golf etc)
To remove additional beds which were in the room and replace them with a table, chairs and a sofa
A price which matched our budget for the month.
We talked about it and went for a swim. When we returned he had set up the new room. We looked around at the new space and felt we could definitely live here for a month and get some good work done. We would have everything we needed and would avoid the stress of having to move and look for somewhere new.
We shook hands and looked forward to a month in a secure, friendly environment, where we knew we could produce some good work.
Tip – Prices for accommodation are often negotiable, when you are staying for more than two or three nights – especially in the low season.
Result – We went from 35% over our budget, to almost 10% under it, with a big new room and a few extra perks. We are happy and producing well. Medellin apartment hunting stress disappears!­­­
Latest posts by John Leonard
(see all)