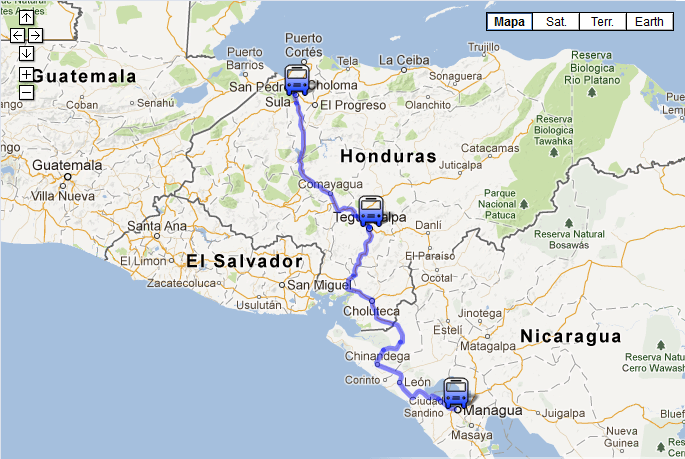 How to get from Nicaragua to Utila, Honduras
Bus from Managua to San Pedro Sula which includes a border crossing
Taxi/Pick up to your accommodation in San Pedro Sula
Bus from San Pedro Sula to La Ceiba
Taxi in La Ceiba to the boat dock
Boat to Utila
General
Utila is renowned throughout the scuba diving lands as one of the cheapest and visually most interesting places to learn how to dive. But how do you get there? Many people like to avoid the mainland of Honduras as it has quite a violent reputation right now. We bused from Nicaragua, you can also fly direct to San Pedro Sula and bus from there.
Note: We researched different options and there is some misinformation online about where buses leave from. For example if you google "Bus from Nicaragua to San Pedro Sula" you will be told on a thorn tree link that you can get a bus from Matagalpa in the north of Nicaragua – This is not true. The bus does not stop here. If you are travelling from Nicaragua, you will have to leave from Managua or Leon.
From Managua to San Pedro Sula, Honduras
The Tica Bus website www.ticabus.com gives relatively good information about times and routes etc. The bus to the north of Honduras costs about USD$40, takes roughly 11 hours and leaves at 7am. The terminals in Managua are busy and hectic, but seemed relatively safe. Make sure you say Tica Bus terminal to the taxi man and everything will work out easily.
The border crossing is very simple and you don't need to prepare anything special. There was a very small tariff for entering Honduras and leaving Nicaragua, but not much more than USD$4-$5 for each. The bus will stop and the driver directs you where to go. Very simple when you are on a bus the whole way through.
Arriving in San Pedro Sula is nice when you have someone who is ready and waiting with your name on a card. We stayed with Guesthouse Dos Molinos B&B who picked us up and dropped us free of charge from the terminal. The rooms were clean and simple and perfect for an overnight stay or two. The area is safe and there is a big shopping mall a short walk away if you want to stock up on supplies.
From San Pedro Sula to La Ceiba
Our hosts at Dos Molinos dropped us off for the bus from La Ceiba which left at 6am. The bus takes approximately 5 hours and is a smaller company – there was no A/C on the bus. The price was 110 Limpera (approx USD$5.50).
This bus gets you to La Ceiba around midday with a stop for breakfast halfway. When you arrive at La Ceiba bus terminal (looks like a small office at the front of a building), you can hail a taxi which will take you the final 10 mins to the dock. The taxi will cost between 30 and 50 Limpera (approx $2). As always bargain with the taxi drivers.
From La Ceiba to Utila
There is an afternoon boat which leaves for Utila at 2pm. You should arrive in plenty of time. The boat costs 440 Limpera (approx $22) per person and takes approximately 1 hour to get there. Be prepared for an avalanche of touts and reps at the dock trying to get you to go to their hostel or do a dive course with them.
This is a popular tourist route so you don't need to worry too much. People also speak Bay Islands Creole on the island which is a nice break if you have been struggling and bludgeoning the Spanish language every day.
Want More?
Latest posts by John Leonard
(see all)