'Just step out onto the road…and keep walking!'
Now, that's easier said than done when you have just arrived in the middle of Ho Chi Minh City with a swarm of scooters streaming past you in all directions.  Observing the chaos, it seems like it's a competition as to who can get the most family members onto a single scooter – three?  four?  five?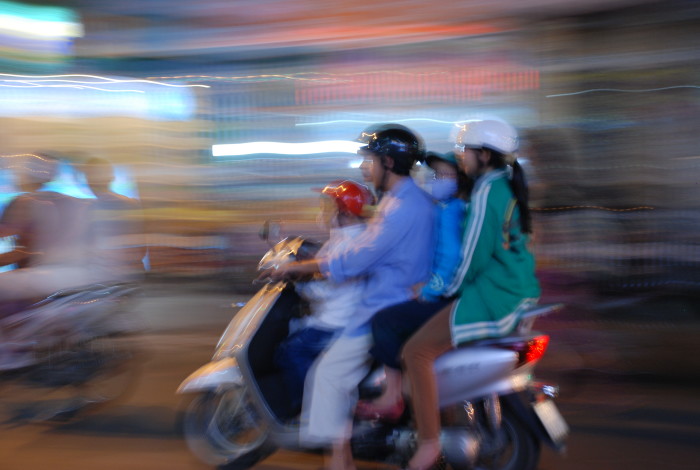 .
It soon becomes clear that the art of crossing the street is one worth learning fast if you are spending any time exploring this city.
Vietnam is becoming one of Asia's most popular destinations.  Ho Chi Minh is not as westernised as Kuala Lumpur or Hong Kong and it still retains its authentic Asian charm.  Boasting super-friendly people and fabulous street food its certainly worth putting on your travel 'wish list'.
Ho Chi Minh is the largest city in Vietnam, a country with 90 million people and 30 million scooters!  In Ho Chi Minh, 9 million people live, love, and go about their business to earn their daily 'bahn me' (baguette).
From the first walk down a bright and lively street in District One, I loved Ho Chi Minh!  The energy and vibrancy is intoxicating and can't help but put you in the mood for adventure.  Here's a few tips for getting the best from your Ho Chi Minh experience…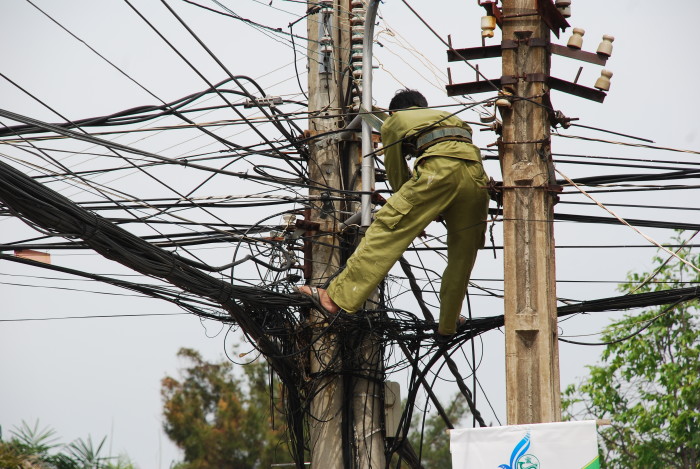 Ho Chi Min Hotel
The Duc Vuong Hotel in District One – after working in hospitality for over 20 years in Australia, I was super impressed with the service at this hotel.  Although everywhere we stayed in Vietnam was friendly and of good quality, the staff at Duc Vuong were consistently exceptional.
They really know the secret to good service and it was like leaving great friends when it was time to move on.  At around $40 per night for a very comfortable room with everything you need, Duc Vuong Hotel is the complete package – comfort, service, wi-fi, air con, great location and a breakfast for two all included!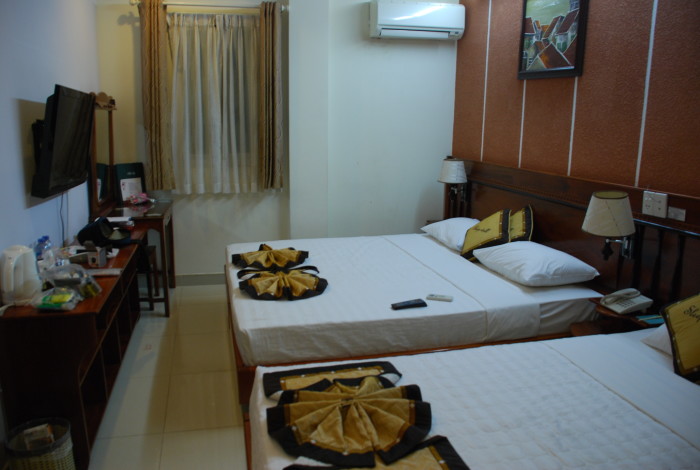 Cu Chi Tunnels
Although parts of the tunnel complex have been reconstructed for tourists, the Cu Chi Tunnels are an interesting part of Vietnam's military history. The tunnels were an integral part of the North Vietnamese Army's strategy in the war for both surprising and escaping the enemy.  The tunnels are about 35km from Saigon and can be done on a half day bus trip.
There are different levels of tunnels, starting with shorter stretches which you can walk through bent over, and gradually progressing to longer and narrower tunnels which you have to crawl through parts on all fours.
You are with a guide the whole way and there are escape routes for those who find it all a bit claustrophobic.  We came out pretty hot and sweaty (in December), so I wouldn't like to experience the tunnels in the middle of a Vietnamese summer.
There is also a shooting range at the Cu Chi tunnel complex, where you can pick your weapon of choice and fire off a few rounds.  My better half chose an AK-47.
Please don't put an empty AK-47 shell into your bag and forget about it until it is discovered by security at the Singapore Airport luggage scanners… but that's another story!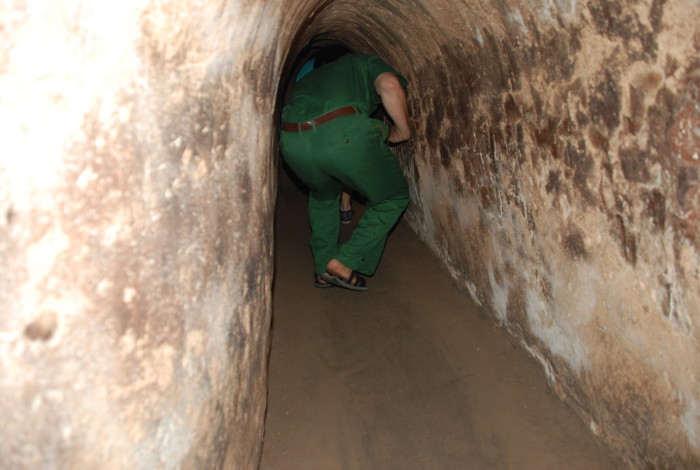 Beware of the cheap Mekong Delta tour
We did an overnight Mekong Delta tour for $50.  Now, I am a very tolerant traveller and can take it as it comes, but Day One of this trip was easily the worst tour I've ever done in my life.
The morning of Day Two was excellent while we were at the floating markets (the main reason we wanted to go to the Mekong Delta) but then it was a very long, slow, five hour bus trip back to Saigon.
Hint: Find out exactly what the tour you pick entails and how long the bus ride is there and back, then make your decision or find something else to do!  The floating markets are great, but the rest isn't.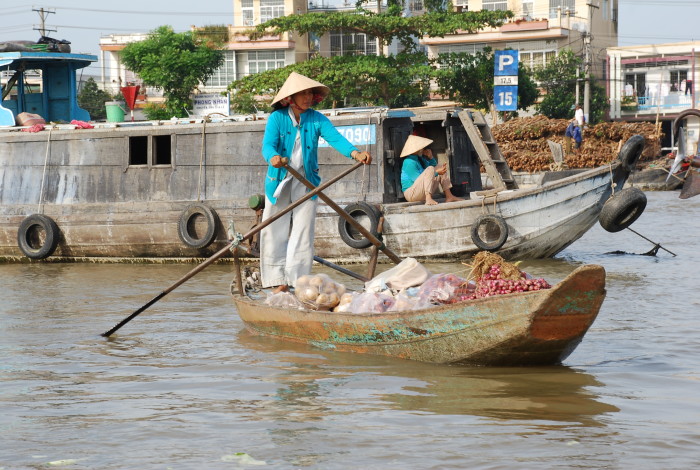 Do a food tour!
Whether it be walking or by scooter, do a food tour in Ho Chi Min.  One of the many highlights of our Vietnam adventure was a night out with Trang and Huyen from the travel desk at the Doc Vuong Hotel.  It's an excellent way to get familiar with street food and gain the confidence to go out and eat with the locals for the rest of your stay.
I usually avoid street food due to a very 'sensitive' digestive tract, but after the experience and knowledge gained from Trang and Huyen I had the confidence to eat street food for the rest of our trip.
Note: The French taught the Vietnamese how to make bread so if you are in search of the ultimate baguette, you'll find it here.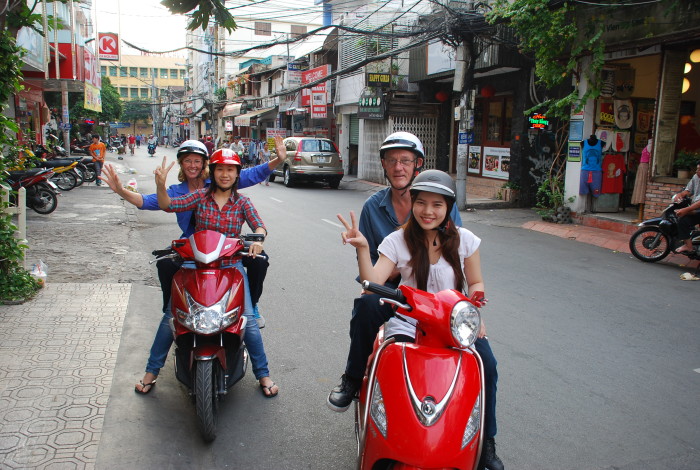 Ho Chi Min Museums
If museums are your thing then the Museum of Vietnamese History is definitely worth a visit. Full of beautifully presented historical relics and artifacts that aren't tucked away behind barriers.  However a word of caution – the military museums in Saigon are very confronting.  
They are very keen to show you all of the atrocities from the 'American War' and the images in the starkly presented museums are very graphic.  The most popular military museum to see is the War Remnants Museum.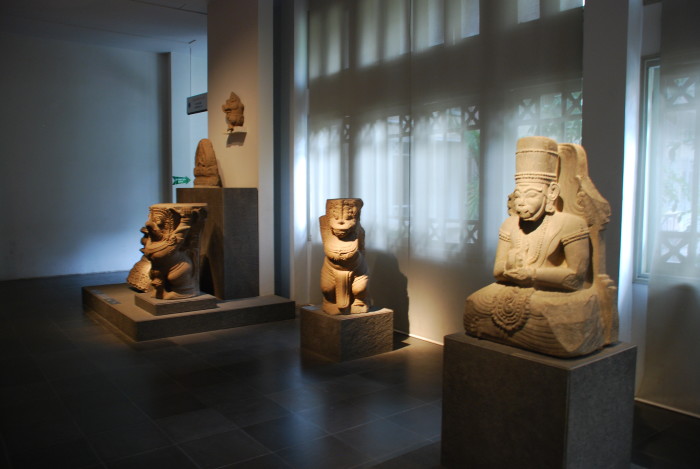 .
Ben Thanh Market
Built in 1914 by the French, the Ben Thanh Market has several hundred market stalls ranging from food, seafood, skinned frogs, clothing, spices, teas and the usual market fare.
Located a couple of km's from the Doc Vuong Hotel in District One, the markets are also worth a visit at night when stall holders come out from the main building and set up in the surrounding streets, providing a fun, night time market atmosphere.
After doing your food tour you'll be more than prepared to dine as the locals do.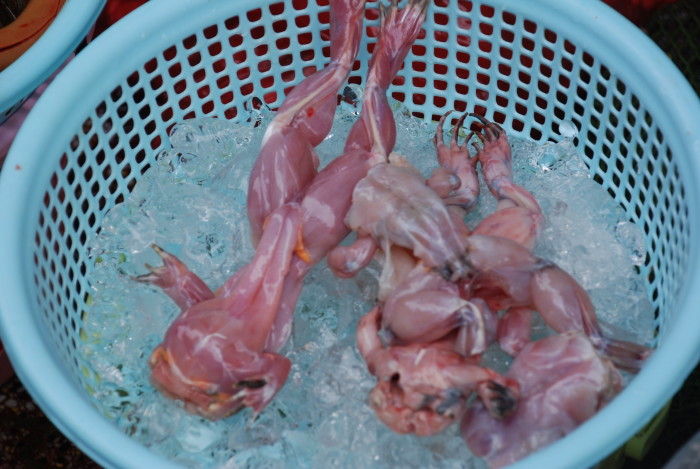 Travel tips for Vietnam
Language – there are about five different pronounciations for each vowel so Vietnamese is a difficult language to learn, speak or understand!  As in every country, having a go at the language is appreciated by locals so grab a guide book and have a go at the basics.
Climate – Summer is hot in Ho Chi Minh – mid 30's celcius – so the cooler months are definitely November to March where the temperatures are a comfortable mid 20's.  Fantastic for warm weather lovers, although if travelling north it can be a lot cooler.
Currency – there are ATM's everywhere but just be aware of your bank's international withdrawal fees.  At the time of travel it was approximately 1,000,000 VMD (Vietnamese Dong) for $50 Australian.
Tip –  Always have your passport on you.  In Vietnam it is law that you have to produce your passport to check into a hotel.  We did a three day motorbike trip and didn't take our passports…oops!  A quick call to a previous hotel we stayed at to get our passport number soon fixed that – phew!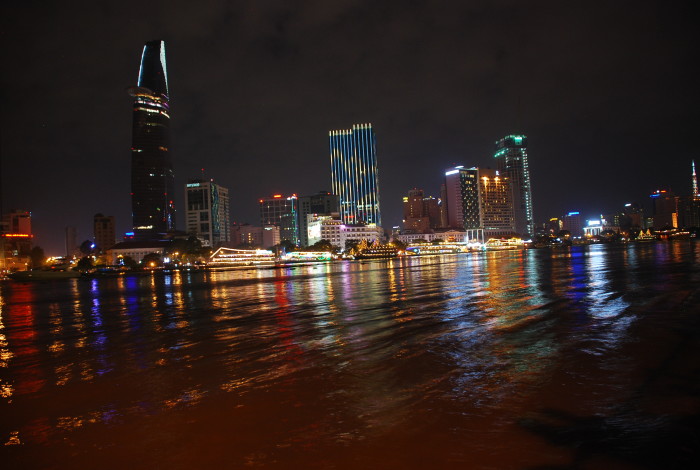 Latest posts by Fiona Cossill
(see all)