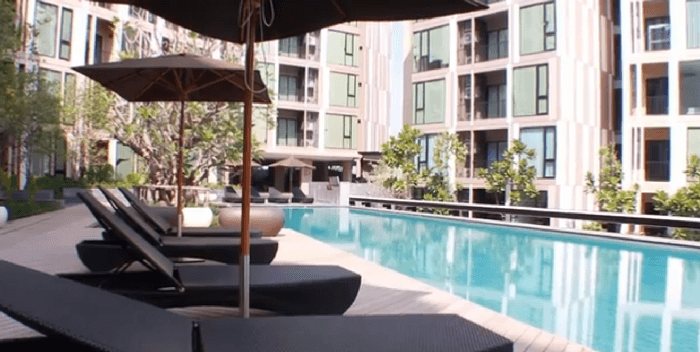 Finding cheap apartments in Thailand is a process. But if you are organised and know where to look, then you can find yourself a real bargain. It depends on where you look, how long you look for and what time of the year you do it. You can skip top the bottom of this blog to see a video of the place we rented. But if you want to know the process involved for us then read on. Let us start at the beginning.
Where do you want to live in Thailand?
You can do this research from the comfort of your laptop in [insert expensive Western country here]. Thailand has a wealth of beautiful and interesting places. I have been here on 4 previous occasions and know my way around to a degree. If you are like us and you want strong internet to be able to work online, then you will probably want to live in or near a city.
If you also want to be relatively close to the beach then you will not chose the Northern jungle city of Chiang Mai. Chiang Mai has a great reputation amongst the travelling community. I am sure it is amazing, but we want the sun and the ocean as part of our Thailand experience.
We ruled out Bangkok as it is too hectic and again, not on a beach. There are a lot more cheap options in Bangkok than elsewhere in the country…but it is a different story living there than in some of the more chilled out areas.
We pointed our compass towards Phuket. We could fly in there on cheap flights. It would have good internet being a well developed island. And it has beaches…lots of hot weather and beaches. It may be very touristy and lack some of the charm of the quieter and more remote parts of Thailand, but it met the most important part of our criteria.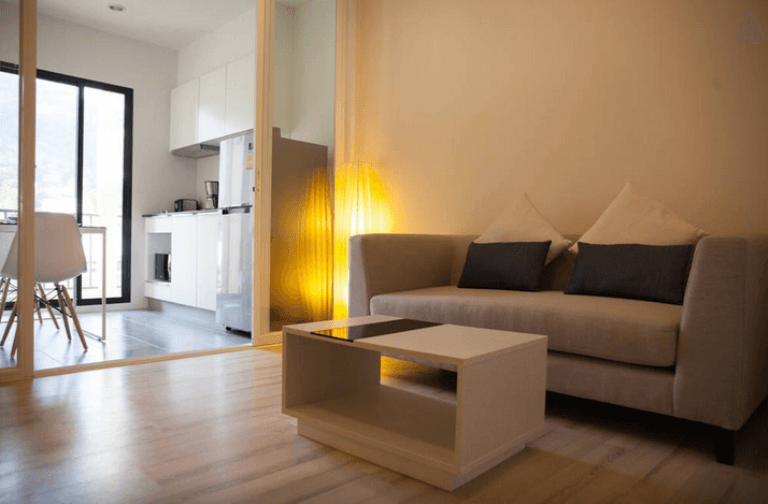 What is your budget for a cheap apartment in Phuket?
We set ourselves a target of $300-$400 per month to spend on accommodation. We had a bit of flexibility with this as we could afford to pay more. A budget of $300-$400 per month means we would be getting great value for our daily living costs. While there are some incredible places available in Thailand, you can pay quite a lot for them.
A budget of $300-$400 is enough to get you a decent place in Phuket. While there are cheaper places available, they are few and none had the quality and high speed internet we were looking for.
Do your research online to see what is available.
Researching online is great. You get a good idea of a range of accommodation available. I used some great sites to get an idea of what was available. If you are Googling the search terms "cheap apartment in Thailand" or "cheap apartment in Phuket", you will be hit with a vast amount of websites – cheap is relative. Here is a list of some of the more popular ones which came up.
After much clicking and scrolling I figured out which ones had ANY even NEAR our budget and which were targeted at short term holiday makers with big pockets.
| | | |
| --- | --- | --- |
| Website | Availability in Price Range | Minimum Stay |
| | | |
| www.phuketeasystay.com | Yes | all 6 months plus |
| www.phuketpropertyshop.com | none in range | |
| www.resavaholidays.com | none in range | |
| Airbnb | Yes | 1 night + |
| www.phuket.net/rentals | none in range |   |
| www.phuketrenthouse.com | none in range |   |
| www.roomorama.com | none in range |   |
| www.phuketspace.com | Yes | 1 night + |
| www.flipkey.com | Yes | 1 night + |
| www.classifieds.thaivisa.com | Yes | All 6 months plus |
| www.housebuddy.net | Yes | 1 month + |
| www.smileysapartments.com | none in range | |
| www.irispropertiesphuket.com | none in range | |
| www.asiapropertyworld.com | none in range | |
| www.chalongapartment.com | none in range | |
| www.phuketrentalservice.com | none in range | |
| www.homeaway.com/ | none in range | |
| www.baanthairealestate.com | Yes | Negotiable |
I have highlighted in BOLD those which had any around $300-400 which were met my criteria. The rest were for villas and far too expensive no matter which search terms I put in. And two of these sites were only for longer stays – 6 months plus. So after days googling "cheap apartments in Phuket" I was left with four sites which had something to offer me:
By the way, Tina from House Buddy was awesome and got back to use really quickly. She was really helpful and even though they normally only handle longer periods, she came up with a couple of great options a few hours too late. We definitely recommend giving her an email – info@housebuddy.net or zumbatiina@gmail.com
Another quick mention to Baan Thai Real Estate who were super helpful and quick to respond. Although they don't normally deal in less than 6 month deals, they did negotiate and Suppamas emailed us with a few different options. You can contact them on info@baanthairealestate.com for more information.
Please add some other ones in the comments if I have missed them…but these were the only sites I found which had any one month leases for apartments in the $300 per month range. Start here and you will be a little ahead of the pack.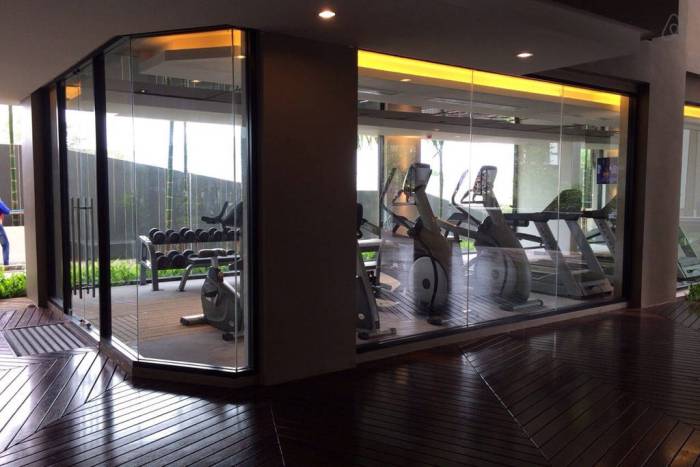 Book in advance or book once you arrive?
You can either book online, or wait until you arrive, rent a scooter and visit the apartments yourself. Phuket is not a large Island. You can do a circle of all the major places in 2-4 hours on a scooter. One option is to email places in advance and see what is available. Then when you arrive, rent a moped for a few days and see where they are, what they are like, how good the WIFI is etc.
It can be an intimidating experience. We were staying in Patong and took two days visiting places we had contacted. Ensure you have enough flexibility to stay an extra couple of nights in your hotel in case you don't get quite what you need. If you are in high season places can go quickly – so it may pay to book before you arrive.
I had emailed Mark who runs the website PhuketSpace and he told me they had one place left. We drove to Rawai beach 2 days later but when I called him from a payphone looking to go see the place, he told me he had just let it to someone else.
Undaunted we stopped in for lunch in a local restaurant in Chalong Bay and asked a bartender about a sign they had saying "room available". After finding out it was booked up we asked her about other places locally. She pointed us in the direction of a set of apartment blocks and we went to check them out.
They were top notch but $100 more than our budget. On top of that they were 15 minutes drive from a beach with no swimming pool. So we went home and started googling some more.
Using AirBnB
We had a better understanding of the island now, and learned how cheap a scooter would be. We decided to look for places which were anywhere with a swimming pool or close to the beach. We figured that we could rent a bike or catch buses to the beach… once we had somewhere to cool down each day. We revisited Airbnb a number of times.
Airbnb is a great site and we had used it numerous times for stays in Latin America. The only drawback is that they don't have a flat referral fee. They charge you a percentage of your entire booking. This can add a huge amount onto your bill if you are looking for a long term stay.
We emailed a few different places back and forth over the course of the evening and we arranged to see a place the following afternoon. It was brand new, had just been listed and had everything we were looking for: High speed internet, a swimming pool and close to lots of shops.
The only drawback was that it was not close to a beach. It was located just north of Phuket Town…but we thought we would give it a try.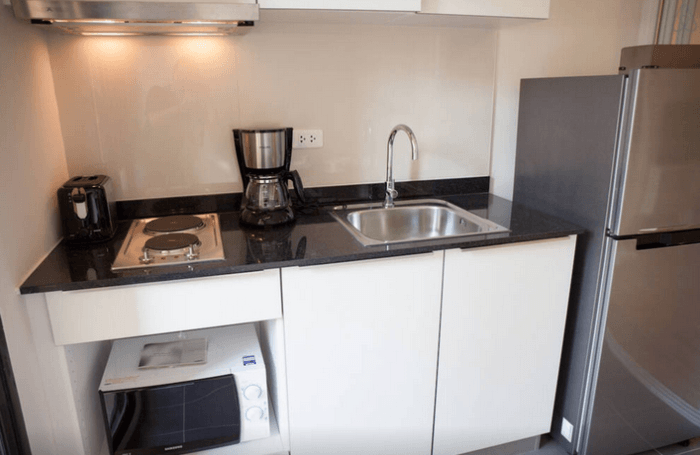 We found the place easily. It was just off a motorway which was under heavy construction. The building was brand new. We were greeted by two security guards at the gate who let us in with a big smile. We were greeted by concierge staff who brought us into the lobby where we met our landlords – a lovely Thai couple and their 2 year old daughter.
The apartment was brand new! Nobody had lived in it before. In fact, lots of the apartments were still empty and still being sold. The WIFI was strong, we had a small kitchen, living room, bedroom and bathroom. It came equipped with a wide screen TV and basic utensils, linen, towels and crockery.
To top it off the infinity pool looked amazing. There was a small gym adjacent to the pool and it looked like a great place to relax for an hour or two each day. Coupled with the luxurious feel the staff brought to the whole affair, we believed this was an opportunity not to be missed.
We paid them our deposit and agreed the time to return the following day.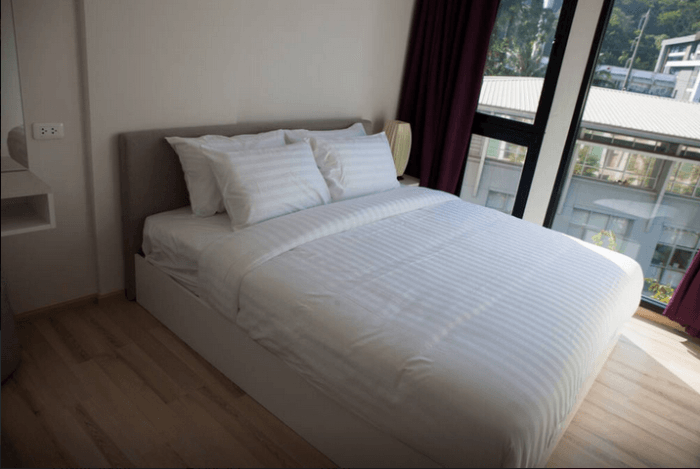 Are there any extra costs?
One thing to be aware of is that you will more than likely have to pay for your electricity and water when you rent for an extended period of time. In Thailand this will not amount to much. In the end we paid $55 a month for both power and water, and because of the heat we ran the air conditioner a lot of the time. We kept an eye on the metre and were paying 6 baht per unit of electricity.
Tip – Ensure you make a note of the electricity metre when you move in.
We also decided to hire a moped for the month. While not an essential item, it does give you a certain amount of relative freedom which we love to have. You can zip off to a multitude of places at the drop of a hat.
Renting a scooter in Phuket
We paid 3,500 Baht for a months rental of our scooter. By all accounts you can get better deals, but I was tired that day and saving $20/30 just didn't seem worth shopping around. A few weeks later, we met a lovely woman called Jill at a motorbike shop in Rawai who said if you rented long term she would give you one for 2500 or even 2000 Baht.
So if you are in the south consider renting from her first. Either way a scooter gives you a huge amount of freedom in Phuket. If you don't have a motorcycle licence you can be pulled over and fined $30 or $40. This only happened when we were travelling to Rawai – but never in town.
Summary
We are extremely happy where we are living now. We spent a little time researching and then went with our gut. Check out our video which will show you around!
Latest posts by John Leonard
(see all)