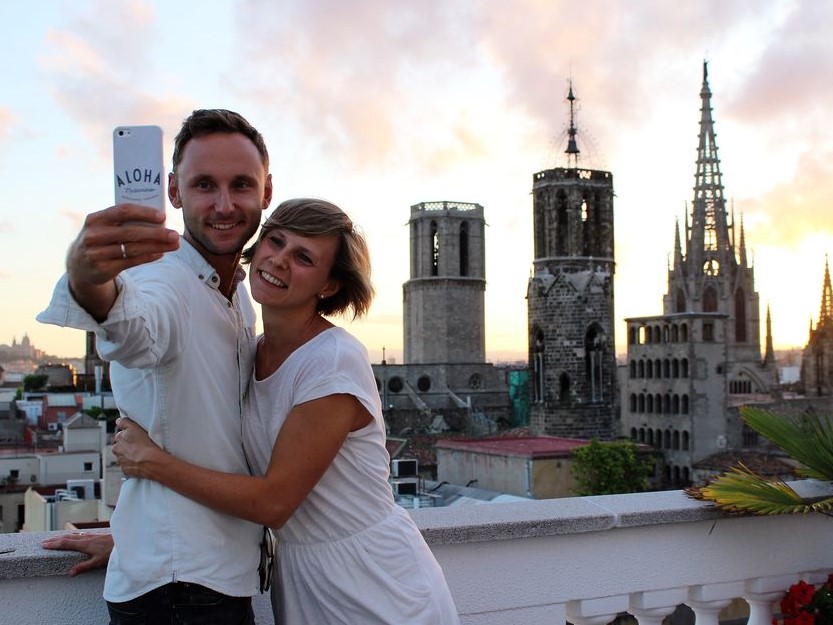 During our adventures in Latin America we met a lovely German couple Magdalena and Michael on a multi-day tour. Recently they got back in contact with the news of the launch of their new Barcelona travel guide.
I love that social media gives us the chance to reconnect with people that we had adventured with once upon a time! Magdalena and Micheal moved to Barcelona in 2012. They have fallen in love with it so much they just couldn't leave…
They said "despite current discussions on the negative impacts of tourism on Barcelona, or maybe because of it, we have created an alternative, digital travel guide Barcelona by locals to help all travelers out there to discover Europe's most beautiful city a different way – as a local."
We interviewed them to find more about their passion for their adopted city and the story behind the project.
Q: You moved to Barcelona during a crisis in Spain. Why?
Michael: Good question, we were asked this many times because back then many Spanish were doing the opposite: moving to Germany (the majority to Berlin actually) to look for a job.
I always wanted to live a certain period of my life in Spain because I fell in love with the country during my Erasmus in Alicante. Magdalena planned to do a master in International Relations and the only bilingual one (Spanish/English) she could find was in Barcelona. So, it was a nice coincidence or maybe destiny that took us here…
Magdalena: Plus, we are not the typical Germans whose priority is to have a secure job, house and a stable lifestyle in general. We prefer to let things happen as they come!
Q: How does it feel living as a foreigner in Barcelona?
Magdalena: Sincerely speaking, when we came to Barcelona, we had some doubts as people told us that Catalans are not the most open-minded people and that it takes a long time to build up friendships. However, we experienced the opposite.
Probably thanks to our sports (I play basketball, Michael – volleyball) we quickly connected to Catalans and got invited to paella lunches, barbecues, fiestas, etc. We are very grateful for that and are happy to say that we now feel as much at home in Barcelona as we do in Germany.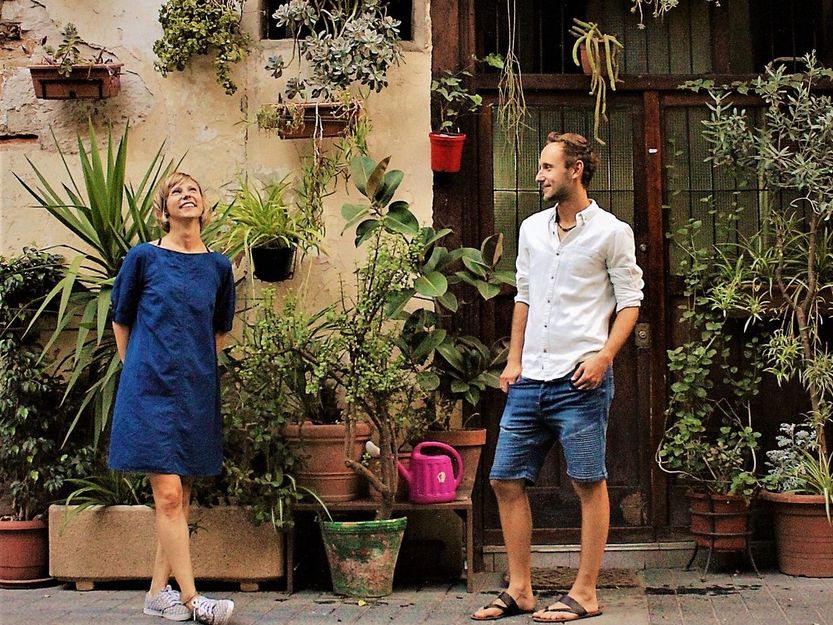 Q: How is the city dealing with the recent increase in tourism?
Michael: Tourism has become a huge and very delicate issue in Barcelona: prices are increasing, especially prices of rent. Many locals had to leave the neighborhood and traditional bars and restaurants closed because they cannot afford the increased lease prices. Walking through the city, you see many flyers, posters and stickers complaining about this development.
Magdalena: An interesting fact is that according to an annual survey regarding the citizens' concerns, the second biggest worry is the effects of tourism, right after labor conditions and unemployment.
Curiously, those top concerns go hand in hand: tourism is one of the most important economic drivers of the city: 120,000 people work in the tourism sector and it was basically the only one that was not negatively affected by the economic crisis. So, negating the tourism business is not an option but at the same time you have to listen to the residents' concerns.
Q: What is the solution to this problem?
Michael: It's not an easy one… I think two things are important: First, all the actors in the tourism sector in Barcelona and Catalunya have to work towards a more sustainable way of tourism. You cannot prevent people from coming to explore Barcelona, but you can make them aware of the problems that tourism is causing and sensitize them to leave a sustainable footprint.
In Barcelona by locals, for example, we show our readers alternative routes through the city away from the busy streets; and we tell them about the current development trying to teach them a more responsible and respectful behavior as tourists.
Magdalena: Obviously, also the government must take action to ensure that the neighborhood's citizens are benefitting from tourism. An idea is to invest the income from the touristic tax in projects that improve the life of the residents of the different neighborhoods, such as social housing, green areas, etc.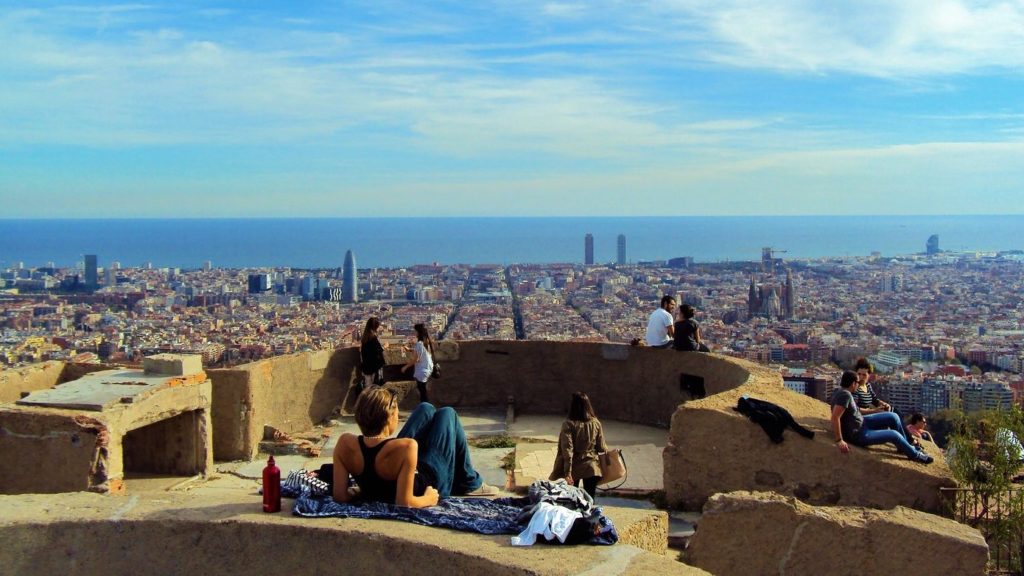 Q: What inspired you to write a Barcelona travel guide?
Michael: It was a mix of several circumstances: one was that I quit my job last year and found myself in a sort of self-finding phase. I went for some time to the Montserrat Mountains (close to Barcelona) to do some hiking and meditation.
Both helped me to put my thoughts in order about what to do in life and what to expect from it. Back then, it was Magdalena's sister who came up with the idea to make use of our knowledge of Barcelona and we figured out that this would be the perfect moment to start our own project.
Magdalena: Plus, we realized that we love to tell our visitors about our favorite places. They, in turn, are always grateful for our local advice. As we keep on discovering new places, we even became a reference for the new best bars or restaurants in town among our friends.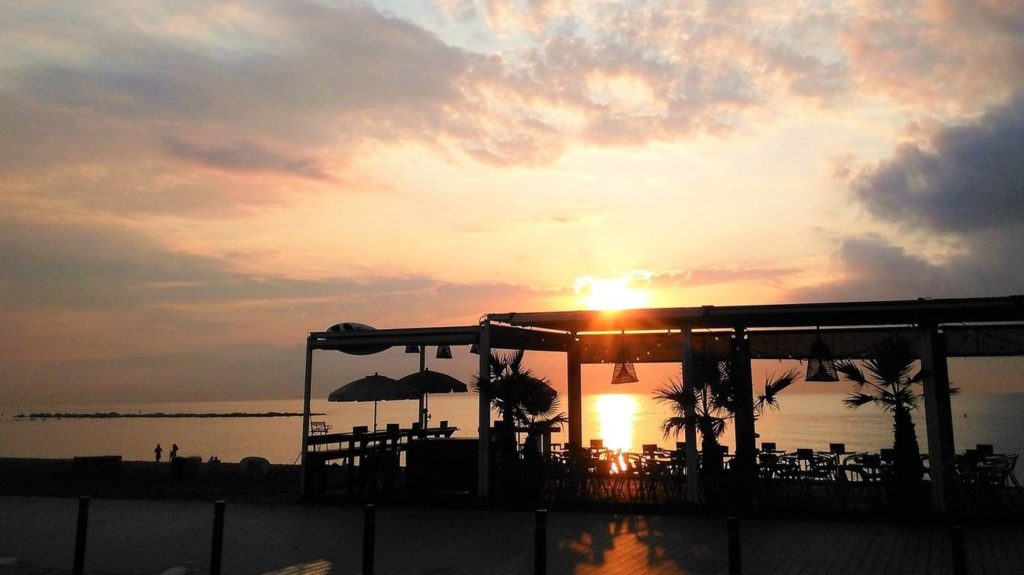 Q: How does "Barcelona by locals" differ from other travel guides?
Michael: In short, Barcelona by locals is a 100% personal, digital travel guide. For us, the best city trips were when we knew someone living there – someone with the same taste as us, who could tell us which top sights are worth a visit, where (not) to go, where to eat/drink, etc.
Magdalena: For example, our walking tours are based on our favorite walks through the neighborhood and my dad drew them all by hand. Some of our friends were happy to be featured as local experts and shared the hot spots of their neighborhood.
And lastly, our guide is not advertisement driven, meaning we are not paid for any of the places we mention. We only included places we personally know and can recommend by heart.
Q: How would you describe the perfect tourist?
Magdalena: A person with a genuine interest for the city's culture and lifestyle, a respectful and friendly behavior towards locals and an effort on speaking the local language (Catalan!) – even if it is only a few words…  but Catalans really appreciate it! With a simple "Bon dia" or "Hola" instead of "Hello" you will capture their hearts!
Get your copy! 
If Barcelona is on your bucket list, why not get a copy of Barcelona by Locals and support Michael and Magdalena's mission to create fun and responsible tourism in Barcelona.
Latest posts by Serena Star Leonard
(see all)