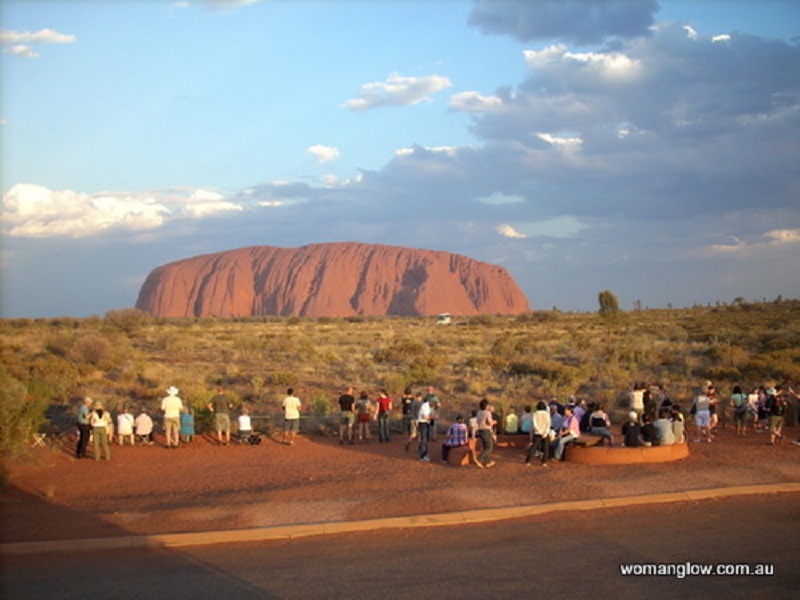 I was living and teaching in an aboriginal community in the Northern Territories of Australia, loving it but worn out and needed a huge reboot.
So I did some research and found a bicycle travel company that supported cyclists all the way. My kind of reboot. I chose the trip from Perth to Uluru.
I flew to Perth and luxuriated in a hotel for a night after the deserts of the Northern Territories. Next morning I rocked up at the rendezvous to meet the very handsome Ben, who ran Remote Outback Cycle (ROC) at the time.  It has since changed hands and they don't seem to offer this particular trip but there's STACKS to choose from anyway!
Our tour bus was an all-terrain sort of vehicle with seating for around 17 cyclists in the back. The mountain bikes we would each be allocated were stacked on top of the vehicle and the mess trailer went behind us, loaded with kitchen supplies.
Once our disparate group turned up, (at 49, I was the oldest and most rotund) we jumped aboard and headed off for Kalgoorlie. I was partly disappointed to be in a vehicle so soon, but then I was also relieved not to be cycling out of Perth's mid-morning traffic. And so the routine for the 10 day trek to Uluru began.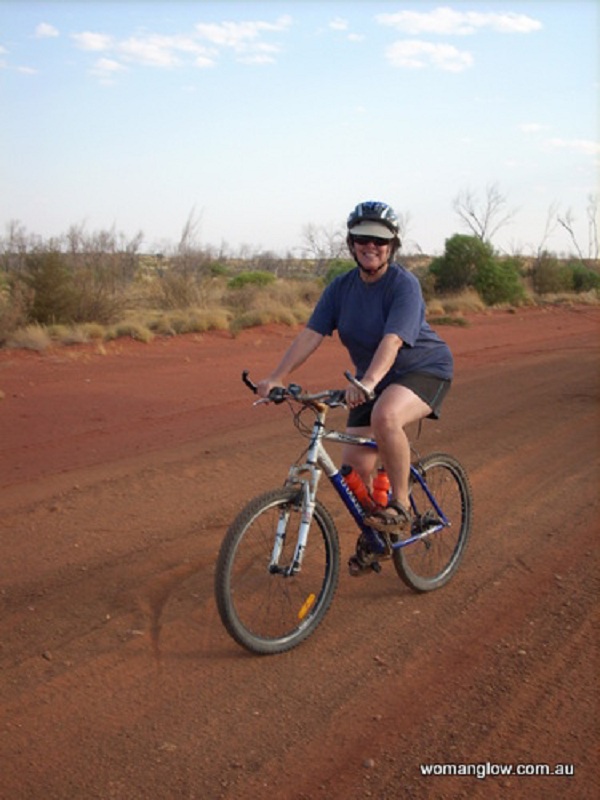 Ben drove us to Kalgoorlie where we did some sightseeing and then struck camp. Tents were provided and whilst my back is allergic to sleeping on mats on the ground, a few wines went far to alleviate that problem. It was a good time to get to know each other as a group who'd be cycling together for the next 10 days.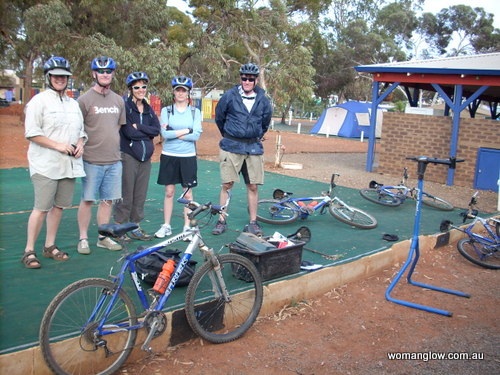 The next day was an early start – the bikes came off the top of the support vehicle, we each got a sturdy mountain bike and it was our task to cycle out of Kalgoorlie and begin the adventure!
Despite my age and apparent lack of fitness I surprised everyone with my stamina – I kept going and going. Each day wasn't about speed for me, it was about being out in the big wide open spaces.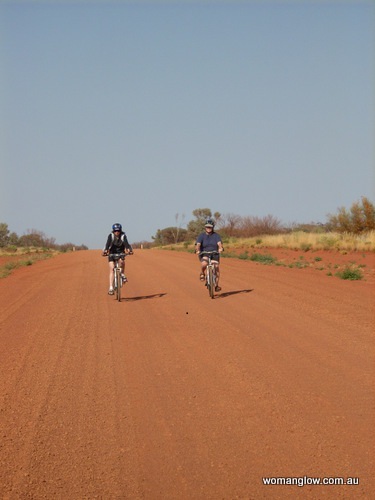 The first cycle was 45kms and most of it was on bitumen leading out of Kalgoorlie heading towards the centre of Oz, our ultimate destination.
The best thing about ROC Tours is that when you've had enough, you simply jump back into the support vehicle. So one by one, Ben picked up the flaggers along the way to our lunch stop where we'd meet up with the super group, the fastest of which, I'm happy to report, was a young female doctor from Bunbury.
We'd eat lunch prepared by our host, Ben, and then jump into the bus and head closer to Uluru by about 200 kms – which would take us to about 4pm when we were rested and digested and ready for another spin on the bikes.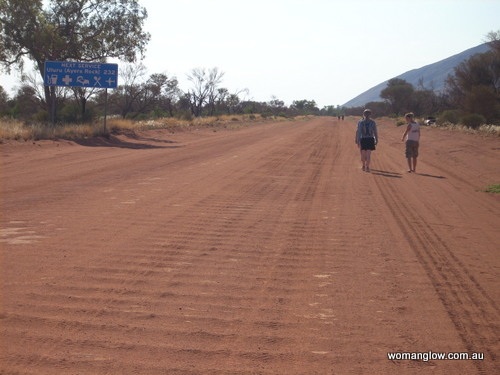 This was the type of road we cycled over. I can proudly say I have "done" the Gunbarrel Highway.
With the afternoon cycle done, we drove  to the next camp site for fun with tents, finding firewood and feeding our faces.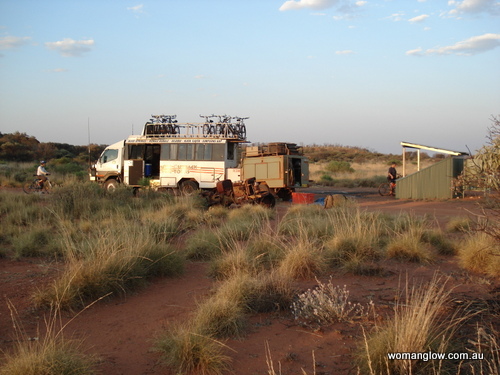 Sometimes the idea was just to take in the scenery and Ben would have us all walk a few kilometres, a welcome alternative for photo opportunities. When you're out back in Oz the animals you see are up close and personal.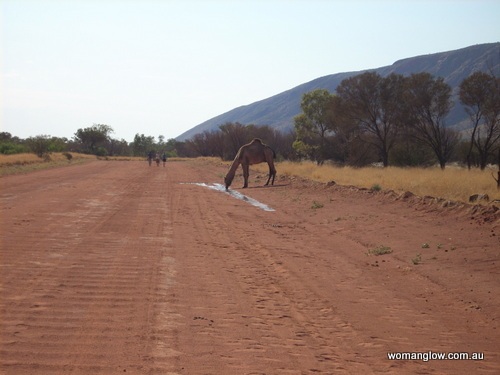 By the time we had almost reached Uluru, around whose circumference we intended to cycle, we were quite at home with the rigours of cycling the outback.
We were camping out bush, with or without toilet facilities, and spending evenings round campfires – one guy from Liverpool could even play the didgeridoo. Our trip had authenticity that you don't get from an air-conditioned bus tour.
When we finally reached Uluru, I could honestly say I'd cycled maybe 250 kms of the way in total – the younger, fitter people did way more but, for me, my best was enough.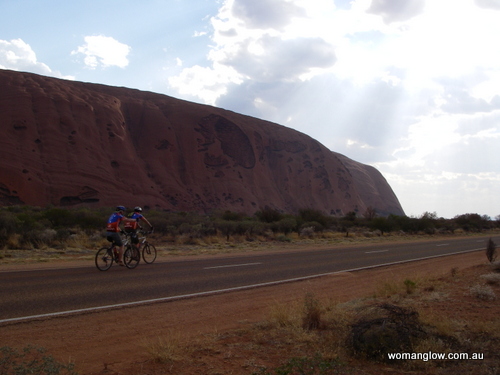 We toasted "The Rock" from the best vantage point of all, the top of the trusty truck!
I can tell you now, it was a delight of an adventure for me and I was sorry that it had to end. If you ever get a chance, take the challenge, no matter what your age or size, and enjoy Oz from the ground up.
Latest posts by Nancy Liddle
(see all)