The Lady of Good Fortune was on my side when I looked up lastminute.com and found the Dive Hotel at Coogee, Sydney was available for my odd days – Sunday and Monday.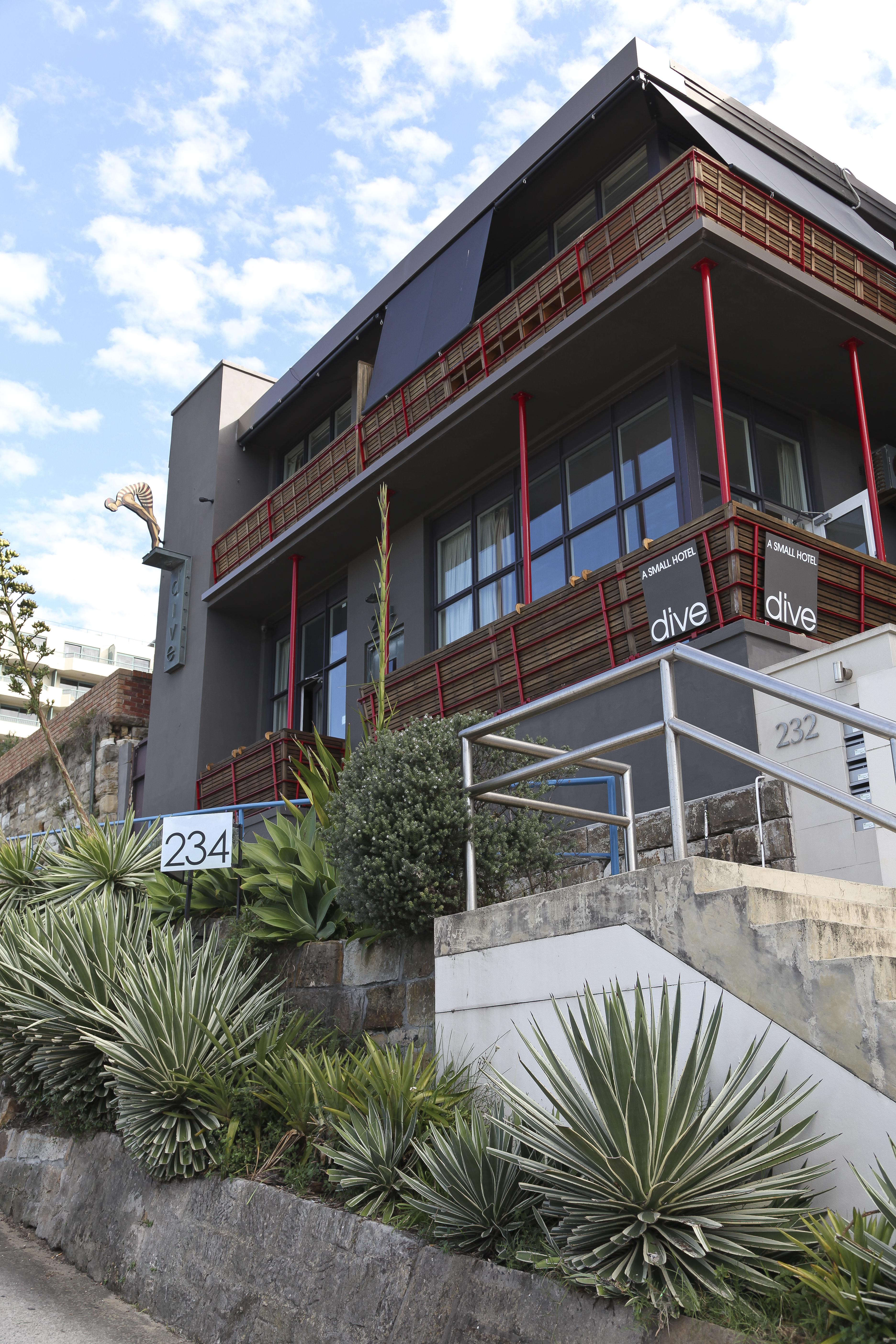 Location
Dive Hotel is a wonderful "small hotel" situated on the very road that fronts the ocean!
The beach is a two minute stroll across the road. And true to Sydney form, the water is a sparkling, deep blue. I would recommend avoiding any Sydney beach on weekends, so we spent most of Monday in the water because all the crowds were safely back in their workplaces that day.
To lay your head
When we arrived, we were escorted to our room which, for two friends who don't normally share a bed or living space, was a tad smallish. It was only when my friend said, as the concierge was leaving the room, "this is a tad smallish" that he instantly offered us an upgrade to the balcony room next door (for $20 a night).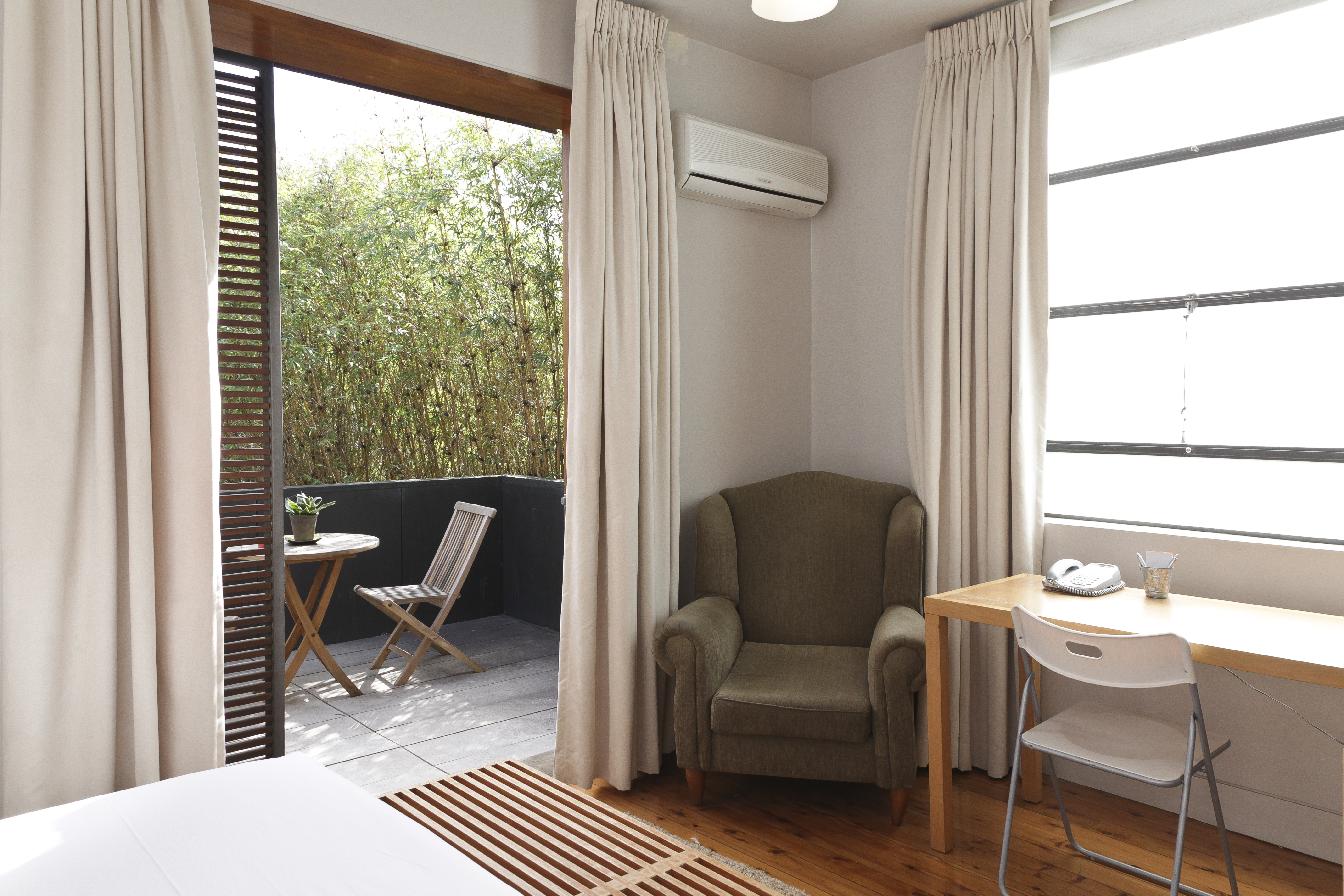 We snapped that up and were delighted to find a room with heaps of breathing space AND our very own balcony. The bed was king, the bathroom was glamorous with floor to ceiling blue tiling and the balcony was private and filled with greenery in pots.
Try and get one of the two front balcony rooms if you want the splendid ocean views for a twilight- drinkie. Just be prepared for the traffic noise at the same time, because Coogee Beach is a popular spot.
Friendliness and high quality rooms with art deco touches do so much for the traveller's soul.
Eating
We walked up and down the main restaurant strip which is also seconds away from the Dive Hotel in search of vegetarian food. I had been without strong flavour input whilst on a retreat so strong spice was top of my gustatory list. My friend and I found just what the doctor ordered in Flavour of North India.
Our eyes were bigger than our stomachs and we ordered an array of curries in the small dishes naan bread and lassis, and we gorged ourselves on the banquet. It included a truly delightful and tasty assortment of vego dishes for any discerning vegetarians out there.
But, if you are wanting THE BEST TABLE AT COOGEE BEACH, here's my secret tip for you.
Barzura is at the extreme left of Coogee Beach and there is a certain table to the left outside on the footpath that has uninterrupted views of the ocean AND is in the shade – I am talking lunch here – at night you wouldn't be able to see the sea.
We both agreed that THAT table was the best of all the restaurants in Coogee AND the food was delicious too. Whatever your palette you will find what you're looking for in Coogee – it seems that all the little local shops have been turned into cafes so that the main drag is one big eating festival.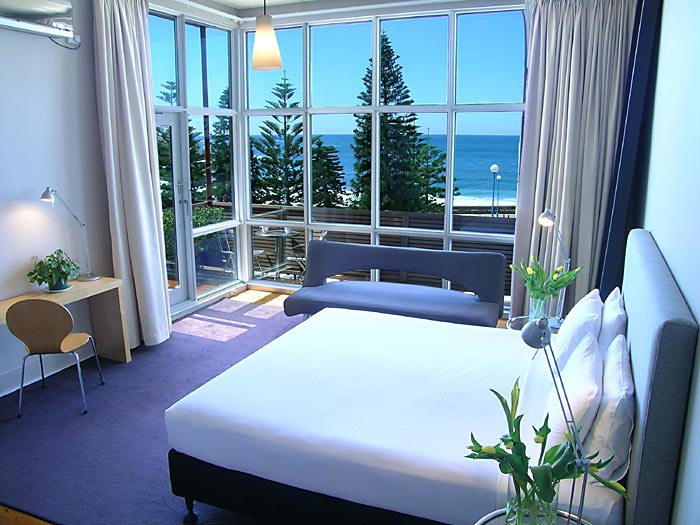 Activities
Naturally, swimming in the ocean is probably the main reason you will end up at Coogee Beach. And there are a few different environments to swim in at Coogee. I settled for ocean swimming because I've been starved of it for a couple of years. But if you're a pool-type family then over at the very left of the beach as you look at the ocean, is a toddlers' wading pool and an adults swimming pool – both oceanic but entirely safe with a life guard on duty.
If you're an ocean swimmer who prefers that area of sea beyond the waves, then we observed a few swimmers doing the width of Coogee Beach under the keen eye of the life guards who displayed skills with surf boards, boats and the helicopter patrol. This is one safe beach for any kind of swimmer!
Another venue is the pavilion-looking place further along to the left of Coogee Beach. It is Baths for Women. We didn't go there as we had little time and didn't find out about it until too late but it's a top place if you happen to want privacy or just a break from the male gaze. Kids are entirely welcome of either gender too.
We also managed to get in a show at the Sydney Festival – such is the location of the hotel that taxis to wherever were not too expensive. Before the performance we dined at the Sherpa Kitchen for some exquisite Nepalese food.
Wifi
Wifi is available in all rooms and there is a computer at the bottom of the stairs should you need one.
We say
As an average older woman travelling around the world, I think Dive Hotel is a cut above the rest.
The management are friendly, relaxed, quiet and fuss-free. They love animals and their pets are a real joy both to them and the people who stay at their hotel.
This is Lucas the huge Poodle cross. No allergies to get from his lovely fur and he's got a magnificent tail.
Head indoors or outdoors for the included breakfast and you'll see house pets lounging around for pats and hugs. The animals are laid-back and well-trained. I was missing my own three mutts so it was wonderful to get some doggy time in as a bonus.
Management, animals and location really make this hotel a definite for a return visit and I recommend them highly.
The facts
Accommodation type: Boutique Hotel
Price: $220 to $415 per night
Address: 234 Arden Street, Coogee NSW
Web Address: www.divehotel.com.au
Phone Number: +61 2 9665 5538
Email: thedive@bigpond.net.au
Latest posts by Nancy Liddle
(see all)