One of the searches I spent a lot of time on recently was "how to get from Cali to Quito?". This was followed by the Google search "Is it safe to take an overnight bus from Cali to Quito?"
There is a lot of information out there on the forums on this topic…relatively old information. Hence, having just made a really safe trip to Ecuador from Cali, I will share exactly how we did it.
Overnight buses
We did not take an overnight bus. So before you read too far and wonder was it safe or not, I will say I do not know. We travelled by day the whole time. But there were good reasons for this and to us it made sense.
Let me just say that I have spoken to lots of travellers who have travelled overnight along this stretch and they are alive to tell the tale. Security in this region has been stepped up a lot and as we travelled with saw a lot of police and army presence along the way.
You do feel safe, although mind your stuff! Don't leave your valuables in bags under the seat or overhead. We have met a few travellers who had a camera, passport or wallet nicked from inside their bags on buses.
Cali to Quito
Once we decided to go during the day, the next issue was to decide who to go with and when. A really great resource I found was the Bus Terminal websites. Bus info in Colombia is hard to come by online, but if you search for the terms "Terminal de Transport de Cali" you will come to this page.
Here you will find every bus going to every place in the country from Cali. This also works if you Google the same terms but replace Cali with Bogota/Medellin etc.
Tip:  Don't always go for the cheapest – cheap normally means slow, cramped seats and no air conditioning.
Being the cheapskate that I am, I selected the Trans Ipiales Company for 45,000 pesos ($24USD), taking 10 hours. There were a lot of other options but I figured I would like to save a few dollars here. The bus was small, cramped and with no air con, but in the end I got myself into a comfy position and the time went quite quickly.
We left at 10.30am and arrived in a town called Pasto at 8pm. Here we changed over to a small collectivo taxi which covered the last part of the journey in about an hour and a half. The collectivo was part of the original fare – but without enough passengers to run the bus, they simply downgrade the size of the vehicle. This was not apparent when we bought our tickets – so now you know.
Staying in Ipiales
We arrived in Ipilaes at around 10pm. We were dropped off at the bus terminal. We elected to walk across the street and booked the CHEAPEST ROOM IN OVER A YEAR TRAVELLING! This was at the Metropol Hotel, which is literally across the road from the bus terminal. You can ask any of the taxi men and they will point it out to you.
The room which cost 20,000 pesos for 2 people, also had a small double bed and the smallest bathroom imaginable. But it was clean and had a satellite TV.
Tip: Most people don't bother staying here overnight. But if you have time Santuario Las Lajas is worth a look. 
Santuario de Las Lajas
One place you have to visit is the legendary Las Lajas Church. This is a 20 min taxi ride (8,000 pesos each way) from Ipiales. We spent 3 hours there. We wandered and took photos and had a coffee and really enjoyed the serenity of the place. Some people come here, spend half an hour, take some photos and head for the border.
It is worth the visit and is a special place. We had decided to take our time and stayed one extra night in Ipiales as we were really tired and in no real rush. If you do stay overnight in Ipiales, get up early and visit the church before you check out and cross the border.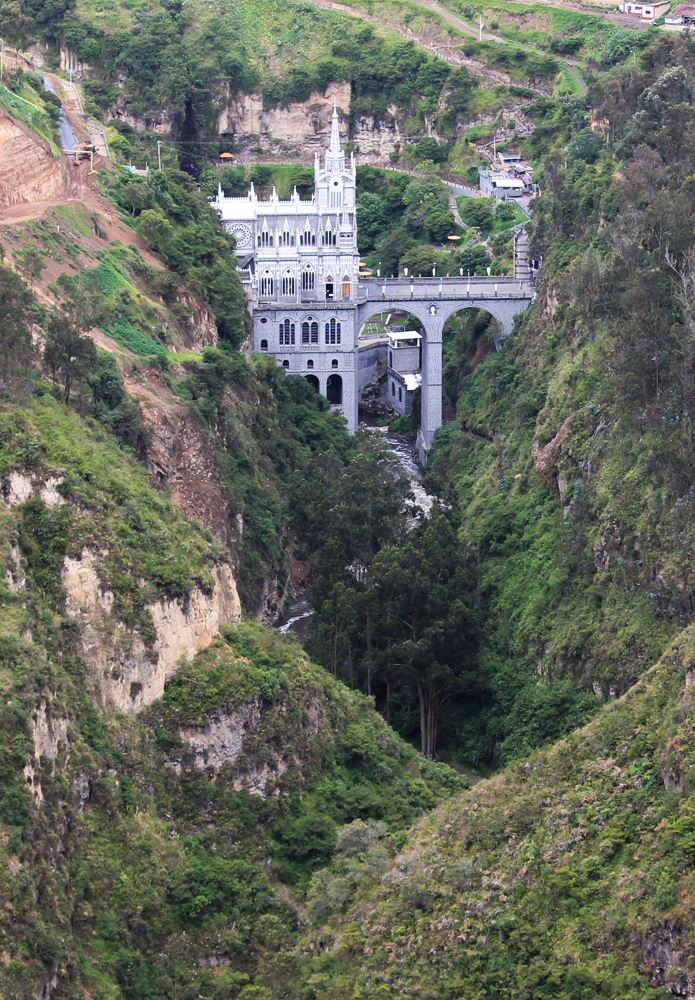 Crossing the border from Colombia to Ecuador
The next day after breakfast, we packed and took a taxi straight to the border. This cost 7,000 pesos and took 15 minutes. The driver dropped us right on the doorstep of the departure building for Colombia.
After getting our passports checked and stamped, we walked 500 metres to the Ecuador side and into the immigration building there. Here we got our passports stamped again. Nobody asked how we were going to exit the country – so no hassles.
With all this done, we walked across a road where there are lots of taxis and collectives. We took a taxi (USD$3) to the local town "Tulcan" to the bus stop. This taxi takes 10 or 15 minutes.
All in all the border crossing took about half an hour and was really easy, safe and secure.
Tip: Be careful changing money here. While it is safe (there are lots of police around), the street people may try to give you a bad rate. Work out the exact amount you should get before hand – While I prefer to give these people my money rather than a bank, they can still try to shaft you.
I was offered a rate which was USD$45 less than what I should have gotten in total. I did the walk away and then one of their co-workers approached me with the correct rate, which I took. Make sure you get small notes too.
Bus from Tulcan to Otavalo or Tulcan to Quito

Our taxi driver dropped us right at a bus which was about to leave to Quito including stops at Otavalo. The bus was big and comfy and had air con on intermittently. We also got to watch a movie in Spanish with English subtitles.
We stopped in Otavalo which is a lovely town in the mountains with a big market and great scenery. This took around 3 hours. The bus then continued on to Quito, which is around another 2 hours away. In general in Ecuador you will pay $1 per hour of travel.
The bus left us at a stop which is policed and the cop hailed us a taxi which dropped us into the town to our hotel.
Cali to Quito Summary
The whole journey took us 3 days but was very relaxing and enjoyable – if you are in a hurry you could do it in 1 day and go for an overnight bus somewhere along the way.
Going from Cali to Quito need not be the stress out that some would have you believe. If you take your time and use common sense, then this can just be another amazing few days in your South American travel.
Latest posts by John Leonard
(see all)