When you are buying a laptop bag you have a few things to consider – durability, space and comfort were the most important for me.
After travelling over land, sea and air through Venezuela, Colombia, though 9 countries in Central America, over to Cuba, back to Mexico and up to the USA, I am pleased to report that the laptop bag we chose really stood the test of time.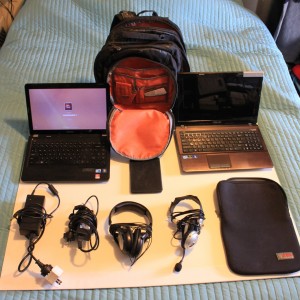 We travel with 2 laptops, 2 kindles and a heap of chords and wires which all fit nicely. Usually for long distances we put 2 pairs of bulky headphones in as well. This is a lot of goodies in one bag!
Note: the bag isn't actually designed for 2 laptops but it does the trick.
Looking at the bag now, there is little to tell it apart from when we bought it. There are no visible signs of wear, aside from a little chewing gum which someone kindly left on the ground somewhere.
Considering the bag has been thrown gently around hundreds of buses, taxis, planes and boats for the past eleven months it looks great. Better still, our laptops have come out the other end practically unscathed. The Everki EKP 119 has plenty of laptop cushion that absorbs all the shock and strain.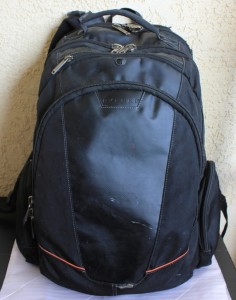 One of the features touted about this bag is how you can use it to get through airport security easy.
To be honest, I have forgotten about this every time I have gone through. Like a well conditioned monkey I obey the soft computer voice on the airport intercom "Remove all laptops from carry on luggage and place them in a plastic container". Next time I will try to remember I can just zip down and around and let the bag do the dirty work.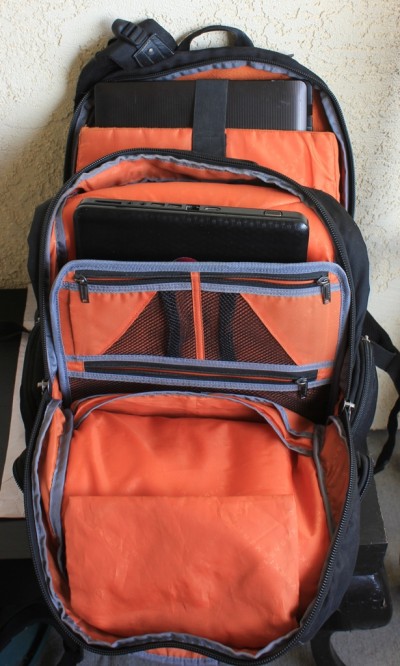 As you would expect there are heaps of little pockets to hide things in too. The bag is really useful and I regard it in a way I never thought possible before this trip.
Look at it like this – I have trusted this strong and powerful, yet soft and spongy laptop bag to protect the two most valuable pieces of equipment we have had for nearly a year, at the time when they are most vulnerable, in transit.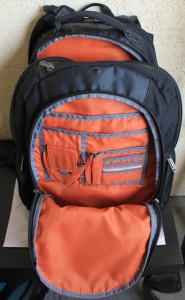 This bag is incredible and I do not use this word lightly. It is durable and can carry a serious amount of weight. I carry up to 10kg of weight in it when travelling with a full load. It still retains a good comfort level even when maxed out. If you are looking for a bag which lasts, supports and looks the part, then your search ends here.
Going places? Your laptop bag should be the Everki EKP119. Damn tootin.
Want more?
Latest posts by John Leonard
(see all)