Medellin is a fabulous modern city in the northwest of Colombia. It is in a valley between beautiful mountains and we are staying in La Floresta, where we were delighted to find a fantastic swimming pool complex that is free to use.
Yes I said it… FREE!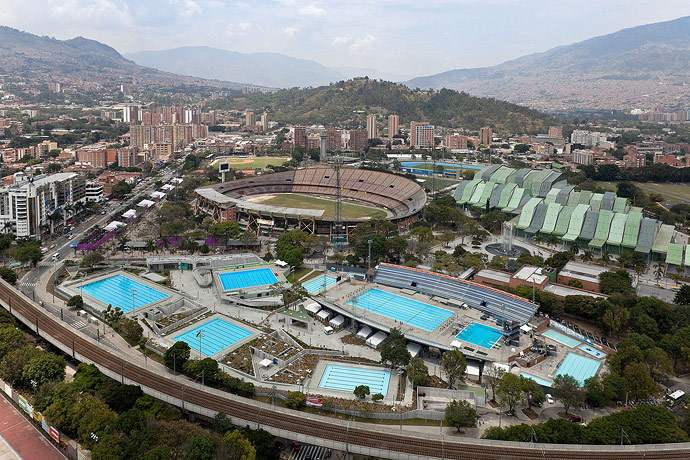 After 3 weeks of laps we are feeling fitter and stronger than we have in all our travels. It is so nice to be able to wander down to a gorgeous pool with clean and well managed facilities and enjoy a cool swim with the sun on your back.
Bikini Adventures
One day my little world crashed when I left my beloved bikini in the changing room.
When everything you own fits in a backpack, you get kind of attached to your things! I swim almost every day and I spent months finding the right togs in Sydney. These ones actually stay on while swimming, they look great and they support my boobs too… yes the perfect bikini!
The next day we checked in "cosas perdidas" (lost things) and realised that my lovely, comfy, supportive Seafolly bikini was gone.
Disaster!
It was only when I bought this bikini last year did I realise that all my recent bikinis/swimwear were Seafolly.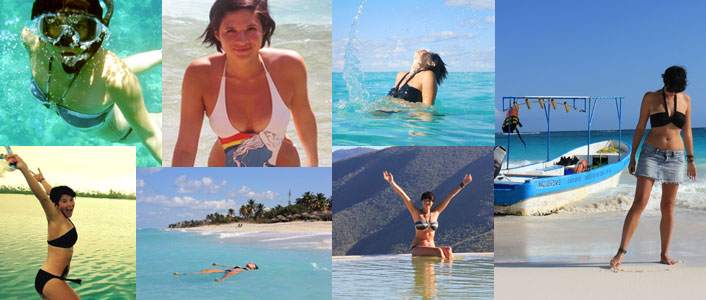 I don't normally go in for brands but in this case their styles are awesome and they stay on – which is a total bonus when you have boy hips, big boobs and like to swim.
I am beginning to realise that my body shape is perfectly wrong for bikini wearing, well wet ones anyway.
My mum made my first bikini when I was six. It was blue and pink stripy with tie sides, and I was really excited to try it out.
Bikini Disasters
My only memory of said bikini is standing cross legged by the pool realising for the first time how insufficient hands are for covering ones dignity. Meanwhile my swimming teacher struggled not to choke on his giggles as he dove to the bottom of the pool for my swimwear.
Many years and many flashes later, my crowning glory was at a reward trip in Saint Kitts with 200 of my colleagues plus partners. Everyone playing on the beach, jet skis, banana rides, volleyball etc. I looked up from the water and the group was gathering and calling us in.
I got hit by a wave and felt a familiar slide from my hips, grabbed my bikini bottoms and made sure they were fully on as I stood up – phew! I was still beaming from that quick save when I realised from the astonished looks that I was flashing my boobs to the company's entire global sales team… and their partners.
These were two of the more traumatic bikini experiences I have had, but I assure you, there are more.
Hence my attachment to bikinis that really stay on… so to speak.
Lets go shopping
The upside is that Medellin is a big city, and we also wanted to buy some hiking boots for Ecuador and Peru – so we nipped down to the shops!
Before we went I double checked if Seafolly had a store here, they don't. So we started at the biggest mall in Medellin – Santa Fe – big is better right?!
We found a handful of stores that had bikinis, shop after shop of blinged up numbers that looked like they belonged more in a strip club than on a beach, they were all B cups with g-strings for bottoms – eeek!
We found a speedo shop – no bikinis. We found shoe shops, nothing fit, suddenly I was a ginormous Amazonian woman that people would laugh at when I mentioned my size.
Nada, nada, NADA!
I said to John "all I need is an Australian surf shop" – a few minutes later Quicksilver pops up. Result! I dive in, my eyes at the ready to destroy the rack of bikinis…. There was none, they don't sell them there… at Quicksilver!
After much searching through 3 cities, and my Galapagos trip looming I found one in Quito. Literally the only bikini that fit in the entire shopping mall (and probably the entire country). The style? Well beggars can't be choosers!
Moral of the story? Giant western sized women may struggle to find shoes, clothes and swimwear in Latin America. I should have guessed!
Seafolly save the day!
I have some great news!
Since all this happened Seafolly have very kindly offered to replace my favourite lost bikini and it will be waiting for me when I get to NZ – Yippee!
As you can probably imagine I am thrilled! And will be comfortably back in the water in no time – flash free.
Latest posts by Serena Star Leonard
(see all)