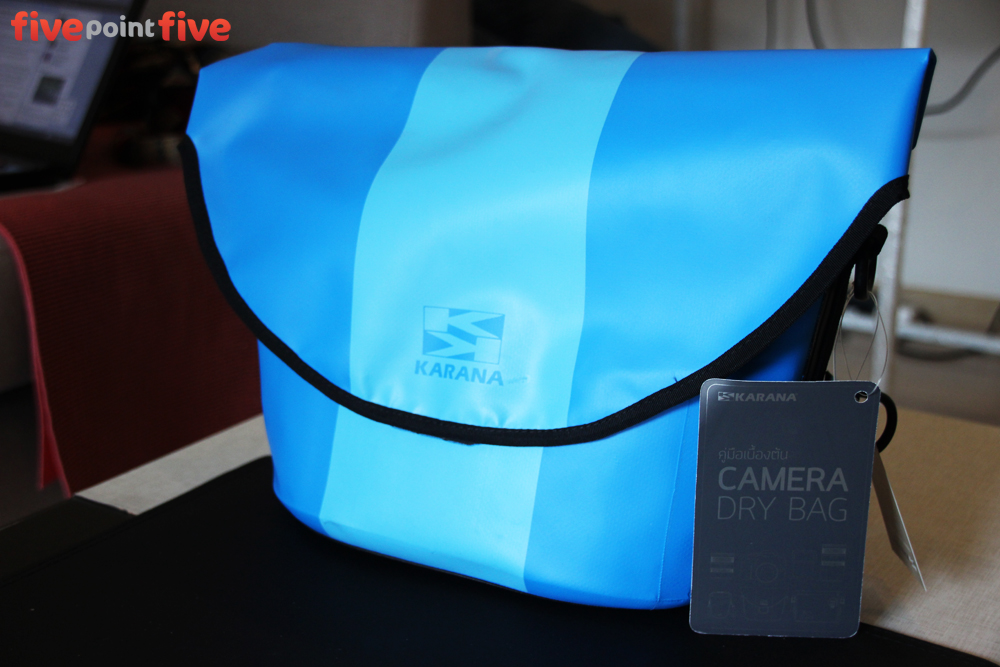 Buying A Dry Camera Bag
I have been toying with the idea of buying a dry camera bag ever since we did the 5 day hike to the Lost City in Colombia.
It was my first intense hike with a DSLR and I learned a lot about how lacking my camera gear was on the journey. Since then I have invested in a decent Optech shoulder strap as the Canon neck strap sucks for hiking!! And now, the Karana Dry Camera Bag which I picked up in Phuket for a steal at AUD $70.
The Karana Dry Camera bag came with a couple of options for colours, and as you can see above, is a standard messenger bag shape with a flap over the front. Unlike a messenger bag it is round on the bottom.
As you can see here the removable foam insert is round with a series of dividers.
Karana Camera Bag
As a camera bag, it is functional. It opens and closes easily and my camera slips in and out easily. The cover is made of smooth PVC like plasticized tarpaulin. The foam is thick but super soft so it is nice to use. although other than a camera and lens, everything is pretty snug in there!
Obviously the requirement for a dry bag, means it can be a little more cumbersome and bulky than a standard camera bag, and it has no space for little pockets or handy spots for SD cards etc.
I liked this bag because it came with a padded section on the shoulder strap. For some reason many camera bags don't have padded straps which I think is weird!
If you are going from hot oudoors to freezing air conditioning I find it helps to keep the flap loose so that your camera can adjust to the temperature change without getting condensation inside the glass.
This is what fits in the bag when it is used as a normal camera bag. For airline carry, on I will usually have DSLR and zoom lens attached. A small kit with liquid cleaner, cloth and spare SD cards, one or two pairs of sunglasses, one or 2 smart phones, wallet, full sized headphones, shoulder strap and a few other bits and pieces. I just use it for the breakables that I don't want in my backpack.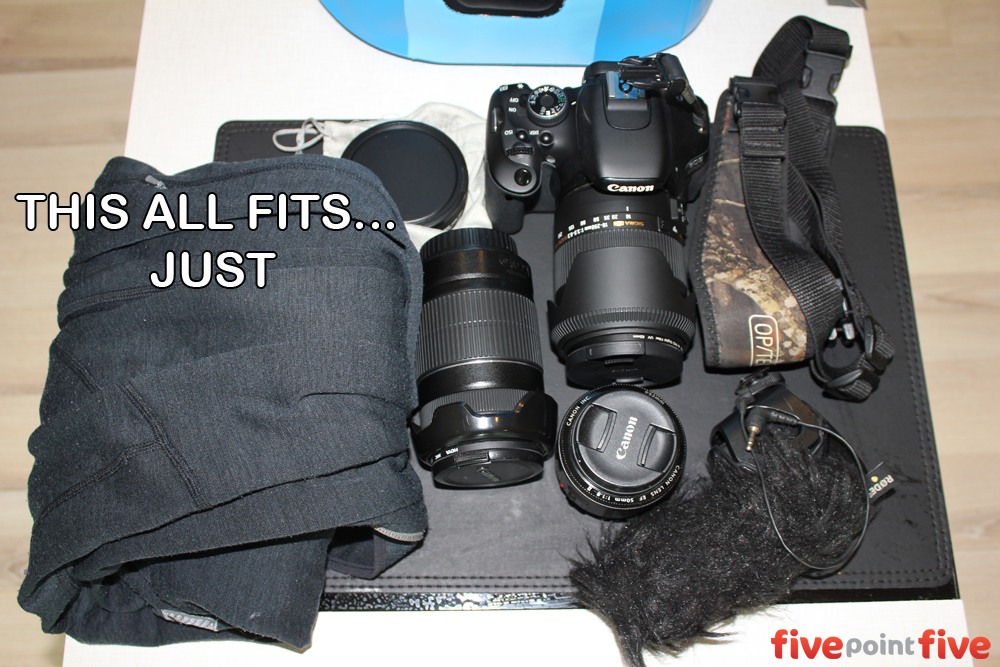 As a Dry Camera Bag
Karana's specialty is dry bags, so you would expect them to do a great job here! To use as a dry bag, you roll down the top instead of folding it over, there is a elasticated velcro strap that wraps down snugly over the rolled top which holds it against the top of the bag. It is quick and easy to roll it down, so you can switch to dry bag mode easily.
You really only get 3 rolls of the top, so while I felt safe taking this kayaking in case it fell over board. I would not push this bag down to submerge it for more than a second! I don't feel confident that it would stay completely watertight if it was buffeted around underwater, but I was very happy to take in kayaking and it sat in a pool of water which didn't enter the bag at all.
This is the rolled down version: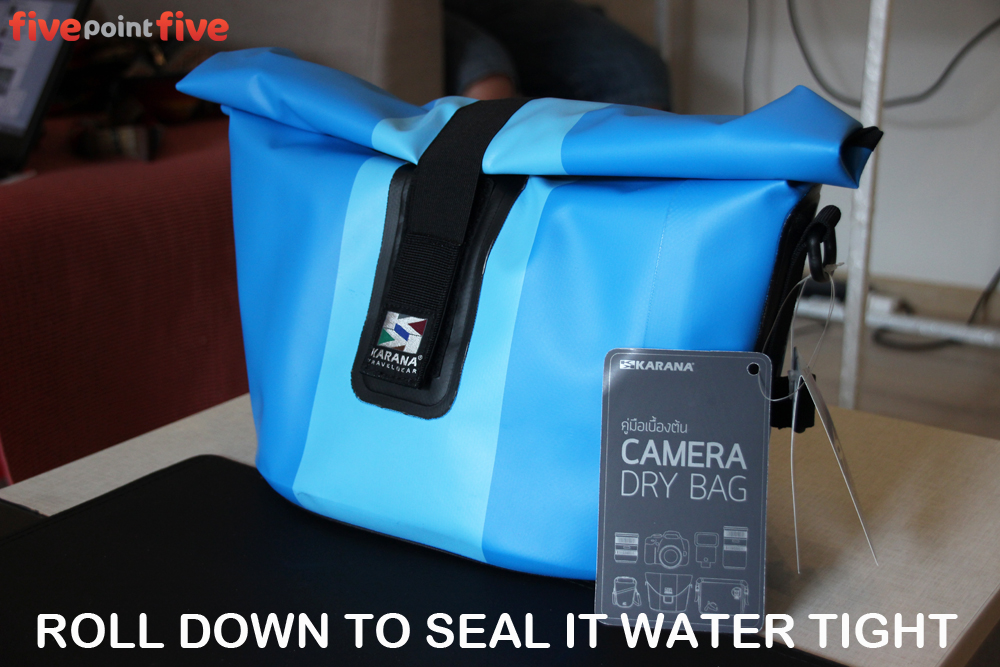 Testing the Camera Dry Bag
I have now used the Karana Camera Dry Bag for 2 months, it has been rained on a few times and when it rains I am thrilled to own it! It is perfect for wet weather. We took it out for a day of kayaking in Thailand and while it didn't get submerged completely it sat in a pool of water at the bottom of the boat on and off for several hours, being opened and closed as I put my gear in and took it out.
I have to remember to squeeze it a little as I roll the top, as it seems to be more protected with less air in it.
The outer shell still looks good after 2 months and I think it would take quite a beating before it got any holes in it. I didn't really think about the strap on the trip, but of course it got wet! Next time I would pop the padded strap into the bag before sealing it, so that it is still dry at the end of the day.
Afterwards, I just pulled out the foam insert and was able to rinse off all the salt water in the shower. So easy to clean!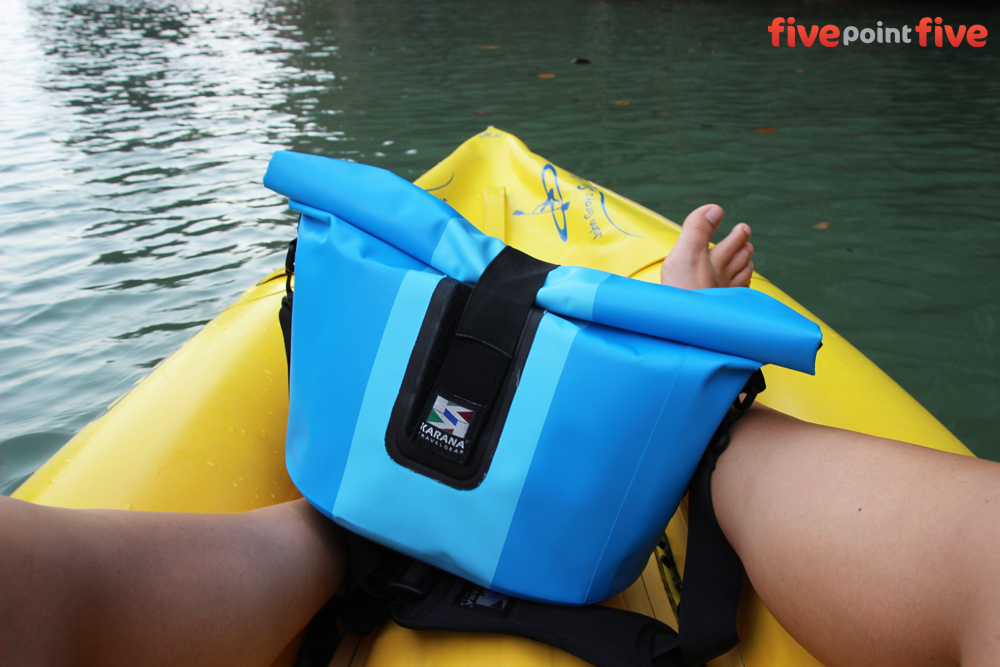 Travel Gear Reviews – The Verdict
Sometimes when you travel long term you have to find travel gear that suits more than one purpose. If I lived in one place, i would probably have a standard camera day bag and a camera dry bag. But I only have room for one, so I was worried that a dry bag may be too bulky for every day use.
But, I have been pleasantly surprised with the Karana Dry Camera Bag, it is quite comfortable to carry, and seems to slip under the radar as a second piece of hand luggage on airlines.
If it had a little pocket on the inserts for SD cards it would be a nice improvement, but overall I find the bag comfy and useful for daily use and amazing for use in wet conditions, or near beaches or on boats.
Buy this bag!
If you want to buy the Karana Dry Camera Bag you may have to do a little detective work. Most of the Karana dry bag range is available through Amazon BUT they don't sell the dry camera bags – in fact I can't see where you can buy them anywhere.
I have asked a question on the Karana Travel Gear Facebook page and hopefully I will come back and update this post with a stockist or online purchases… stay tuned! Otherwise you may have the perfect excuse to visit Thailand and go shopping!
Latest posts by Serena Star Leonard
(see all)