I have always wanted to go to Borneo. I didn't really know much about it, just that it sounded so exotic and it has orangutans! So when looking for somewhere different for a holiday we discovered that one of the world's top dive sites is in Borneo (as rated by Jacques Cousteau – and he should know).
There's also some important Australian WW2 history to keep my 'significant-other' stimulated, and of course, the orang-utans. So before we knew it the stars had aligned and we had booked our next adventure.
Little did I know that during this holiday I was to have one of the most amazing wildlife experiences. In my diary notes I even wrote, 'I have put off writing about this day for ages because it was so awesome I'm worried I won't have the words to recreate it!'
We stayed at the Sepilok Nature Resort, 30 minutes drive from Sandakan on Borneo's north east coast, which is located right next door to the Sepilok Orang-utan Rehabilitation Centre.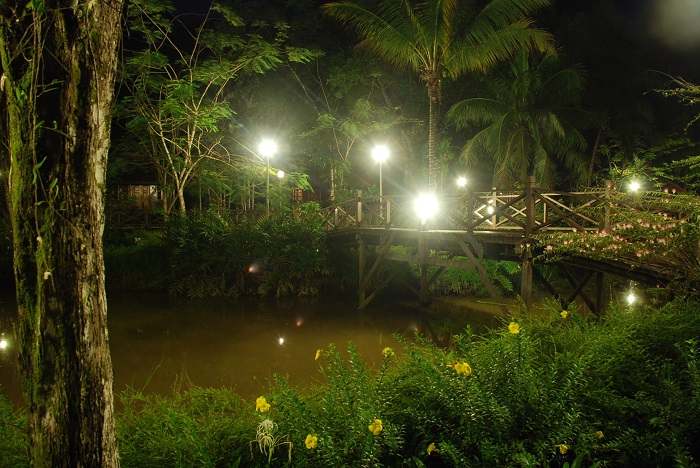 On our first day we head over for the 10am feeding time, buy our entry tickets (approx. $10 each), put our daypack in the locker (there are lots of warning posters about carrying bags into the reserve), then head off into the rainforest pathway to the feeding area.
We get a great position, perched up on a fence in front of the feeding platform, and wait. The orang-utans soon arrive and playfully make their way along the ropes to the basket full of bananas placed on the platform by the ranger.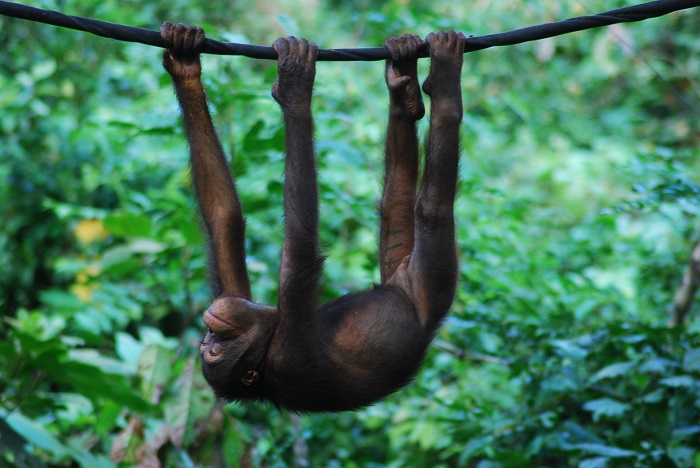 By this stage my significant other has managed to drop his hat over the fence and into the rainforest below us – we'll have to get it later as we don't want to lose our spot. We keep watching the orang-utans and their antics, mesmerised for an hour or more, until the last one has had his fill and makes his way back into the jungle.
We hang around (no orang-utan pun intended!) until most of the people have gone, so that my significant other can make a Spider-Man-like move over the fence to retrieve his hat. Mission accomplished and we head along the wooden boardwalk leading us back towards the park entrance. And that is when the real fun begins.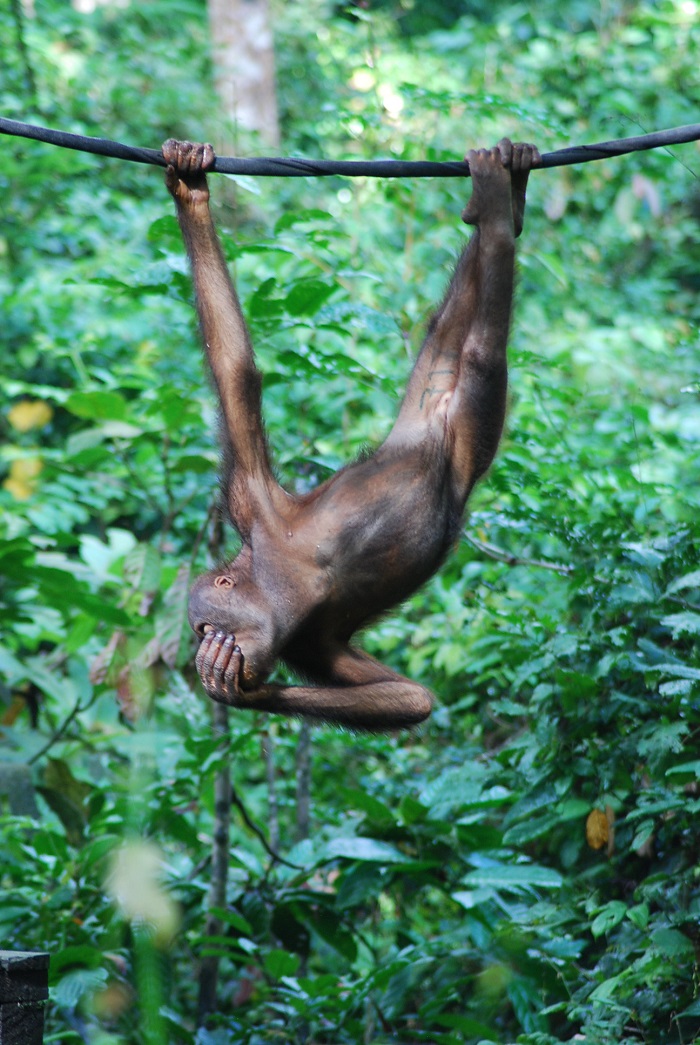 Ahead of us I see a lone orang-utan walking along the handrail of the boardwalk fence straight towards me. I stand completely still next to the fence hoping that if he keeps coming in this direction we will meet. And meet we did – he stopped right beside me.
He put his arm on my shoulder, another hand on my arm and had a nibble on my bracelet, all while I am standing there totally in awe of this creature so close and touching me. He is oblivious to my excitement, I am just another tourist on another sunny day, and another potential food source!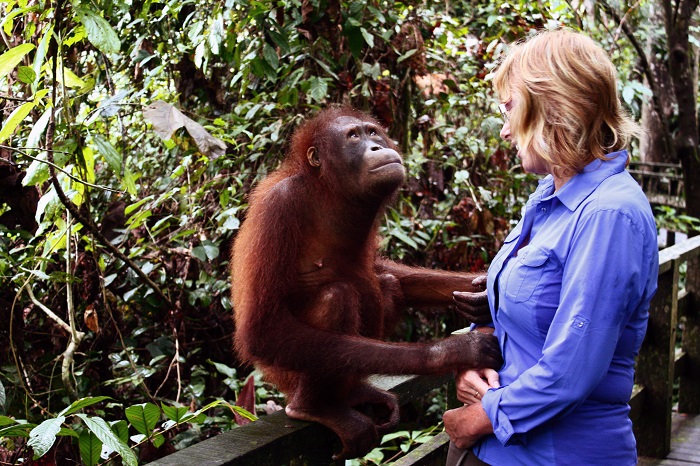 He is quite happy there until he realises that I don't have anything to eat and a much better prospect walks by. He latches onto a girl with a small backpack that somehow avoided the locker rule. The orang-utan grabbed her backpack, tore into it with his teeth, retrieved a caramel lolly and then proceeded to expertly unwrap and eat it.
He decided that there was more where that came from and went back to grab her backpack again – he ripped and tore at it and she was becoming quite distressed crying out 'help me, help me'.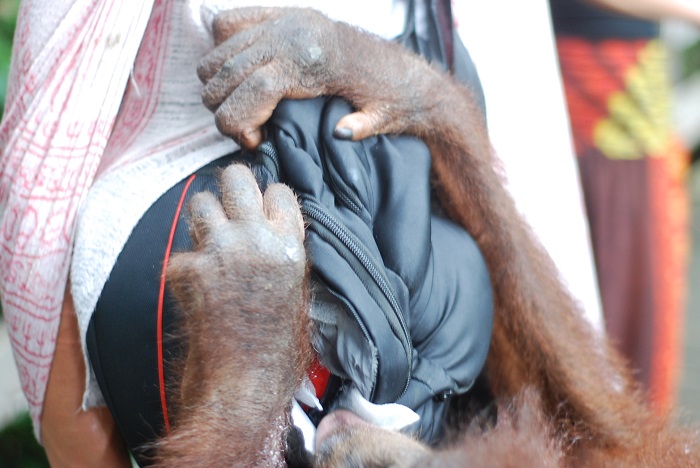 The orangutan was certainly on a mission, and I was trying to reassure her that all he was after was food, while trying to pry the orang-utan loose from her bag. It was like wrestling with a hairy octopus. As soon as you think you have one hand off the bag, he has another hand and two feet there! He was super strong and just as determined and so I wasn't making any difference whatsoever in releasing him from the girl and her backpack.
The girl decided her only hope was to run down the boardwalk towards the entrance, with the orang-utan hanging off her backpack completely oblivious to all the fuss! The memory of this set me off in fits of giggles all afternoon!
Prior to going to Borneo, I had read a lot of posts on seeing the orang-utans, where people had said not to bother going to the rehabilitation centres but to see them in the wild.
I agree that a jungle encounter would be very special, however, if you have limited time or want to be guaranteed to see them, choosing a rehabilitation centre is still a great option. You are supporting these organisations that rescue orangutans from the wild and raise them until they can be released once again into safe areas of the jungle.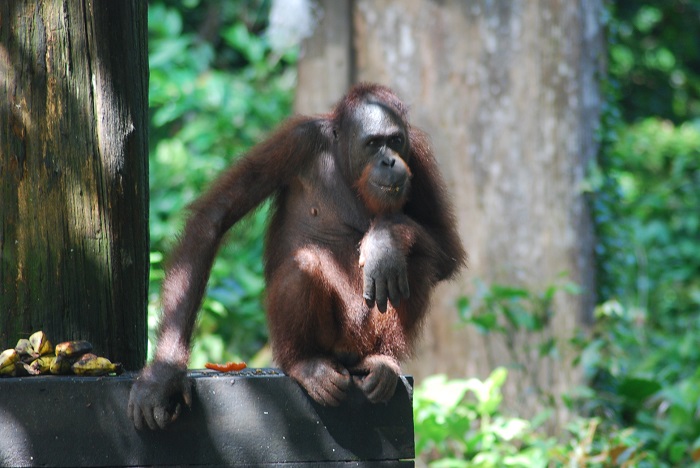 There are several organisations in Borneo who take donations and offer volunteering opportunities to support orang-utans. Check out The Orangutan Project on Face Book or Sepilok's Orangutan Appeal. If you are visiting Singapore, go for breakfast with the orang-utans at the Singapore Zoo!
Want More Wildlife Encounters?
Mini Documentaries including Bee Conservation in Mexico
Latest posts by Fiona Cossill
(see all)