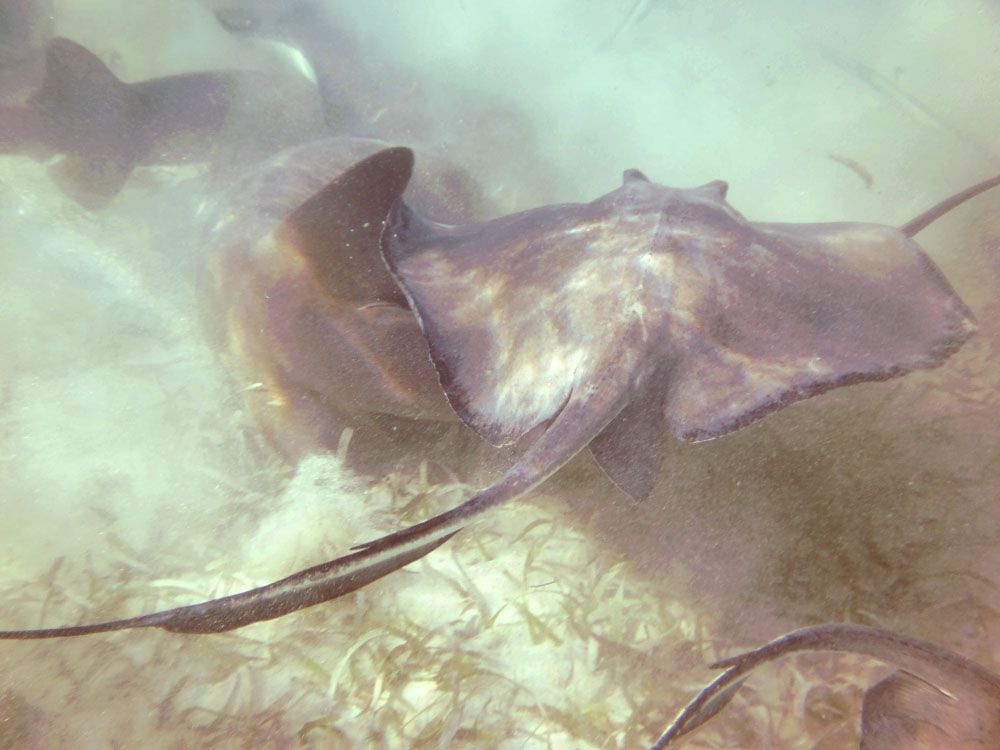 Snorkeling Caye Caulker – Shark and Ray Alley
We stayed on Caye Caulker for a week or so, just enjoying the pure tropicalness of the island! At the last minute we decided that if we were on Caye Caulker we better snorkel Hol Chan Marine Reserve including Shark and Ray Alley. So we booked with Mario's Snorkeling Tours and we are sooo glad we did.
They have boats going morning and afternoon and there are a few places on the island that offer tours, we had 6 people on our boat plus a tour guide.
We went to three locations…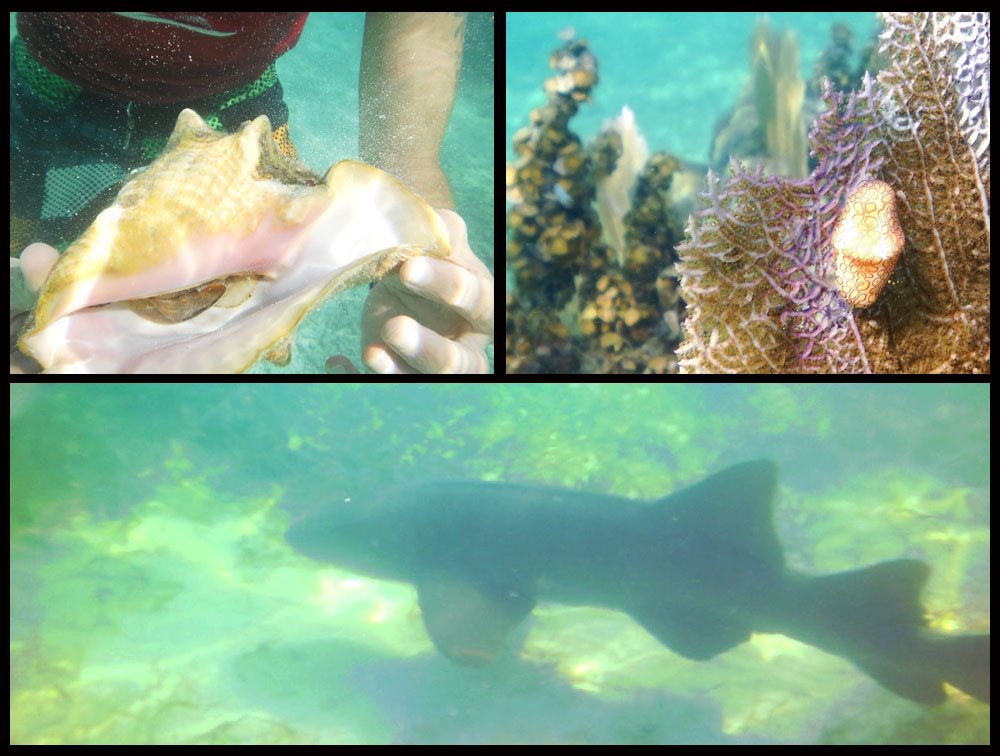 On the first stop, there was pretty nice snorkeling and I was towards the back of the group. Suddenly a 5 foot Moray Eel started swimming towards me aggressively and skimming my legs.
I have seen a few Moray eels in my time but they don't usually come right at me, so I freaked until he changed his mind and started attacking another guy. I looked at our guide who was laughing! It turns out he was used to being fed and was like a big, long, slimy puppy… very cool!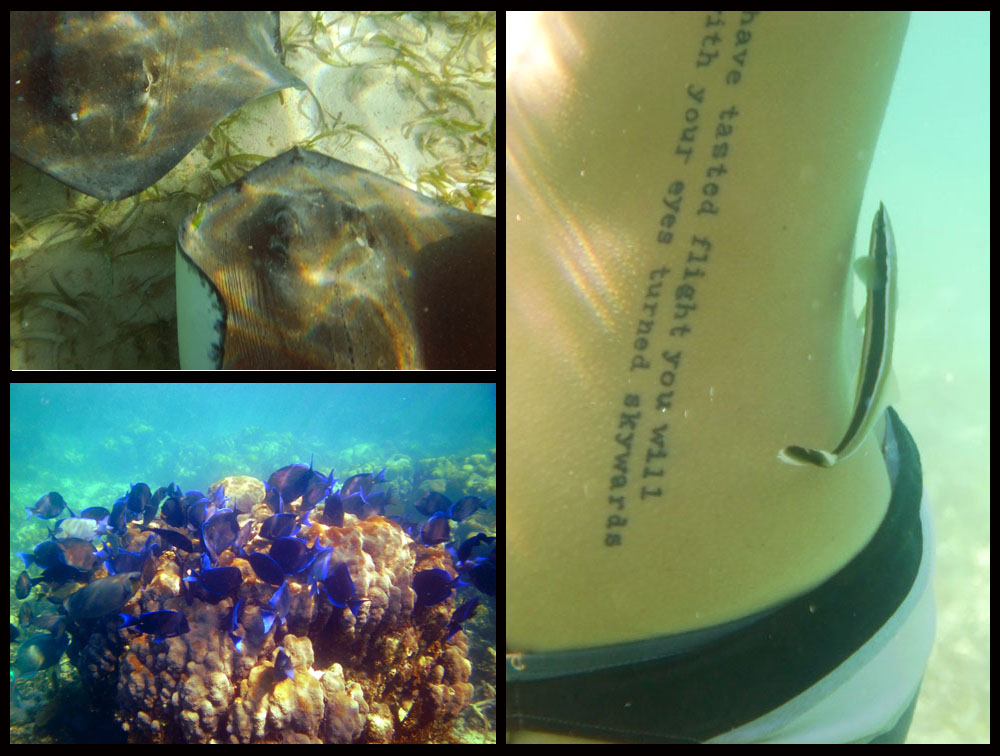 The second stop was the highlight: Shark and Ray Alley! Basically you jump out of the boat being careful not to step on the boiling mass of sharks and rays that frenzy below! The water is shallow enough to stand up and enjoy the madness of about 10 sharks and 40 sting rays swishing around and swimming through your legs and under your arms.
It is an incredible experience and we did plenty of squealing with delight as we mingled with the wildlife.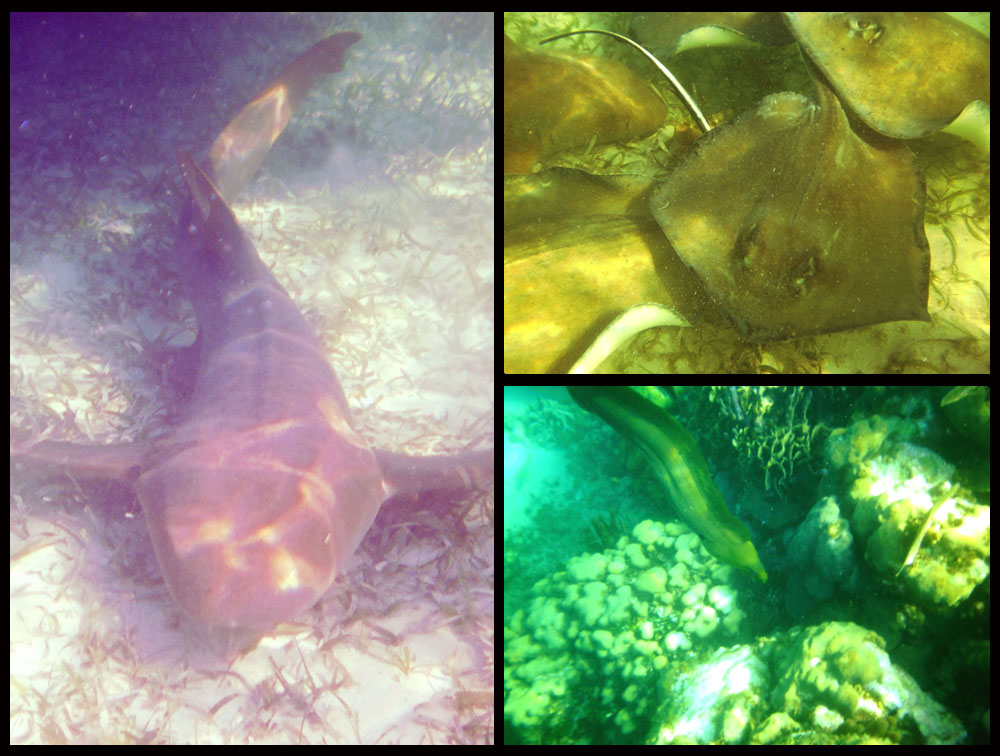 The third stop was fine but nothing compared to the sharks and rays, so we were happy to enjoy it for a while and then head back to the boat.
At each stop there was plenty of fresh tropical fruit and juice and our guide was really cool. Mario's Snorkeling Tours really are a great company and as well as snorkeling they offer Manatee tours (Dugongs), fishing trips and much more. The service and the boats were great, and so we give them two thumbs up!
It is only a 3 hour tour so all you really need are your swimmers, underwater camera, some sunblock and water.
This is a pretty special experience and definitely worth doing!
Mario's Snorkeling Tours
Email: mariostours@yahoo.com
Phone: (+501) 226-0056
Cell: (+501) 623-5088
Want More?
Latest posts by Serena Star Leonard
(see all)