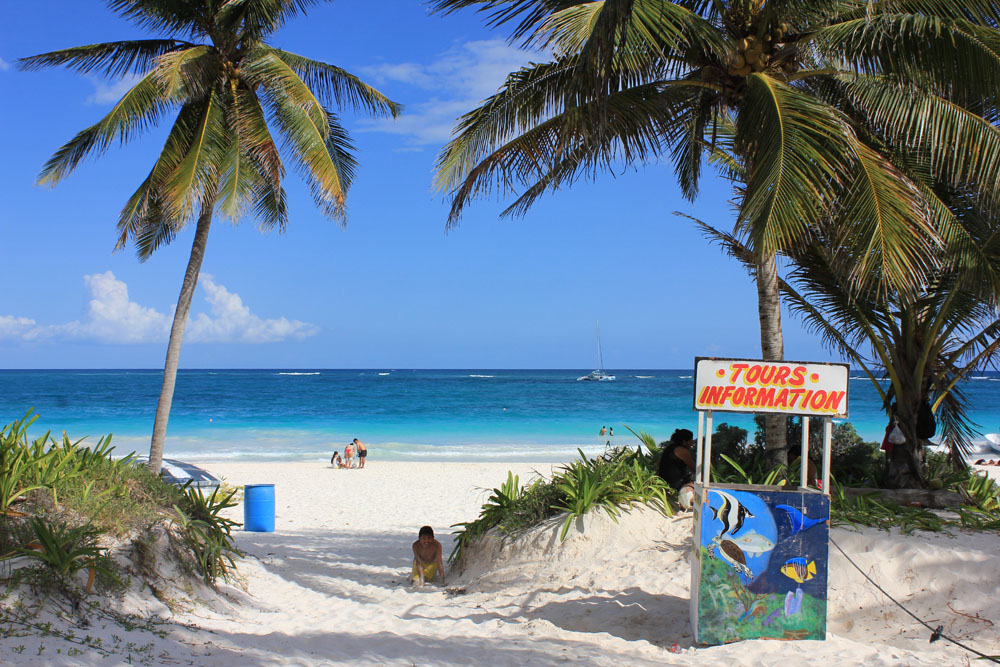 We spent a total of 7 or 8 weeks travelling through Mexico from east to west… Our first stop was in Tulum in the Yucatan Peninsula which is a cool little town famous for the ruins perched on the cliffs. Tulum is one of our favourite places for many reasons including the incredible cenotes, white sand beaches, turquoise waters and great Internet access!!
This is a place that I would love to live one day so we stuck around for a while to get a feel for the culture once more.
Where to eat (and not to eat) in Tulum
This place is gorgeous! As well as your usual breakfast fare you are treated to beautiful European sweet pastries and cakes with lashings of home-made condiments, much of the produce from their extensive permaculture garden and bee conservation project.
The dinner menu was a fusion of cultures, done beautifully, there were enough vegetarian options for us to be happy to eat there several times (the risotto is divine!) and deserts were rich, beautifully presented and insanely good.
A great place for a romantic dinner, with great service and prices are extremely reasonable. It's only a short walk from the shops or 30 pesos ($2) in a taxi. Go there!
The Best Casual Dining – Tomato Seco
Tomato Seco have got the recipe for simple, moorish food, perfect.
A funky little place with the best empanadas and calzones we have ever eaten. Even the pre-dinner garlic bread (with coriander sauce) is so good that you are scooping up the crumbs. They have a great juice menu, good coffee, good music and John was very happy to be able to watch European football inside.
Perched on the beach road, this is the perfect place to stop after a hard day lying on the beach.

Great Casual Dining – Nameless juice and breakfast bar
There is a little spot on the main street that deserves a mention although we ate there many times and never noted the name! If you are facing towards Playa Del Carmen it is on the right hand side of the street. A couple of places sell juice but this one has a gorgeous courtyard out the back with plants and a large statue of Jesus.
They do amazing juices and smoothies as well as great eggs any which way. Breakfasts are simple and healthy and it's nice to see her sweet kids playing while mum works.
This cute little café serves great coffee and tea as well as tasty sweet treats and waffles. They have a good internet connection too, if you need a fix!
Avoid – Burrito spot on Jupiter Sur
There are two or three Burrito/cheap Mexican food spots next to each other on Jupiter Sur. They all open out to the street and have awnings with pictures of food. We tried the one on the far right and it was fine for cheap touristy Mexican food.
We tried the one on the far left (next to the entrance to the gym) and it was terrible. The burrito was flavourless with a nasty slimy sauce. We left feeling sick all day after eating here – don't eat at the left side one unless you are desperate for some food poisoning.
Avoid – Weary Traveller
We had a problem with our booking at another place and ended up staying in the private rooms for the Weary Traveller. As well as being one of the grottiest places we stayed in our travels, cooking your "free" breakfast in their kitchen and eating on their sticky tables amongst the cigarette butts is an experience you only try once.
Want more?
Latest posts by Serena Star Leonard
(see all)