Viazul is the national bus company designed for tourists and covers almost the entire island. The buses in Cuba are spacious, comfortable, air-conditioned and generally clean although some of the routes had gross toilets.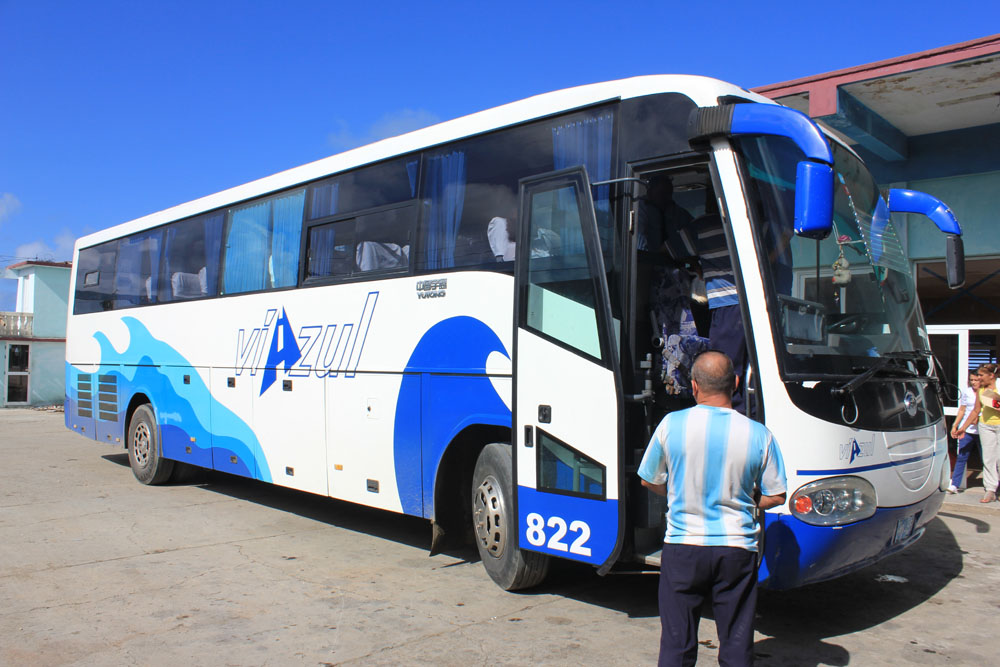 Routes and prices for buses in Cuba
Viazul buses are not cheap compared to many Latin American countries averaging $3 per hour of travel.
Bus fares in Cuba
Havana – Varadero $10 (3 hours)
Varadero – Santiago de Cuba $49 (15 hours)
Santiago de Cuba – Baracoa $15 (4 hours)
Santiago de Cuba – Trinidad $33 (11 hours)
Trinidad – Havana $24 (6 hours)
Havana – Viñales $12 (3.5 hours)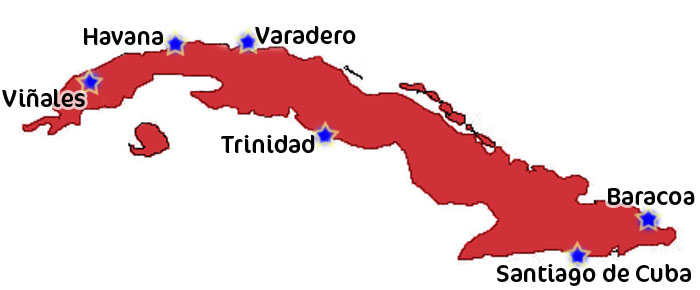 Note: There is another long-distance bus service that caters to local Cubans. Apparently it is less reliable, slower (with more stops) and much cheaper. These buses usually leave from the same terminals as Viazul so if you are on a tight budget ask if you can get a local ticket. I have no idea if this is allowed – but worth a shot!
Booking your seat
Bus routes between Trinidad, Havana and Vinales get fuller than others, even in the low season so get there early. If possible, buy your ticket the day before by visiting the bus stop, or rock up an hour before the departure time and buy your ticket on the day.
In some places our casa hosts called ahead to book our seats when we were running late. We are unsure as to how concrete these bookings are.
Toilet Stops
The one thing that lets down the Viazul services is the toilets. Bus toilets on buses worldwide are seldom good experiences and Viazul toilets are variable on the bad side.
Half of the toilets on our journeys worked and were passable, a couple of times the toilet doors were locked by the driver and twice the faulty toilets meant the stench of urine permeated through the bus for the whole journey. Gross!
Luckily the bus usually stops at least every hour and you can use the toilets in the terminals.
Unluckily the toilets in the terminals are usually disgusting – reminiscent of Hong Kong in the bad old days. Filthy, broken doors, no running water, poos and wees galore and an aggressive woman who charges you for the privilege – and no, that does not include loo paper.
Depending on the route and the driver the buses occasionally stop at private houses, or at touristy food stops. These toilets are usually much cleaner – even the long drops, so make the most of those.
Tips for travelling by bus in Cuba
1. Bring warm layers. Like most buses in Latin America they get very cold, especially if you intend to sleep.
2. Many toilets in terminals are paid and do not have change. Bring lots of coins and plenty of tissues! Loo paper does not exist in the Viazul Bus network.
3. Bring all the food and water you will need for the entire journey. Most terminals have no food or drinks except for Havana (café by day, biscuits by night). If you do the trip from Baracoa – Santiago de Cuba – Trinidad for example this is a 16 hour journey with no access to food. Casa hosts are often happy to pack you a meal for the journey if you ask them and bring plenty of biscuits.
4. Your best bet is to bring plenty of high energy snacks from whatever country you are coming from. Things like nuts, dried fruit, muesli bars can't be bought in Cuba and on long bus journeys will be a welcome meal or snack if you forget to bring one with you.
5. Familiarise yourself with bus fares and timetables on the official Viazul website, ideally before you arrive in Cuba.
Taxis
As you enter a bus depot there are usually taxi drivers offering their services for a similar price as the bus.
We took one taxi service to Havana from Viñales with a pretty unfriendly driver. It was a vintage old car that we shared with another couple. It was faster, cooler but a lot less comfortable than the bus. I guess the value of the taxi service would depend on the comfort of the car you get.
Jintero's (touts)
At the end of each journey you will be met by a desperate crowd of touts offering casa particulares and taxi drivers.
Occasionally the owner of a casa particular is there with some sort of way of identifying them as such, but usually the touts will bring you to a casa with the expectation of receiving a commission from the casa. If this happens you will probably pay more than the normal rate to compensate for their fee.
If you already have a casa booked, they will usually have a representative there with your name on a sign. This is to prevent touts pretending that you are booked with them and stealing your business.
The touts can be a little full on, especially if you have travelled all night. Just remember they are annoying but generally harmless.
Want more?
Latest posts by Serena Star Leonard
(see all)