Jess is from New Zealand, and this is her first solo travelling experience. She's traded homework and classrooms for the sights and sounds of Florence, Berlin, Prague and Madrid and a month in a riad in Marrakech.
The riad, tucked down a small street in the medina (the historic district of Marrakech) is the temporary home for people from all over the world who come to volunteer in this crazy chaotic city. As Jess discovered, this is the ideal way to experience a new culture, make a worthwhile contribution, and make new friends.
"We went to an orphanage which was part of a mental hospital and we played with the children, many of whom had special needs. They stay there from birth until they are four or five years old and then, if they are not adopted, they are moved to another orphanage where there are facilities for schooling. Although the situation for many of the kids is sad, it was a happy place."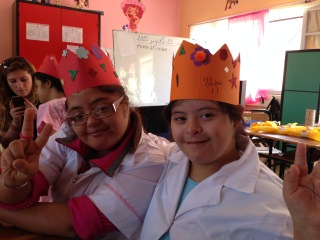 Like the other volunteers, Jess became very good at playing games and clowning around with the kids. "They loved making bracelets and crowns, colouring in, blowing bubbles and playing outside. Our job was to give them as much fun as possible but not to get too attached to them and that bit was hard."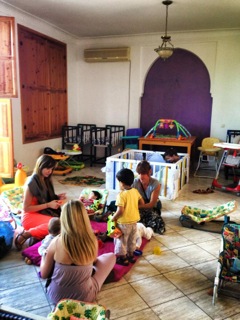 On other days, the volunteers spent the day graffiti-ing the school walls – with permission of course! Rainbows, castles, astronauts, cartoon characters and underwater scenes – anything to brighten up the mud brick walls. Or they would make up packed lunches for some of the many homeless people of Marrakech.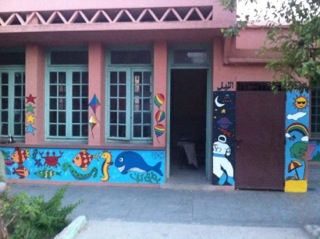 Word would go out via the owner of a small bookshop just outside the medina and by the time the volunteers arrived there would be a queue of people waiting. Each one would get a flatbread, a hard boiled egg, yogurt, banana, small sweet and a bottle of water.
Some days, street kids would take a break from selling packets of tissues to tourists and come to get fed and to take part in the drumming, singing and dancing organised by a local community group.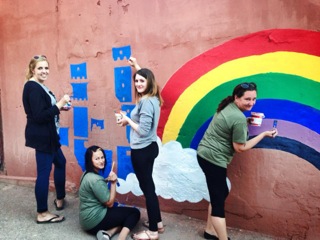 When I asked Jess about the most memorable experience that she had in Marrakech, she didn't have to think for long before answering – "Apart from feeling great about contributing in a small way to the community, and the friends I made, there were two things," she said. "Riding on the back of a motorbike through the streets of Marrakech was crazy! Everything goes at an insane speed.
There are people everywhere shouting and bartering, three people on a tiny scooter bike and at least eight people in a taxi!"
And the second was Eid al-Adha, an Islam holiday similar to Christmas and Easter. In the medina a large tent was set up so that homeless people could take part in the festivities.
The volunteers served traditional Moroccan tea and bowls of food to hundreds of people and gave gifts of clothing, an important part of the Eid tradition. Eid is a festival where people dress in their finest clothes and animals are sacrificed for a feast.
"Outside every house in every street sheep were slaughtered in the traditional way and everyone wanted to be part of it. The heat and the noise and the smell was something that I'll never forget."
At 18 years old, Jess was one of the youngest volunteers and she has a few words for anyone of any age who is thinking about getting involved in a volunteer project. "Do it. It was one of the best experiences I've had in my life. It made me more aware of the world."
Want more inspiration?
Latest posts by Donna McTavish
(see all)