Be inspired. See the world. Make a difference. This is what fivepointfive is all about but when I sat down to write this post – inspired was the last thing I was feeling. I trawled through half-written stories on my laptop rejecting them all because they just didn't seem to be inspiring enough. After a few more false starts, I gave up and went for a walk.
I am lucky to live close to the coast and my favourite track wriggles its way over headlands from one sandy beach to the next. The views are spectacular and a wonderful distraction for writers' block. As I let go of my anxiety and enjoyed the sunshine I realised that I was trying too hard to find inspiration.
I was searching for stories of momentous deeds being done by amazing people and I was caught in the mindset of thinking that only stories like these would be worthy.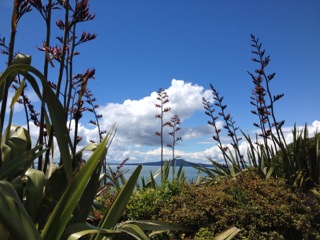 As I walked on I realised that I'd missed the point. Inspiration is everywhere, all we have to do is to open our eyes and breathe it in. Every day ordinary people are doing extraordinary things that change the world. They are doing it quietly, taking small steps in front of small audiences, and I realised that these are the stories that I should be writing about.
I recalled events from the past few weeks that, with my new insight, felt inspiring: a sight- impaired colleague standing up in front of a group of people to make a presentation; a Japanese friend who managed to enroll her little boy in school despite being terrified of speaking in English; an unexpected bouquet of roses; a walk along a coastal path on a sunny day.
Acts of kindness, bravery, creativity and success, and each one truly inspiring.
My writer's block shifted and ideas popped into my head: my niece who has spent the past few weeks caring for abandoned children in Marrakesh; an engineer from Burma who came to New Zealand as a refugee and now teaches English to others and helps them to adjust to a new culture; a new Chinese friend who is determined to improve her English so she can do volunteer work in her adopted country.
By the time I returned to my laptop, I was ready to write and I will be sure to remember that when I hit writer's block again (and I will) I won't forget where to look for my own inspiration.
Want more inspiration?
Latest posts by Donna McTavish
(see all)