So you want to go to Borneo but just don't know where to start? Here's some information on the best things to do out of Sandakan.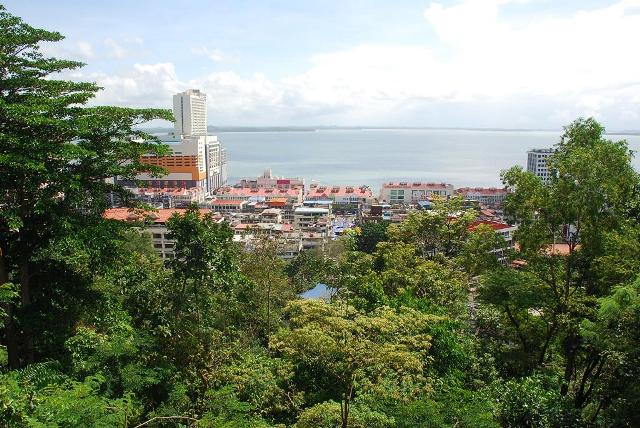 Sandakan
When traveling to Borneo, most people either head to Kota Kinabalu (the capital) on the North West coast, or to Sandakan on the North East coast. Both are easy to fly to from Kuala Lumpur or other major Asian cities. Sandakan is the second largest town in the North Eastern region of Borneo.
About 160,000 people live in Sandakan today and in the 1930's it had the highest concentration of millionaires in the world due to it being the world's largest timber exporting port.
Sandakan was completely destroyed in World War Two, and after being rebuilt it is now a busy Asian town. Something I didn't know is that Borneo is actually partly ruled by Malaysia and partly by Indonesia – Sandakan is in the Malaysian region of Sabah.
Temperatures are constant year round ranging from lows of 24 to highs of 31 degrees celcius with lots of rainfall – so if you love warm, tropical weather, Borneo is for you!
Sandakan is not very Westernised – if shopping centres, Western-style hotels and Western food options are your thing, you won't find them easily in Sandakan. It is however, an authentic Asian town experience and a handy central point to start exploring this part of Borneo.
Meet the Orangutans
Sepilok Rehabilitation Centre is located approximately 30 minutes out of Sandakan. The people at Sepilok do an amazing job rehabilitating orphan orang-utans and gradually releasing them back into the wild after they have learned how to look after themselves.
We had an up close and personal encounter with an orangutan which I'll remember forever! There are several accommodation options near the centre so you can squeeze in lots of visits to the orangutans.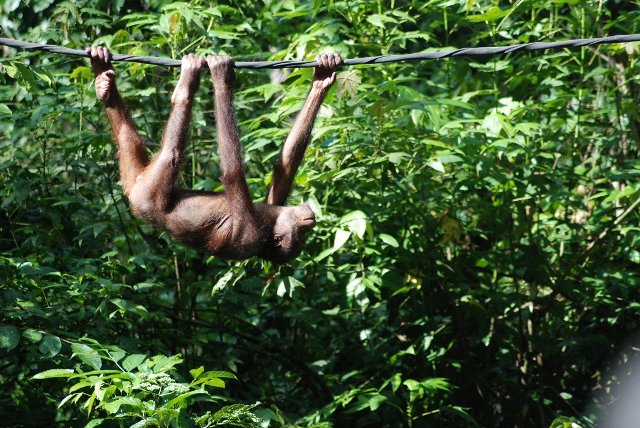 The House of Agnes Keith
Agnes Keith was an American woman married to Henry Keith, who was the Conservator of Forests in Borneo.  Living as an ex-pat in Sandakan in the 1930's there wasn't much for a woman to do except try and keep cool in the tropical heat, so Agnes wrote her first book Land Below the Wind, a story about the life and times of Sandakan.
She submitted it to an American Literary competition and won, so went on to write two more books: Three Came Home (1946) and White Man Returns (1951).  Three Came Home was written about her experiences in a prison camp with her young son during the Japanese Occupation of Sandakan which lasted 2 ½ years.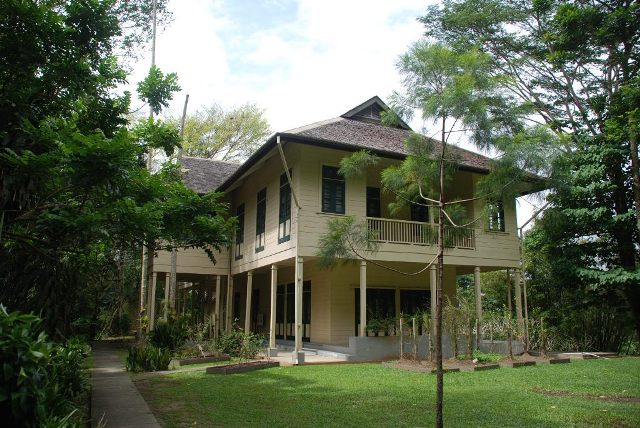 I'm so glad we visited Agnes Keith House. Firstly, it gives you a very eerie feeling, as if you have literally stepped back in time and into the lives of Agnes and her family.  You can imagine how Sandakan was in its heyday in the 1930's – a bustling town full of very brave adventurers and explorers pioneering the wild lands of Borneo.
Secondly, I bought Agnes's first book and read it while I was in Sandakan.  It adds a lot of depth to travel when you delve into the history and stories of a place.
It was a great way to start a stay in Sandakan as it gave me a completely different perspective on the town that you see today, and an appreciation for its history and past beauty.  Afterwards, high tea in the beautiful gardens of the English Tea House next door. Under the beautiful shady trees, with a very welcoming cool breeze, while overlooking Sandakan and its harbour is very highly recommended!
Kinabatangan River
A boat trip up the Kinabatangan River lined by the thick, lush jungle gave us the chance to see plenty of families of probiscus monkeys playing in the trees alongside.  The river is the second largest in Malaysia and is 560km long, and approximately two hours drive from Sandakan.
You can often see water buffalo, crocodiles, orangutans and pygmy elephants but they all must have had a better offer on the day we were there!  We were on a day-tour, however, in hindsight it would have been far better to stay there for a night to have extra time in the jungle and more chances to see the wildlife on the river at different times of the day.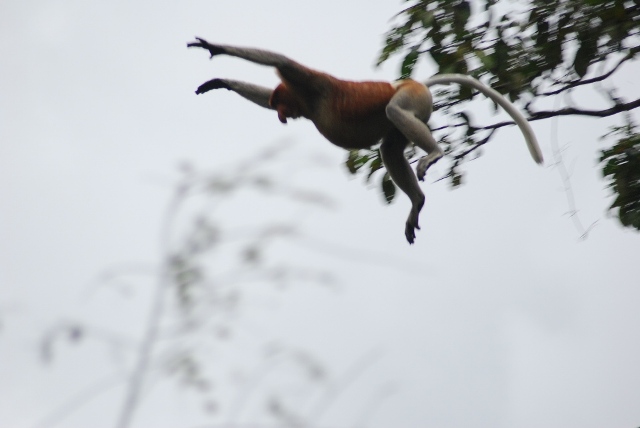 Sandakan War Memorial
Take some time to visit the Sandakan War Memorial and pay tribute to the 2400 Australian and British soldiers held as prisoners of war by the Japanese at the end of World War Two. The memorial park is a peaceful tribute to those men who lost their lives. It takes you through the actual location where they worked and lived and were used as labour to build an air strip nearby.
Over 1000 POW's were sent on a death march from Sandakan to Ranau, of which only six Australians survived. Those who escaped were looked after by the kindness of the local people before Allied forces rescued them.
My 'better half' has a lifelong interest in the resilience of human spirit through warfare and suffering, and had read the book Sandakan by Paul Ham, so he was able to read out passages while we were standing in the actual places they had happened.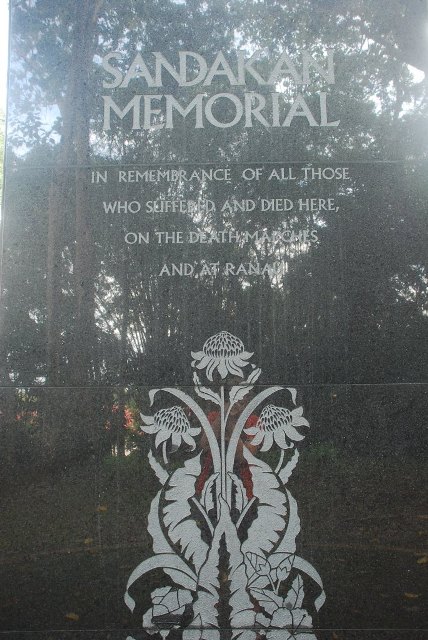 Gomantong Caves
The Gomantong Caves are home to over two million bats and were featured on the BBC's series Planet Earth.  They are absolutely massive and are famous for harvesting the birds nests from the lofty heights used for the Asian soup delicacy, by locals using ladders, ropes and bamboo poles.
The ground is moving with cockroaches – not on the wooden walkway thank goodness. As we entered the caves we were wisely advised by people coming out "don't touch the handrails!" and my advice is wear non-slip shoes! If you look at the walkway handrail in the photo below, it gives you an indication of how big the caves actually are! Enter if you dare!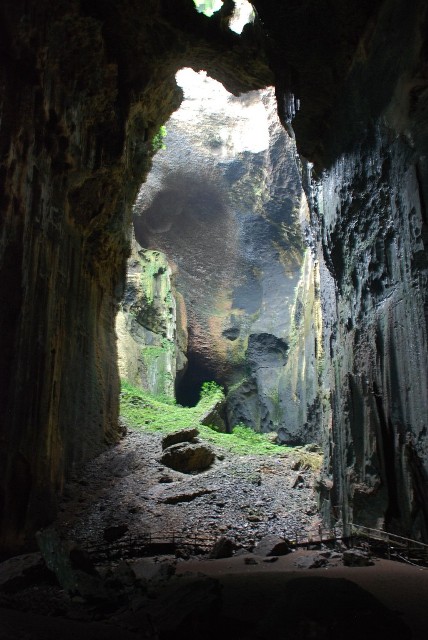 Taxis are cheap and plentiful, as they are in many parts of Asia; so getting to Sepilok, Agnes Keith House and the memorial gardens is easy and cheap.  The caves and river are a couple of hours from Sandakan, so most easily accessed by jumping on a day-tour (or overnight stay) or by hiring your own local taxi and driver if you prefer.
English was spoken by most people that we encountered so that was no trouble at all.
The beauty of Borneo is its wildlife so getting out in the jungles and rivers, or off the coast diving will give you the best Borneo has to offer.  Flying into Sandakan is a great starting point for the North East, but experiencing the wildlife as close up as you can is where the real adventure is!
Want more in Borneo?
Latest posts by Fiona Cossill
(see all)