.
Before I got really busy being an adult I used to make things, all sorts of things – some years I would make presents for every occasion.
A few weeks back this cute ankle band I bought in San Blas Islands broke. It was a beaded bracelet and you can see me buying it on a yacht in this video:

Anyway it wore out after over a year of wear and the nylon bit snapped. Being a true crafter at heart I collected all the little beads and looked out for some thread to make it into something new.
I was in a little tourist market and a scowley old woman haggled me mercilessly for some black embroidery thread – I paid way too much. Then I found a roll of fishing line which I bought too. Suddenly I had far too much thread for my little bunch of beads.
I started looking at beads online – in particular, how to make those woven bead bracelets. I discovered the bead loom, which is not an expensive contraption, so I figured I would buy one in NZ when I get there in December. But what could I do until then?
Well I have spent the last two weeks working out how to weave beads without a bead loom. I finally found a shop that sells beads in Arequipa, and as John stood outside waiting patiently I fought the local crafters in my halting Spanish for a chance to buy a bunch of seed beads and a couple of rolls of embroidery cotton. Their range was limited but I didn't care, I was in action!
We spent the next two days on buses and I fumbled my way through figuring out how to weave them. I pulled apart my practice one and my first real attempt made this wonderfully wonky bracelet.

I am not keen on the design or the colours but I was so happy to be making things that I wore it anyway.
I just finished my second attempt and I am much happier with it. Still a little wonky, but that is part of the charm isn't it?!!

Because I got such cheap beads, many of them are lopsided, misshapen, or the hole is too small to use – so plenty of them have gone in the bin. Nevertheless I am a happy little camper and have made a few of these ones for kids I meet along the way.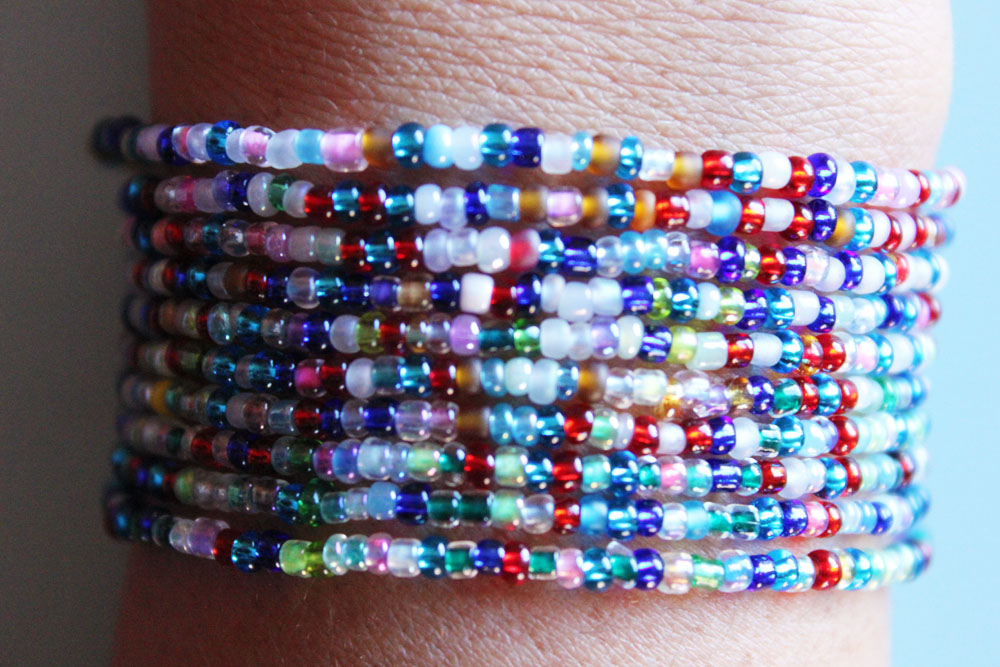 .
I am thrilled to have a little travel hobby for long bus rides until I get a chance to learn how to knit or crochet. I would love to know what crafty stuff you do on the road. I need more mobile inspiration!
Want more random travel blogs?
Latest posts by Serena Star Leonard
(see all)