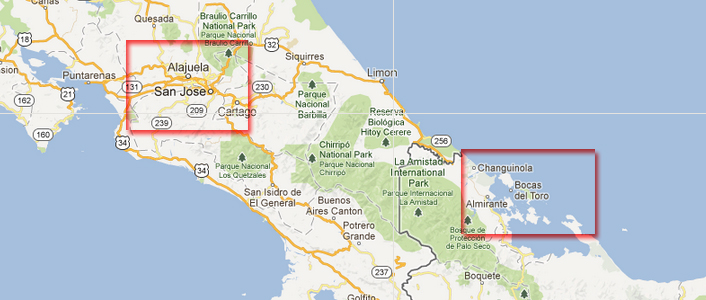 The trip from Bocas Del Toro to San Jose consists of:
Water taxi to Almirante
Taxi van or bus to Changuinola
Bus to the border
Cross the border on foot
Meet the bus on the other side of the border and continue to San Jose
Please note: there is only one bus a day from Changuinola to San Jose and it leaves at 10am. So make sure you leave Isla Colon on an early boat (like 7am).
From Isla Colon to Almirante
Travel time: 20 minutes. Get yourself to the dock on Isla Colon, there are a couple of places you can catch a water taxi, if you have bought a return ticket from Almirante make sure you go to the right dock for your return journey. We had the option of $4 one way or an open return for $7.
Almirante to Changuinola
Travel time 20-30 minutes. Once you arrive in Almirante you will be accosted by many persistent drivers shouting about going to Changuinola. You can either share a taxi van for about $8 or catch a bus. The taxi van is more convenient and the bus is slightly cheaper. To get a bus walk 5-10 minutes or take a $1-2 taxi to the bus stop they leave every 30 minutes.
Changuinola, Panama to San Jose, Costa Rica
Travel time 6 hours. In Changuinola the bus stop is marked with a small sign hanging above the pavement. If you are lucky you may meet the charismatic Simon who volunteers his time to meet travellers and make sure they get the info they need. If you have the benefit of his services make sure you give him a tip!
The bus (approx $10) will take you first to the border, where you leave your luggage on board and walk to the immigration office for exit procedures, then cross the bridge on foot and voila! You are in Costa Rica, complete entry procedures there, and then walk back to meet the bus.
Once everyone is through, the bus which will head to San Jose with a couple of short stops for food along the way.
Note: Although we had no trouble, we have heard that Costa Rican airport immigration can be tough on entry if you don't have a flight booked out. Many travellers have had to buy a ticket on the spot even if their plans are to leave overland.
To be on the safe side it helps to print evidence of your onwards journeys or buy an open Tica bus ticket. If you find yourself in this position think about buying a fully refundable ticket. They cost a lot more but you can get your money back!
Want more? Check out…
Latest posts by Serena Star Leonard
(see all)