This weeks CALI Award winner is Matt Napier who has just commenced a 4,400km walk across Australia to raise awareness about global poverty.
Matt: On the 2nd of February, I started a walk across Australia to raise awareness about global poverty, taking over five million steps and bouncing an AFL football the whole way.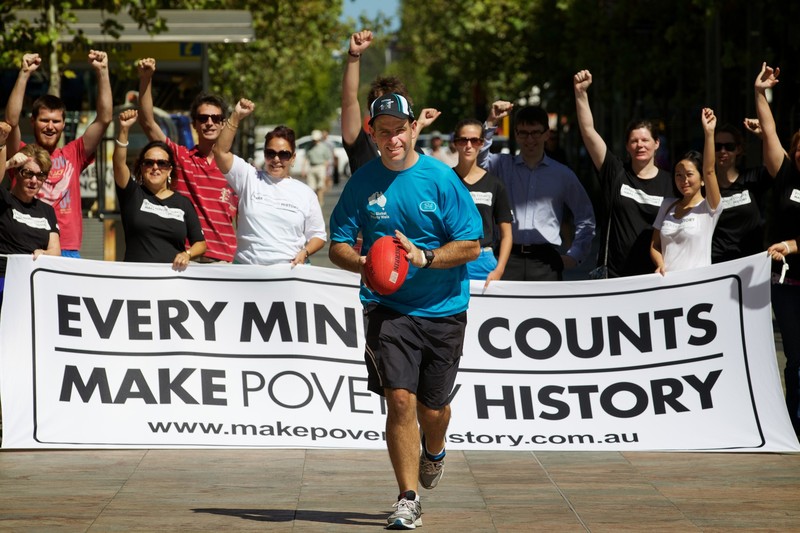 I started in Perth and is currently walking along the Great Eastern Highway to Norseman before heading across the Nullarbor.  The route takes me through Adelaide for a feature at half time in the Port Adelaide v West Coast AFL game (27th April) then to Melbourne and Canberra before finishing in Sydney in late June (hopefully at the Sydney Swans v Carlton game on 28 June).
This walk follows the success of the Long Ride to Stop the Poverty Cycle in 2012 where I rode from Perth to Canberra and concluded the ride at half time in the GWS v Gold Coast AFL game in front of a crowd of 8,500 fans.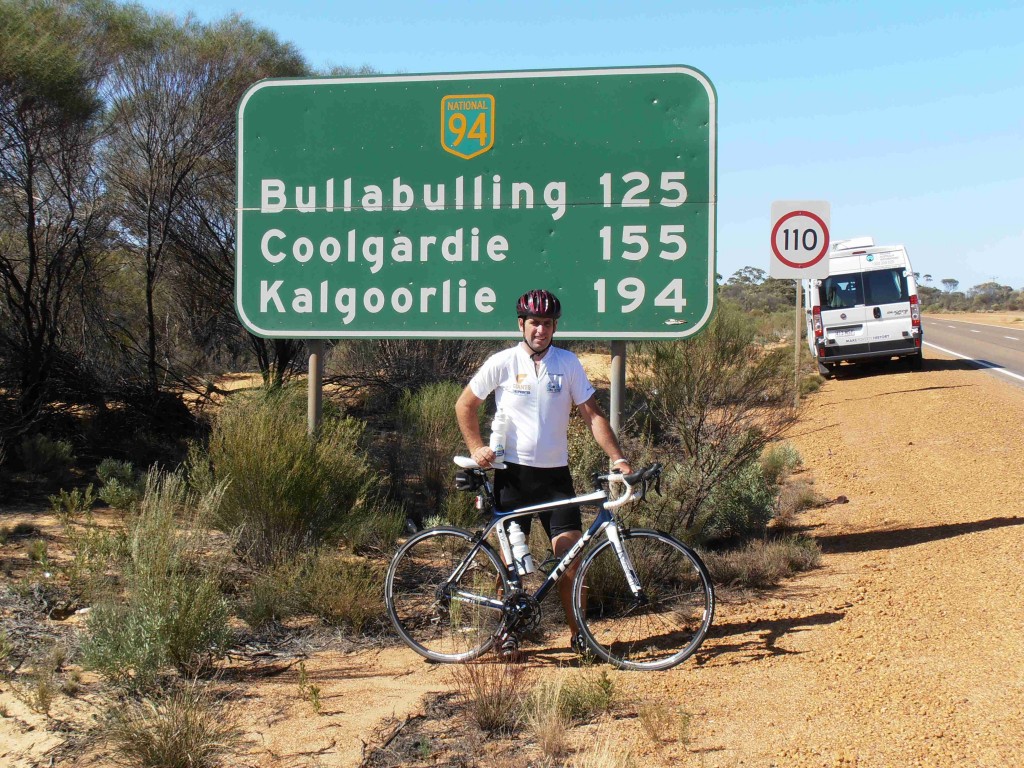 Q: What inspired you to set up The Global Poverty Walk?
Matt: Along with my wife Wendy, who is my support team during the walk and also walks alongside me as much as possible, we want to be a voice for the 1.3 billion people that live in extreme poverty around the world and in particular the 7.6 million children under the age of 5 who die every year from starvation and starvation related illnesses.
These children are no different to children here in Australia, they have mothers, fathers, brothers, sisters, aunts and uncles who love them and want the best for them.  We believe that it is our responsibility as global citizens to care about these children as if they were our own.
A few years ago we went to Nepal to visit a friend. It was the first time we had seen poverty first hand, children begging for food and money and not able to go to school. This was a real eye opener seeing these poor kids with little to no hope of leading a normal life.
On the flight back to Australia we both left with heavy hearts questioning why we should be so lucky and go back to live our privileged life back here in Australia. We thought about what we could do to help these people out of the poverty cycle and enable them to live longer, healthier and more fulfilled lives.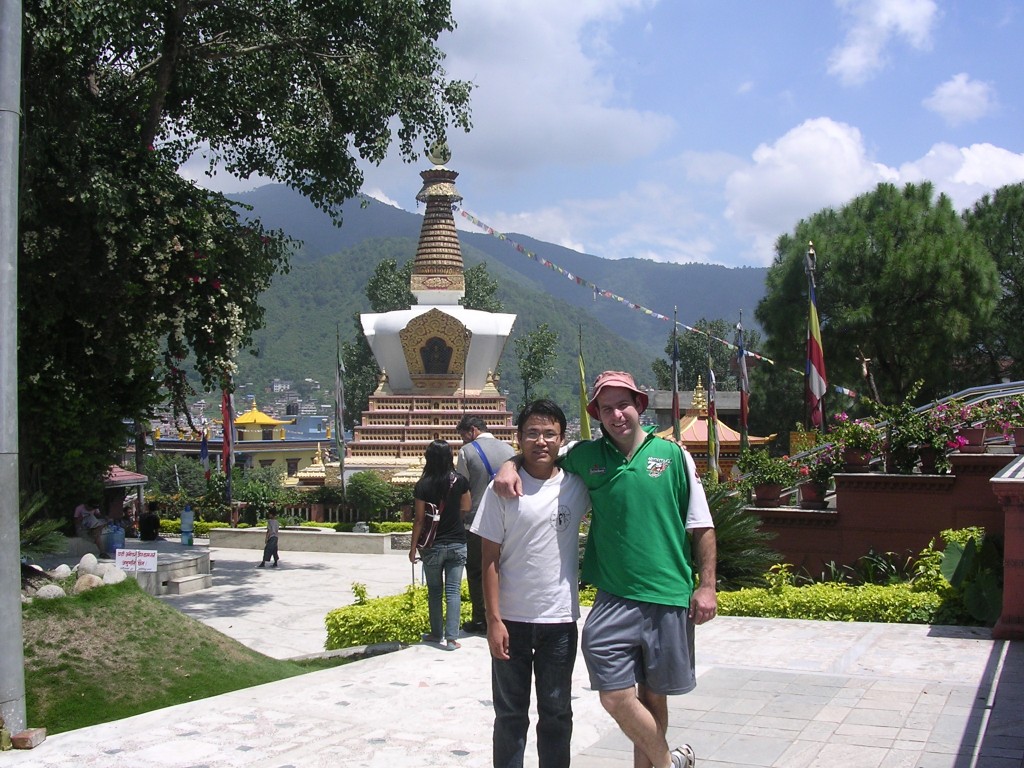 Then in 2011 I read an article about a women who had walked for 3 weeks to take her son to a refugee camp in Kenya.  Her son died the day she arrived from starvation and dehydration.
This really made us sit up an think.  We just could not understand why this was still happening in the world today when there is enough food for everyone but some people have more than they need whilst others have nothing.
Q: What are you aiming to achieve?
Matt: Through the walk, and the ride last year, we aim to raise awareness of the importance of foreign aid and the difference it makes to people living in poverty.
Australia's foreign aid program is helping improve the lives of thousands of people living in poverty through the provision of life-changing resources like primary education and protection against preventable disease.
Every dollar denied now has real impacts for people around the world, for achieving the Millennium Development Goals and for keeping our promise to the world's poor.
It's time for the Government to get back on track and stand by their commitment to achieving the Millennium Development Goals – millions of people around the world are depending on it.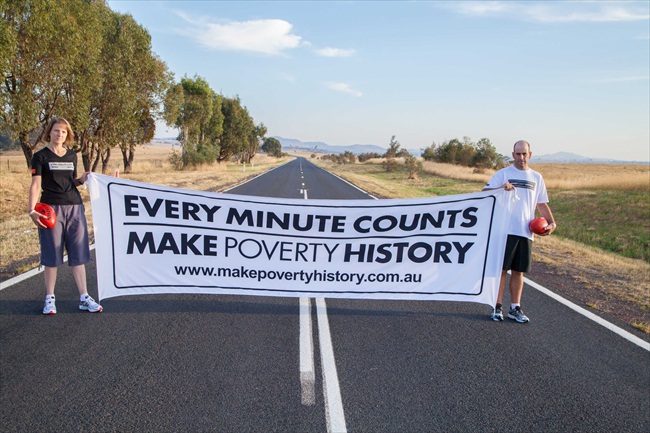 So as we head into an election year, we wanted to take the chance to talk to more communities about what aid is achieving, and share some of the amazing success stories.
Deferring the promise to increase the aid budget takes money away from projects that are crucial to some of the world's poorest people.  It is not fair to run a budget surplus when we are taking that money out of the hands of the world's poorest, the ones that need it the most.
The message we want to bring to all Australian's and our Government is that we are the lucky country and its time we shared more of that luck.  We want to encourage all Australian's to become part of the movement to end extreme poverty and give these children a chance at life, because every child deserves.
Q: What is something you are particularly proud of?
Matt: In April/May 2012 I rode from Perth to Canberra in my first awareness raising event, The Long Ride to Stop the Poverty Cycle. During the journey we spoke at several schools, and conducted a range of media interviews including TV News, newspaper and radio.  Renmark Primary School even made a video about the trip!
We had the opportunity to speak to many Australian's and quickly realised that although Australian's are very giving, most people don't actually realise how important foreign aid is, how significant the impact and what it actually achieves.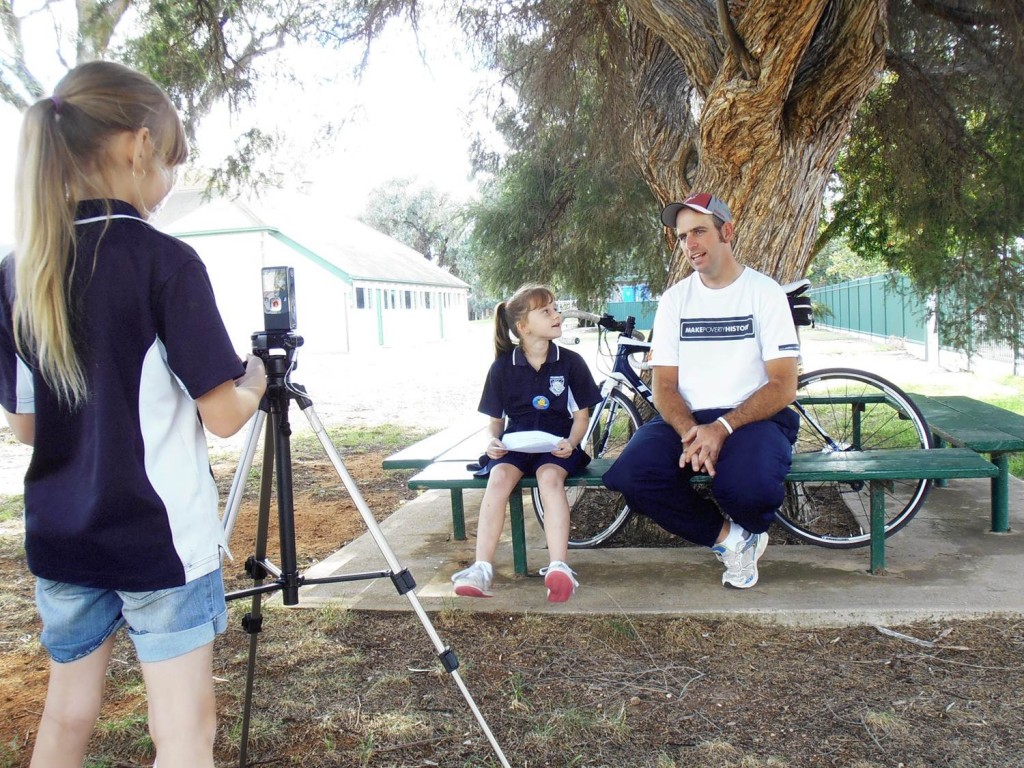 Through the support of the GWS Giants, the ride concluded at half time in the GWS vs Gold Coast Game at Manuka Oval. This arrangement meant we were able to spread the word to an additional 8,500 people who attended the game – a very memorable day as it was also the GWS Giant's first win.
The ride was also supported by the Federal Sports Minister Senator Kate Lundy who rode the last few kilometres with me, the ACT Deputy Chief Minister Mr Andrew Barr as well as APEX, Lions and Rotary clubs in a number of towns. In total it is estimated that we reached over 200,000 people (based on a project evaluation by Oxfam Australia).
On our return to Canberra we felt that the trip was such a success that we decided to continue our mission to raise awareness of world poverty and in particular to continue to give presentations to school and community groups about the issues relating to world poverty.
Hopefully the walk will be just as successful, based on the support we have received in WA I am sure it will be.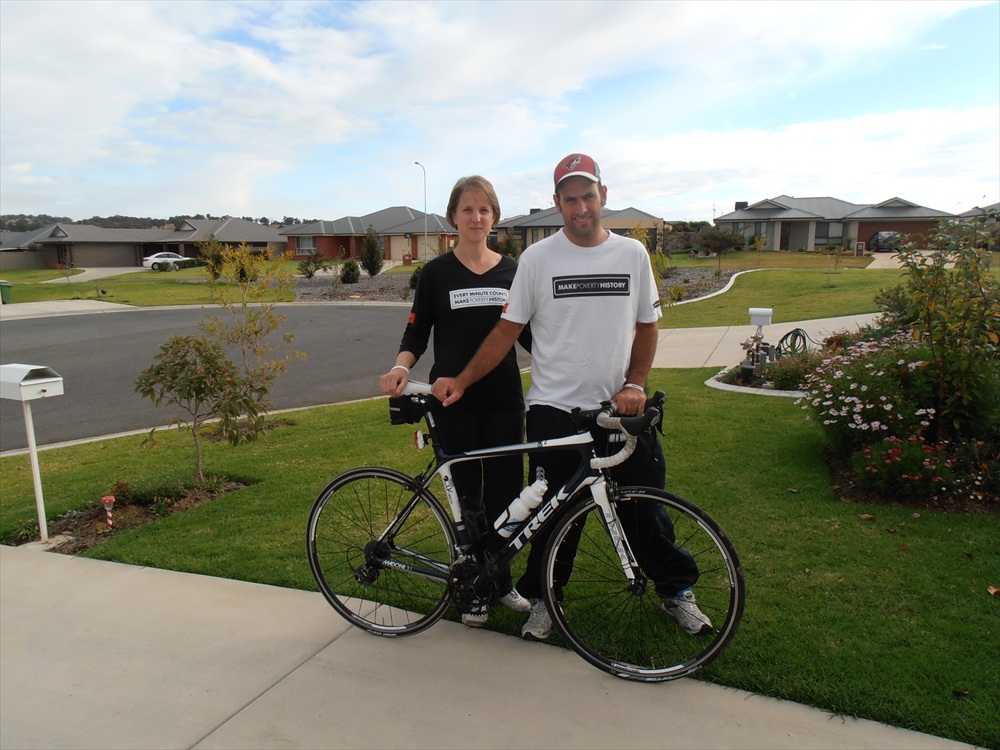 Q: What drives you?
Matt: I just believe that everyone in the world deserves a chance at life.  It shouldn't matter what country you are born in, everyone should have access to food, clean water, basic healthcare and a primary education.
Q: Do you feel there is reward for your efforts?
Matt: Definitely, the number of people that have said to us that they weren't aware of the progress that had been made in eradicating poverty before talking to us is fantastic.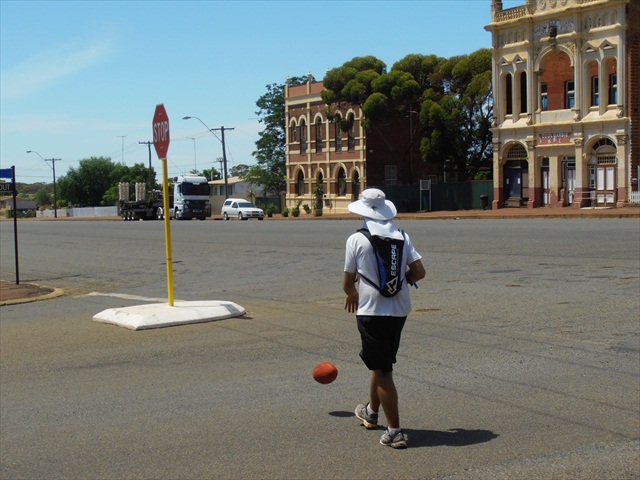 Q: If you had your way, everyone would spend 5 minutes a day…
Matt: Doing something for someone else.
Matt worked in a number of sectors including a bank, the public service and as a sports bookmaker before meeting his wife Wendy and joining her garden maintenance business.
Together they built the business up to a profitable venture which they sold in 2012 allowing them to become full time poverty ambassadors.  Matt is also a keen AFL supporter and is heavily involved with his local team, The Queanbeyan Tigers.
Connect with Matt through The Global Poverty Walk
Want more inspiration?
Latest posts by The CALI Award
(see all)