In January this year we stopped in San Francisco to visit family, cook some food, run a course and catch up on this website!
We also took the opportunity to upgrade our travel gear including my laptop that was quickly dying and my Kindle that somehow got a foot in it while chasing mosquitoes!
So after much deliberation we bought LOADS of new gear and travel accessories from Amazon and Best Buy.
It is now nearly 5 months – here is the update on the progress of our travel gear.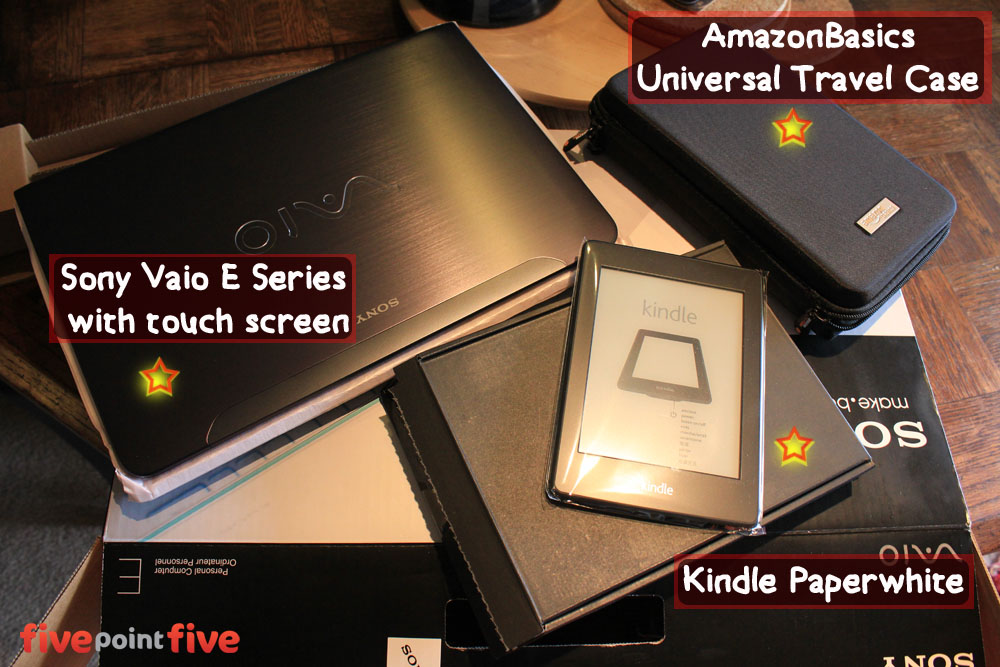 Sony Vaio E Series with Touch Screen
This was a welcome upgrade from the Compaq Presario I travelled with for the first 8 months of our trip. I bought the Sony Vaio E Series for about $1,100.
I am thrilled with this purchase, as a travelling business owner my laptop is everything, and we have found it very difficult (and risky!) get our laptops fixed along the way. So I needed an awesome, reliable laptop with loads of oomph.
This is everything I wanted and more. I have reviewed this more detail after 12 months. But so far so good.
Kindle Paperwhite

My last Kindle got accidentally murdered in Cuba, so it was time a new eReader. I was choosing between an iPad Mini, a Kindle Fire and the cute new Kindle Paperwhite.
I went for the Paperwhite, mainly for battery life and I love it. Great to have a backlight without any other distractions. The touch screen is taking some getting used to, luckily when you are reading you don't need much interaction.
AmazonBasics Universal Travel Case
Our hard drives were getting battered, so we bought the AmazonBasics Travel Case to protect them in the back pack. It holds all four hard drives (two large and two smaller ones) and other bits and pieces. It is tough on the outside and has withstood 5 months of being bashed and carted around.
Not the most exciting thing to review but it does exactly what it is supposed to!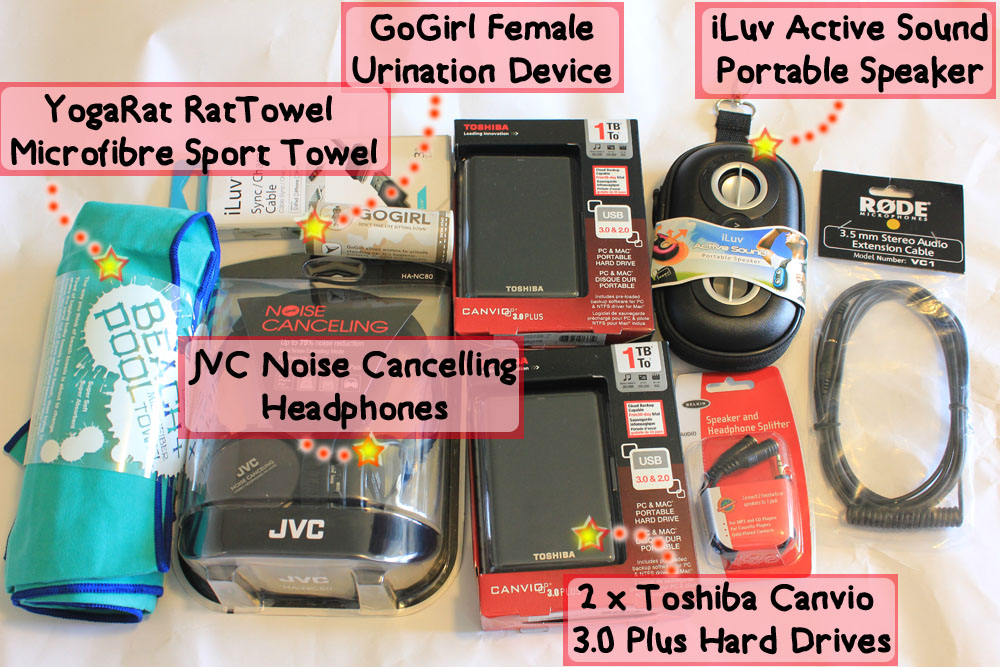 We bought all of the following things on Amazon:
Toshiba Canvio 3.0 Plus Hard Drives
Hard drives have one function, and these Toshiba 1TB Hard Drives do that perfectly! We have four hard drives total including two of these Toshiba Canvios. One of the Toshibas now has a loose connection – so we will need to replace it, but the other one is fine with no problems.
YogaRat RatTowel Microfibre Sport Towel
We are always looking to downsize! So we ditched our normal towels and upgraded to these YogaRat Microfibre RatTowels. We got the beach/pool size which is nice and big but rolls up small and light. These are great travel towels, quick dring, lightweight and big enough to be perfect for the beach. John doesn't like how they feel, but that is about microfibre in general rather than these in particular.
iLuv Active Sound Portable Speaker
The iLuv Speaker started with good sound, but has not lasted very long. We don't use it that often and not for thrashing music so it has been a little disappointing. We can use it for podcasts when we are packing, or quiet movies in a quiet room but for music at any decent level it sounds shocking.
JVC Noise Cancelling Headphones
The JVC headphones were unfortunately too small to be comfortable and after a short while would give us a headache, even me with my tiny head!
We would have returned them except John sat on them and broke one of the joints. We super glued it back together and used them as a back up pair for a while until we found a new owner and gave them away.
GoGirl Female Urination Device
I bought two female pee tools! This GoGirl and the pStyle. I haven't used anything like this before but between grotty festival portaloos and nasty bus toilets I have always been keen to check them out.
Of the two I do prefer the pStyle for usability, but it is more chunky to carry around. The GoGirl is made of soft silicone and squishes down and rolls up. It comes in a little case but I have found it pretty hard to get it back in the case!
That is about half of our new purchases! I will review some more soon including camera gear, tripods and more 🙂
Want More Travel Gear?
Latest posts by Serena Star Leonard
(see all)