Our latest CALI Award winner is Kevin Robinson, the founder of Little Wings. After talks with The Children's Hospital at Westmead, he realised there was a need to help children with cancer, which fit with his business and aviation know-how.
Q: Tell us about Little Wings.
Kevin: Little Wings is a first-of-its-kind flight service, providing air travel for seriously ill children living in rural and regional NSW, so they can undergo specialist oncology treatment in Sydney. Living in remote or rural communities puts these children and their families at a serious disadvantage on a number of levels: financially, emotionally, and logistically.
Cancer treatment takes several gruelling cycles, leaving children feeling unwell and unable to face long road travel – in addition, many families cannot afford commercial flights, and radioactive treatment or brain surgery prevent commercial flights being used at all. Sadly in many cases, the accumulated stress causes families to separate permanently.
Returning children home safely and quickly after treatment, Little Wings enables families to remain together as much as possible during a very traumatic time. Head of Oncology at The Children's Hospital at Westmead, Dr Dalla-Pozza, points out that the service "enables families to come together, whenever needed, by increasing the flexibility and ease of travel to and from the Oncology Unit."
By enhancing the quality of life, recovery process and family cohesiveness for sick children – Little Wings aims to reduce the disruption to childhood for these seriously ill patients. Our plan is to extend this service to children with other serious illnesses and build a scalable model for a national service. We are working with the Sydney Children's Hospitals Network to build this model.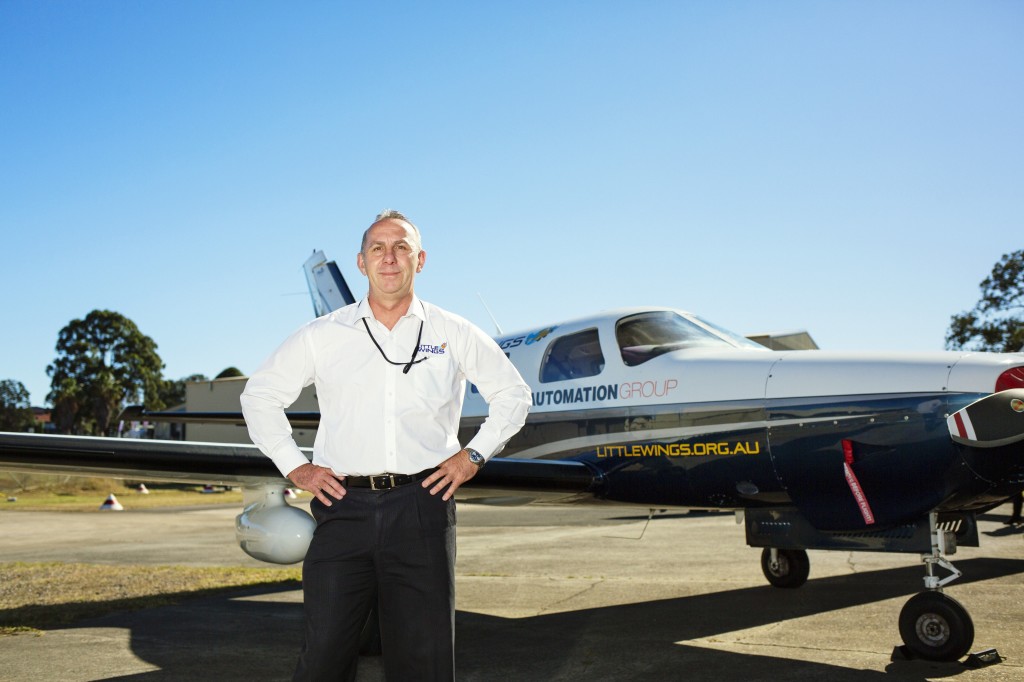 Q: What inspired you to start?
Kevin: Having had a successful career, and raised four great kids, I felt that it would be rewarding to do something for the community. After exploring a few options, I met with the team at The Childrens Hospital at Westmead in 2011 and learned about the plight that many families from regional NSW face, with seriously ill children.
Having learnt to fly at the age of 16, I could see an immediate need for a suitable flight service to help children in this area. From that point I have worked to develop a service that meets the specific needs of these families, which we can proudly claim we are well on the way to achieving.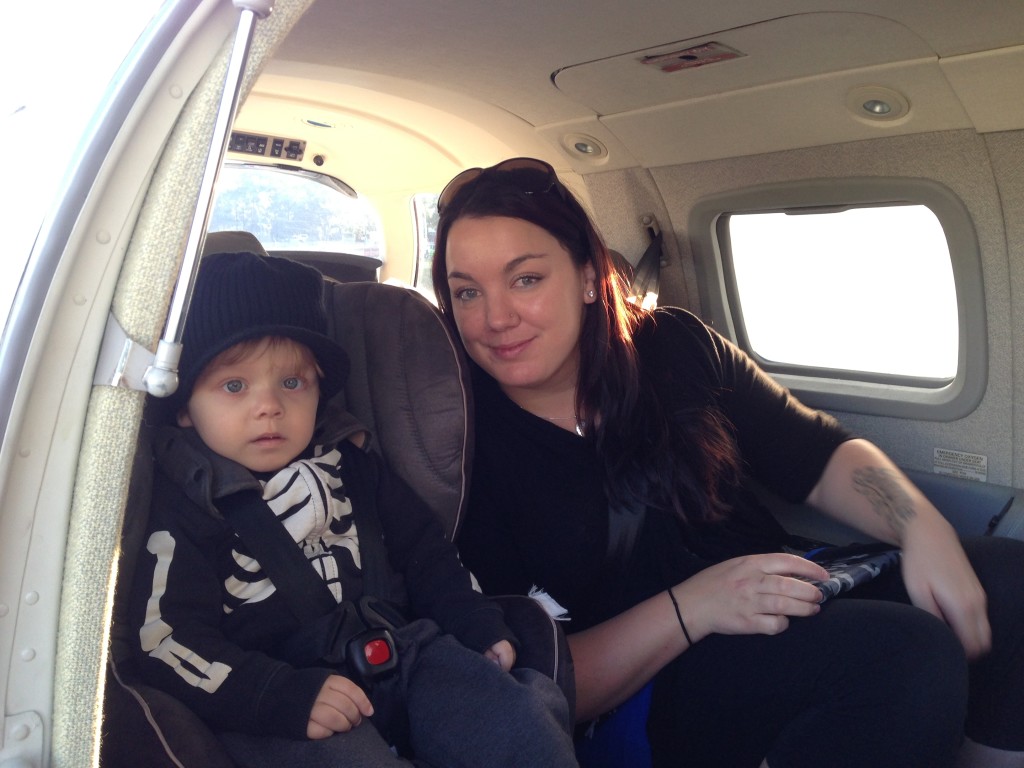 Q: Why is Little Wings so important?
Kevin: Seriously ill children with cancer in rural and regional communities are disadvantaged by their illness and their location; as are the families (parents, children and extended family carers) who are all affected in various ways when a child is facing a potentially terminal illness.
Fundamental Principles Underlying the Little Wings Service:
children in rural and regional communities require, and should have the same level and frequency of specialised care as their city counterparts
children in rural and regional communities require, and should have the same opportunity to recover from treatment cycles as their city counterparts
families living in communities that have no specialised paediatric medical services face significant financial loss on top of the cost of medical services; long-distance travel requires funding of temporary city accommodation, long-distance transport and carer support for the remaining family when parents accompany a child to the city for critical treatment.
a child is likely to recover more quickly from treatment if he or she can return to their family, and can travel safely and comfortably to and from specialist services in the city
the siblings of seriously ill children in rural communities face additional emotional trauma as they are separated from their ill sibling and from one or two parents, and have to be cared for by other family and friends.
By providing a safe, free flight service, Little Wings is supporting the important principle of inclusion for these families. Expanding this service will reduce social disadvantage, and build the capacity of children's hospitals to provide both outreach services, and flexible, swift treatment to children living with serious illness.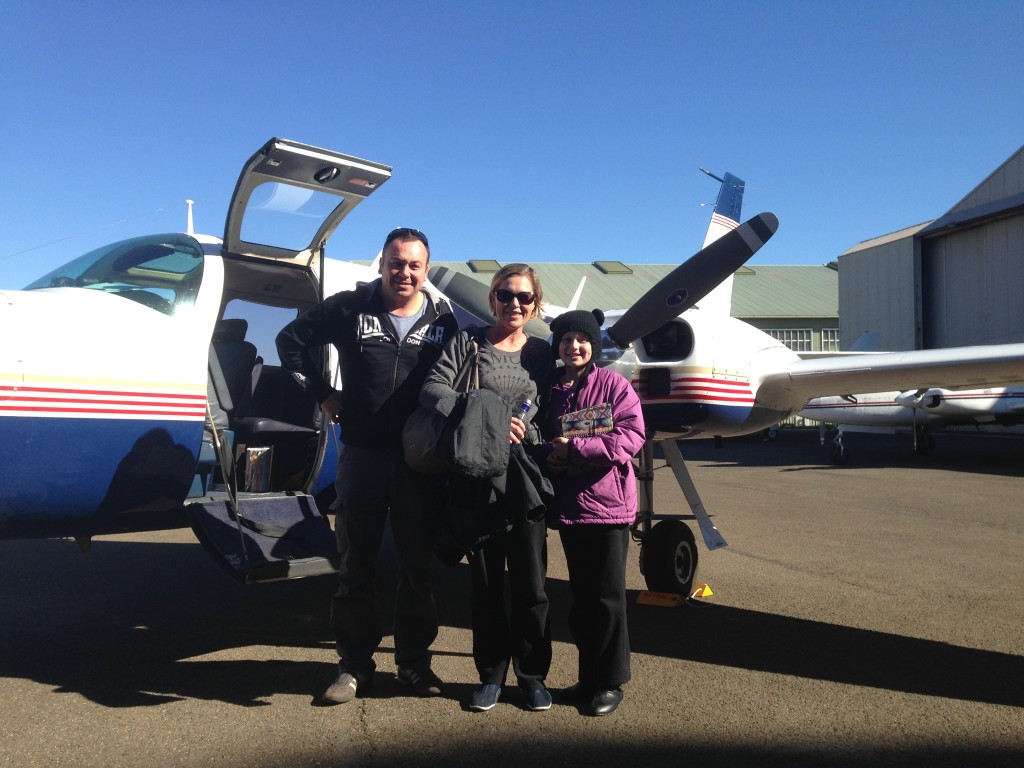 .                                                                                                                                                                                                                                      With an area of approximately 800,000 square kilometres, NSW is a large and therefore appropriate location to build a model for service that can be scaled to serve communities spread all over Australia.
By increasing our capacity, there will be:
better clinical outcomes and recovery times for children undergoing specialised treatment at Children's Hospitals in city locations
reduced financial stress for rural families caring for an ill child
improved social and emotional outcomes for families, including siblings of ill children, brought about by more family cohesiveness
reduced risk of permanent family break-ups caused by the strain of distance and its associated disadvantages when a family faces a medical crisis
steady increase of flight services to more hospitals, as more classes of seriously ill children are served
a model that is scalable nationwide
the capacity of children's hospitals to provide outreach services to children in between treatment regimes: improves clinical outcomes and enables hospitals to make more efficient use of their staff time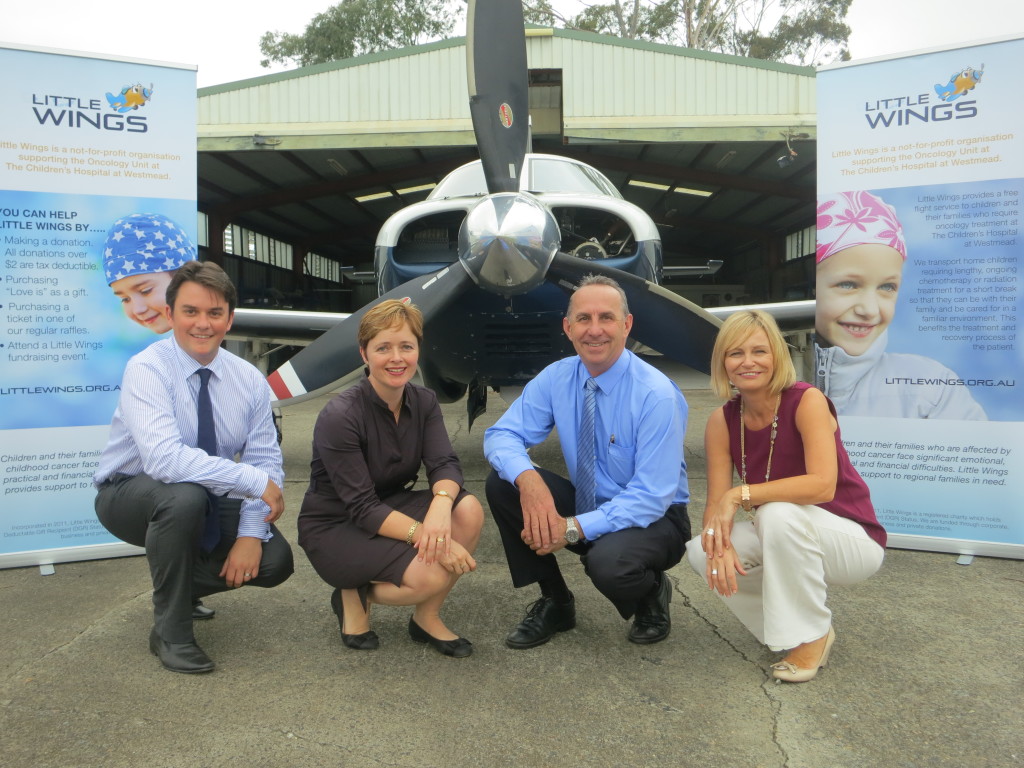 Q: What are you aiming to achieve?
Kevin: Little Wings has short, medium and longer term goals as funding increases. Our broad goal is to improve the health and emotional outcomes for seriously ill children and their families, who live in rural and regional communities across Australia.
However, starting at state level with an initial focus on children being treated for cancer, has allowed Little Wings to build a model for scalability in five stages.
1. Increase number of flights available to rural children receiving cancer treatment and attending Children's Hospital at Westmead.
2. Extend service to rural children receiving cancer treatment and attending Children's Hospital at Randwick.
3. Extend service to rural children with other serious illnesses receiving ongoing specialist treatment within Sydney Children's Hospitals Network.
4. Extend service to allow transportation of specialist clinical nurse consultants to regional communities to support the Hospitals' outreach programs for children.
5. Extend service to other NSW hospitals providing specialist paediatric care to seriously ill children living in rural and regional NSW.
Then in the long term, we want to extend the service to other Australian states and territories.
Our boldest goal is to make a positive difference and contribution to rural and regional children and families while young patients undergo medical treatment for serious illnesses such as cancer. The Little Wings flight service removes financial and emotional stresses associated with long road travel or expensive commercial travel.
Importantly, a non-commercial flight service also reduces the fatigue associated with long distance road travel and significantly reduces exposure to the potential of disease that is associated with commercial public transport, when children's immune systems are most vulnerable.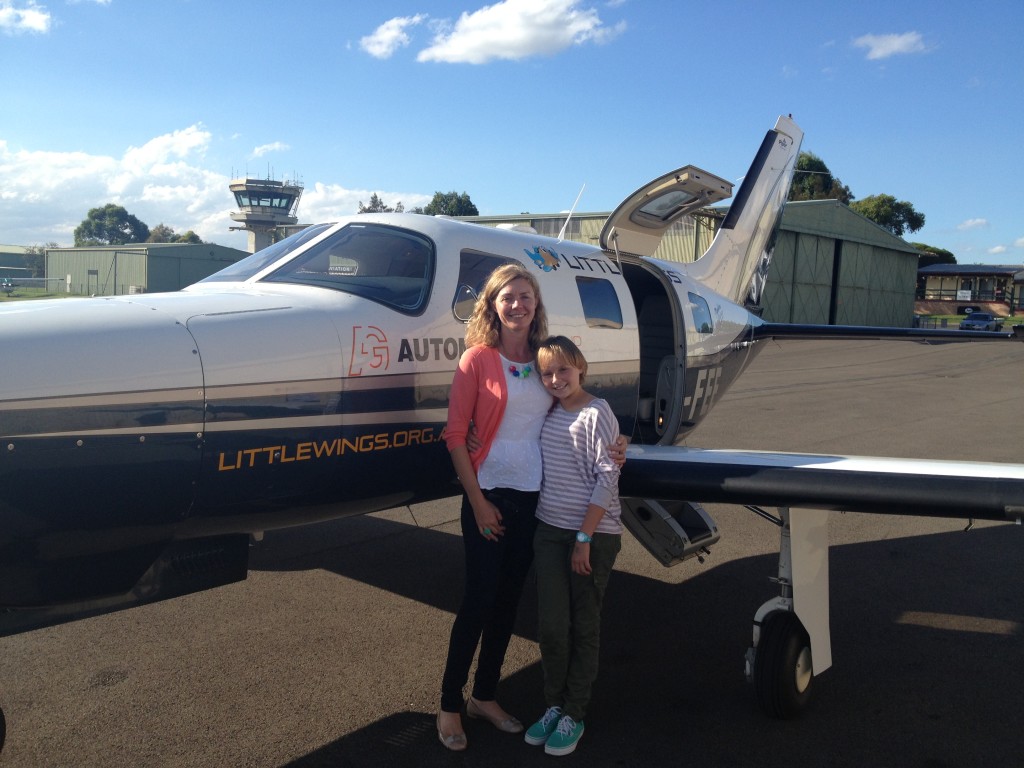 Q: What is something from your work that you are really proud of?
Kevin: Since completing our first flight in September 2012, we now have 2 dedicated aircraft, a dedicated ground support people mover, and we are completing flights 3-4 days a week. Knowing that we are making a significant and very real difference to these kids and families, and we are delivering the service we hoped for, is something we are extremely proud of.
Q: What drives you?
Kevin: Little Wings started as an idea in 2011, with the goal to complete 1-2 flights a week, to help families during cancer treatment at The Childrens Hospital Westmead. Using my spare time as a pilot, and hiring aircraft, I hoped to help a small number of families across NSW.
What I didn't anticipate is the huge personal reward that is felt when helping kids with cancer, with the service. The inspiration I received from not only helping these kids, but also the very tangible way in which we help the entire family, at a time of their greatest need, is today my driving force to succeed.
Helping these people, has been the inspiration for Little Wings to establish a professional flight and ground support service, reaching to the borders of NSW. Our goal now is to complete 180 flights in the year ahead, increasing to 300 flights the following year. A significant difference to the 30-40 flights a year, I was thinking about in the beginning!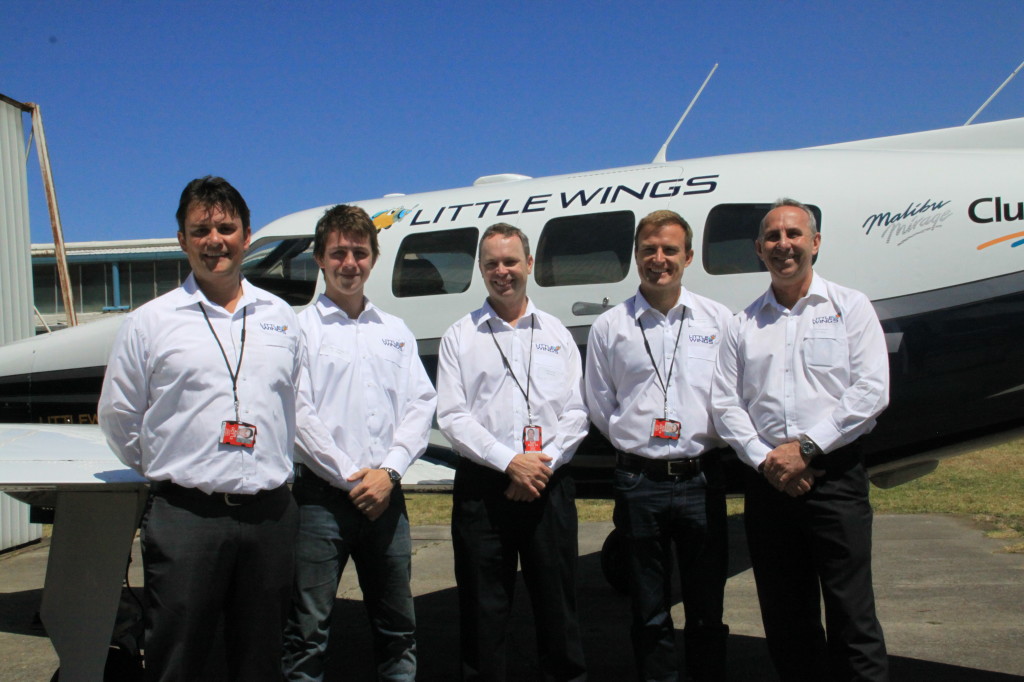 Q: Do you feel there is reward in your efforts?
Kevin: Having worked in the corporate world and running my own business for the last 15 years, I have never felt as genuinely satisfied and motivated in my life.
Whilst it has been the most demanding challenge I have ever undertaken, the reward felt from knowing you have made a very real and tangible difference to a family at a time of their greatest need, is by far the most rewarding feeling I have had, and something you don't receive in a normal work environment.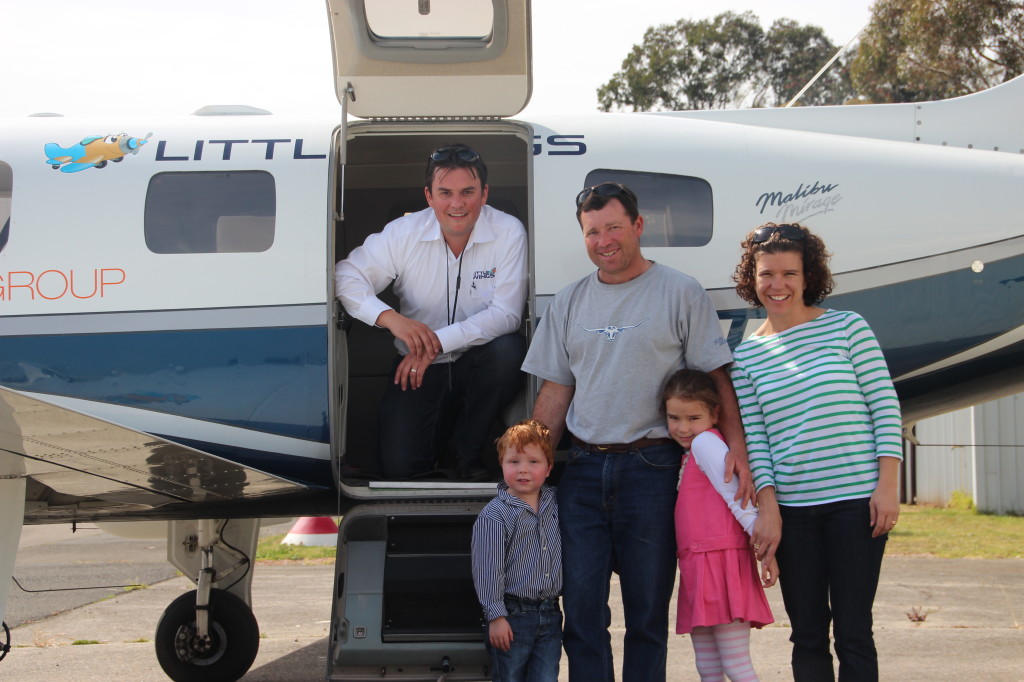 Q: If you had your way, everyone in the world would spend 5 minutes a day…
Kevin: Thinking about how they could help someone in need, and making the effort to make a small difference.
Early in his career Kevin Robinson made his mark in management positions, where he honed his main leadership strength: "Identifying what we need to do, finding a way to get there, then making it happen. I don't see barriers; I see opportunities."  
Putting up the capital to get the Little Wings charity started, skills from his management and business background are helping him shape its fundraising program. The focus is corporate sponsorship to secure the $500,000 Little Wings needs to boost capacity from 180 flights in 2014, to 300 flights in 2015.
Connect with Kevin:
Want more inspiration?
ž
Latest posts by The CALI Award
(see all)