The Sony Vaio E-Series Laptop was a welcome upgrade from the Compaq Presario that I travelled with for the first 8 months of our trip. I bought the Sony Vaio in Best Buy in San Francisco for USD$1,100.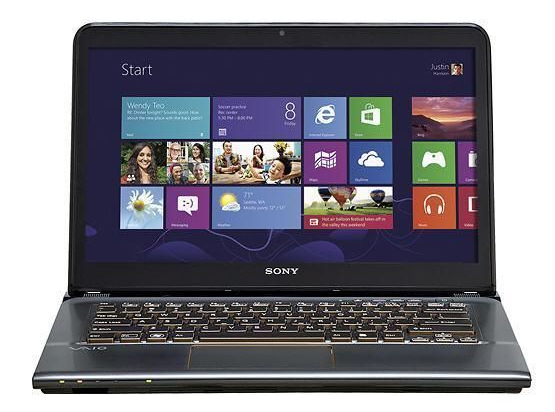 Although the size of the various Ultrabooks were attractive for travel, they just didn't have enough power and disk space for what I run on a daily basis.
My first home laptop was a Sony Vaio too, and it ended up lasting a good 5 years of daily use! Even then when it was outdated and old we were able to give it to John's Mum to use for Skype – I think it is still going 3 years later! I reckon that was pretty good going so I have had a soft spot for Vaio's – mind you that one was over AUD$4,000 so you would hope for several years usage.
Anyway back to the Sony Vaio E-Series laptop in question.
Laptop Design
In terms of look – it comes in two colours. A slightly boring gunmetal grey one with keys in the same colour <yawn> and a pretty cool looking white one with blue or red keys (if I remember rightly). I would have totally gone for the sexy colours, but I needed a new laptop that week and you had to wait a week or two for delivery of the cool one.
Gunmetal grey it is.
I bought a cool red silicone keyboard cover from Amazon which loads of people comment on – but really I just wanted to make sure it was protected from any spills.

The cover is great and feels nice to type on, but it does leave key shaped residue on the touch screen.
Laptop Usability
This Sony E-Series model has a touch screen and Windows 8. It didn't take long to get used to Windows 8 although the apps offered pretty much suck!
I like the feel of the buttons and that the mouse pad is in the centre of the keyboard.
The mouse touch pad just stopped working for several months, which was finally fixed with some software upgrades.
The touch screen was very handy when I had to switch off the inbuilt mouse touch pad. I have had a few issues with mouse touch pad sensitivity as well, which would cause the cursor to jump all over the screen when I am writing.
I have switched off some of the mouse features, which has solved the sensitivity issue without taking any features so everything now works fine.
Laptop speed
I consider myself a heavy user when it comes to my laptop. It is on most of the day, and managing 10 or 15 browser tabs, 5 to 10 apps and documents at any one time including the big suckers like Photoshop, iTunes and streaming and recording live webinars on Go2Webinar. Everything has been handled super quickly. I haven't used it for video editing so can't comment on that but for everything I use it for it is perfectly fast.
Durable Laptop
This laptop is bundled up and has travelled through 9 countries in the last year, I did search for durable laptops when I was choosing what to buy, but they are generally expensive and chunky. This laptop has survived a lot of travel – so far so good!
Loud Fan
When I was researching this model a few people mentioned how loud the fan is, well it is fairly loud I guess but I have never really noticed it, until this exact minute when I am thinking about the machine overall.
So if you are sensitive to a louder fan (apparently some people are) then this may have a slightly louder fan than usual, although I can't really compare this to anything I can remember.
More travel gear reviews
Latest posts by Serena Star Leonard
(see all)